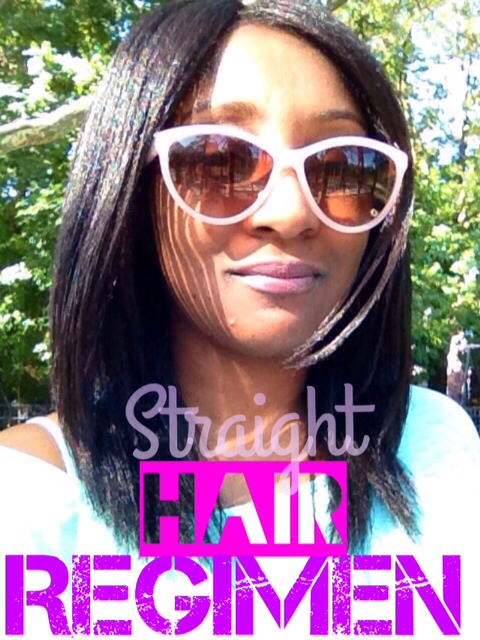 How I Straighten My Natural Hair and My Straight Hair Regimen
You may get tired of me saying this but what I love most about natural hair is how versatile it is. I am a big believer that it's important to switch up your look every now and then to freshen up your image and feel like a new woman. If you're natural, straightening your hair is a cool way to freshen up your look. I know I feel brand new each time I straighten my hair, but I try to use direct heat sparingly only a few times a year. At any rate, I wanted to share  my straight hair regimen with you, from how I prepare my hair to how I straighten my natural hair and maintain it.
Pre-Poo
The night prior to washing my hair, I saturate my scalp and hair with Coconut Oil
. Then cover with a plastic cap and head to bed.
Shampoo
The following morning, I shampoo my hair with Trader Joe's Tea Tree Tingle  Shampoo with Peppermint, Tea Tree and Eucalyptus Botanical. This leaves my scalp and hair squeaky clean. This shampoo works well for dandruff or dry scalp issues. I never co-wash my hair prior to straightening it because I want to ensure it is very clean with no residue.

Deep Condition
My next step is to apply Giovanni Conditioner, Smooth as Silk for Damaged Hair
. To do this, I apply the conditioner in sections and then braid up each section then cover with plastic cap and hot towel or turban.
Detangle
Once you've washed out the conditioner it's important to thoroughly detangle hair. I take down each braid, rinse and detangle them using Kinky-Curly Knot Today Leave In Conditioner/Detangler
and then re-braid.
Dry hair
I've used several different methods to dry my hair, you are free to use any but option 1 is my favorite.
Option 1: Braid hair and allow it to thoroughly air dry.
Option 2: Braid/twist/roller-set hair and dry using an overhead hair dryer.
Option 3: Use a blow dryer on low settings and dry each section. Always ensure that you're using a comb attachment on your hair dryer so you're not applying too much heat directly to your strands. I like using either  Argan Oil Treatment or
Hair Rules Blow It All Out  for blow drying.
Flat Iron Hair
Once my hair is completely dry I flat iron it.  Firstly, I apply a heat protector either CHI 44 Iron Guard Thermal Protection Spray
or Fantasia Polisher Heat Protector Mist
.
Since, I've been natural I tried different methods of straightening my hair, but I've found that when I use the chase method my hair is always light and bouncy. To do the chase method, use a fine tooth comb and through a small section of your hair and follow it closely with your flat iron until you get to the full length of your hair. The chase method is fabulous because you don't have to worry about your hair getting tangled during the process. If you want to try the chase method, a simple YouTube search would give you many chase method tutorials.
Also, I wanted to add that I always use the lowest setting on my flat iron. If you're going to purchase a new flat iron, look for one with ceramic plates and adjustable settings. Personally, I use the CHI Hairstyling Iron which I believe is a good investment.
Night time routine
While my hair is straight, I wrap it every night and secure using bobby pins and a satin scarf. If I want a bouncy curly look instead of straight look, I do pin curls.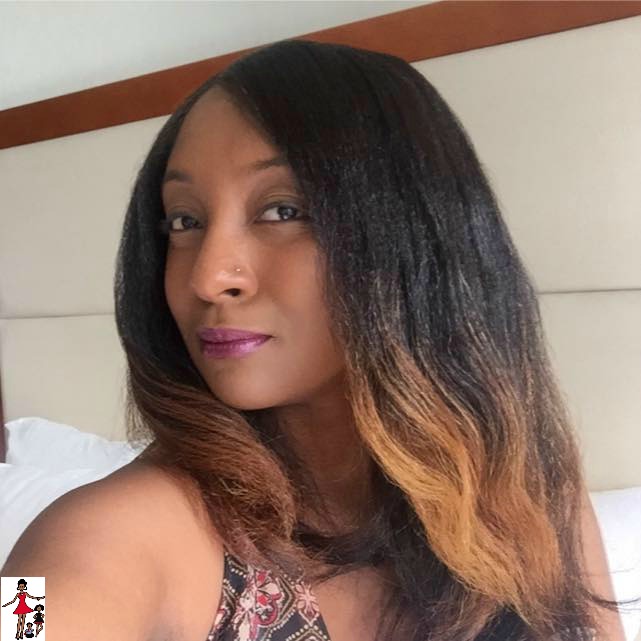 Morning Routine
Brush hair out of wrap and style as desired or remove pin curls and shake. I usually apply a tad bit of Argan oil for shine and moisture.
This style can last up to 2 weeks, you can also add clip-in extensions for fun. If my hair gets frizzy, I style my hair in a twist-out until I have the opportunity to wash it again.
After Care
Since I wear my hair curly 95% of the time, it's really important to me that my curls bounce back. To address any possible damage to my strands, I always do a protein deep conditioning treatment using ApHogee Intensive Two Minute Keratin Reconstructor
after washing my hair.
Remember, you don't have to do all of this at the same time. I get it, you're a busy mom and this can be incredibly time-consuming.  Break it up, trying to do this all at the same time would not only be overwhelming but you may get impatient and damage your hair. So don't try straightening your hair at the last minute. If you want to wear it straight on Monday, start by doing a pre-poo on Friday night, wash and condition on Saturday and straighten on Sunday.
How do you straighten your natural hair? What products do you use?
You may also like:
7 Tools You Need For Natural and Curly Hair