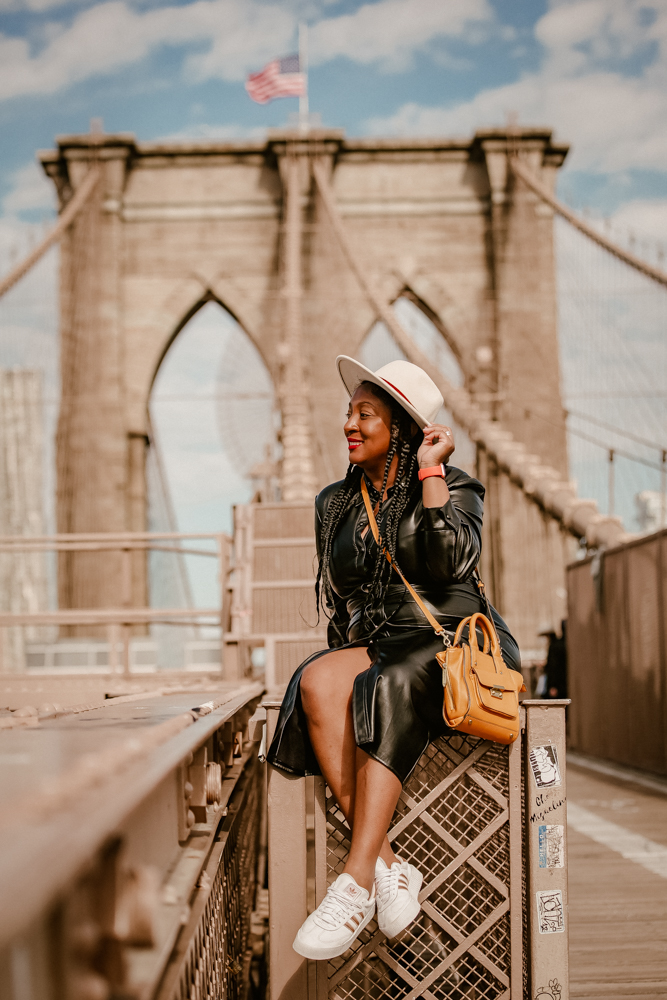 This post may include affiliate links.
Faux Leather Fall Statement Pieces to Add to Your Wardrobe
Fall is officially here, and as I mentioned in my round-up post of affordable dresses last week, although I'm no fan of the weather, the fashion is fun. Growing up in the Caribbean, I loved watching music videos with singers like Mary J. Blige, TLC, and the girl group Total in their leather looks. Leather didn't make sense in tropical Grenada, but I dreamed of living in NYC, where I could rock those looks. Now, look at me, clad in black leather (well, faux leather). I love adding a little edginess to my fall wardrobe with faux leather dresses, skirts, leggings, and jackets. Here are some of my picks for fall 2020!
Faux Leather Fall Statement Pieces to Add to Your Wardrobe!
Midi Dresses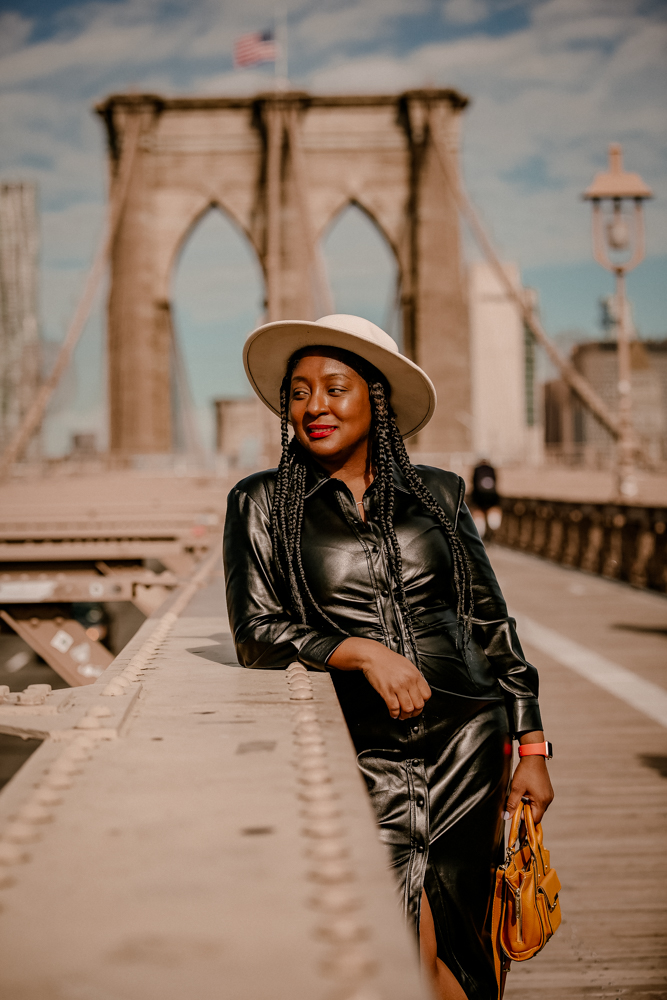 As I've shared before, I love more midi dress! Firstly, the length reminds me of my grandma's dresses, and I love that they're entirely mom-friendly and flattering.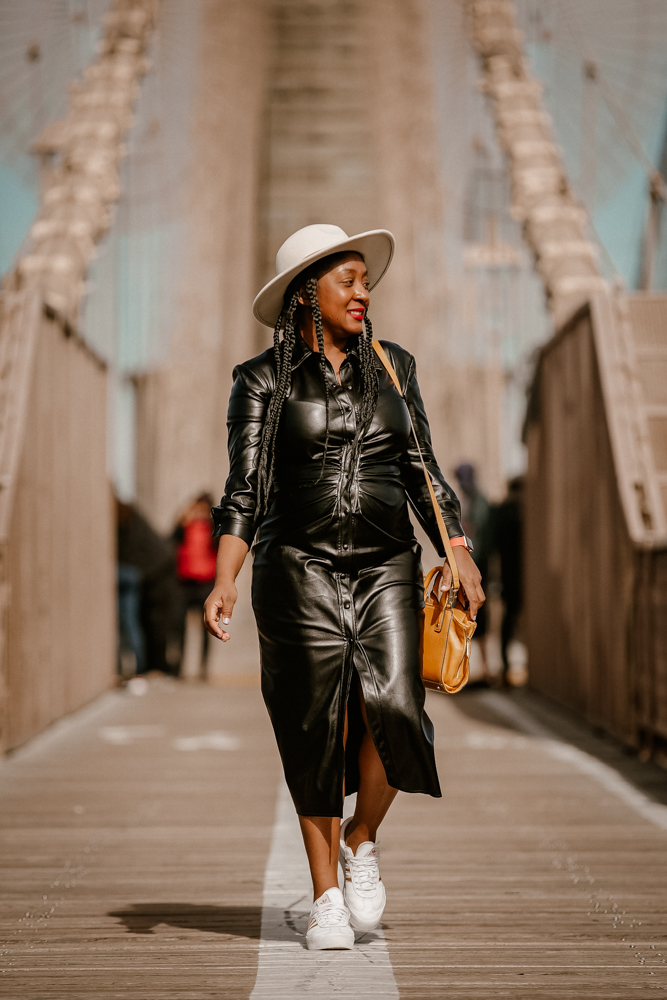 I'm also a big fan of how they look with sneakers, which is usually my shoes of choice these days. This Zara midi dress is favorite this fall; it's warm, stylish, and modern. I love a versatile piece that I can wear dressed up or down, and this dress fits the bill.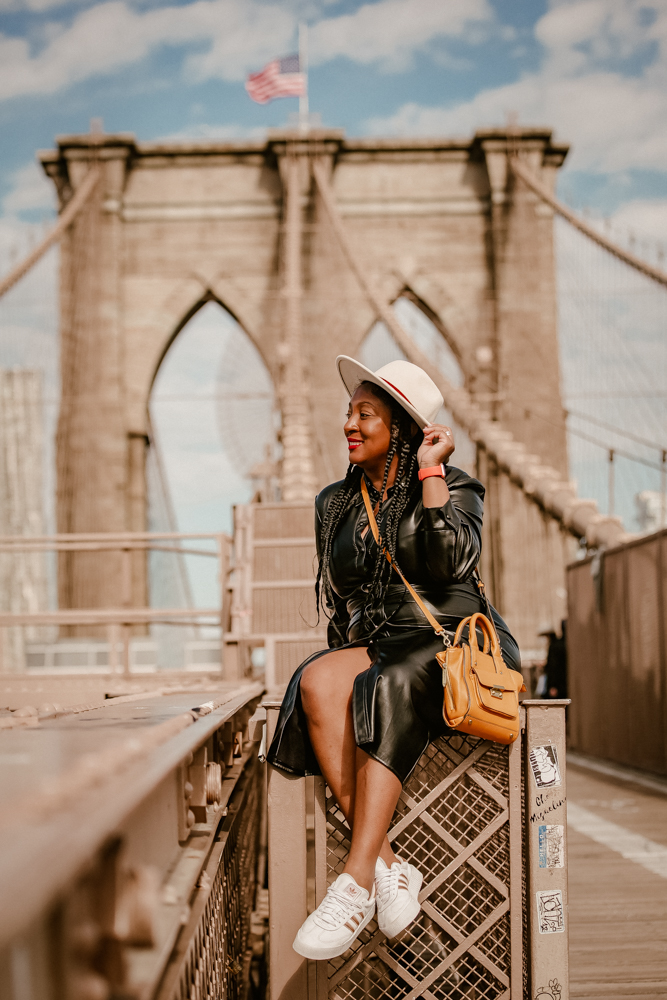 ps: my hat is from Forever 21, get it here and my sneakers are by Adidas, buy them here!
Leggings
Spanx is my go-to for leggings because of the excellent quality. I purchased a pair of their faux leather leggings during the Nordstrom anniversary sale last month, and I'm excited to wear it this fall and winter with blazers, thick sweaters, and graphic sweatshirts. I love that I can feel comfortable yet wear an edgy outfit. The Spanx faux leather leggings come in a few styles like these. They tend to sell out fast, so if you're having difficulty finding them, I added a few other options. 
Midi skirts
Whether you opt for a mini or midi style, a faux leather skirt always looks great. I would opt for my preferred length of the midi skirt.
Jackets
A leather jacket always makes a statement, whether it's. A blazer, biker style, bomber, and/or trench coat style. One of the best ways to find an excellent leather jacket/coat is to search for thrift stores or high street fashion stores.
I hope you found this post helpful to add a little edginess to your wardrobe with faux leather this fall.