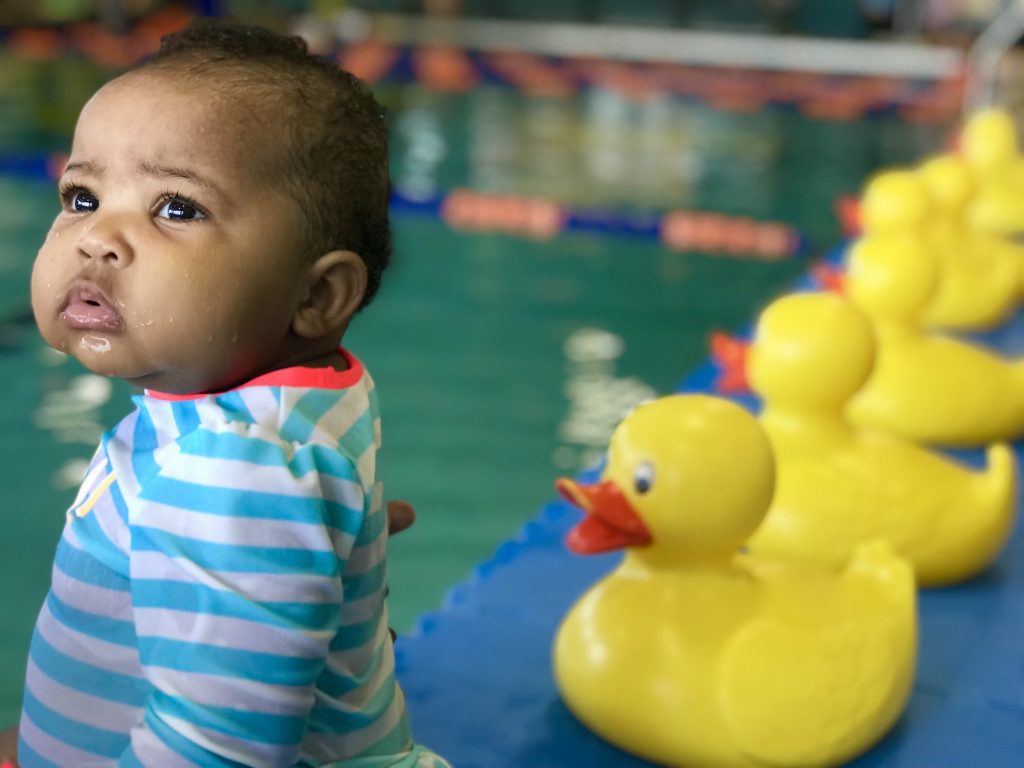 This post exploring when to enroll your baby in swimming lessons is in partnership with Goldfish Swim School!
Although I grew up surrounded by beautiful blue water swimming wasn't part of my lifestyle. I spent countless beautiful days on the beach playing safe along the shore but not adventuring out into the ocean further than where the water met my shoulders. I was fearful, but my goal is to raise three fearless children. I realize that waiting until my oldest was two and my second was three to enroll them in swimming lessons didn't help much with the fearlessness. They had a little time to develop some fears, especially my oldest. As many of you know, they've learned to swim over the past year. As a new mom, I didn't know when to enroll my baby in swimming lessons. This time around, I'm a bit more experienced, so I enrolled my third child in swim lessons at Goldfish Swim School when she was five months old. It's been six weeks, and I am amazed at how much she's learning. I wanted to share our experience in case you're wondering when to enroll your baby in swimming lessons too.
Here are a few reasons why I'm happy I enrolled her in swimming lessons at 5 months: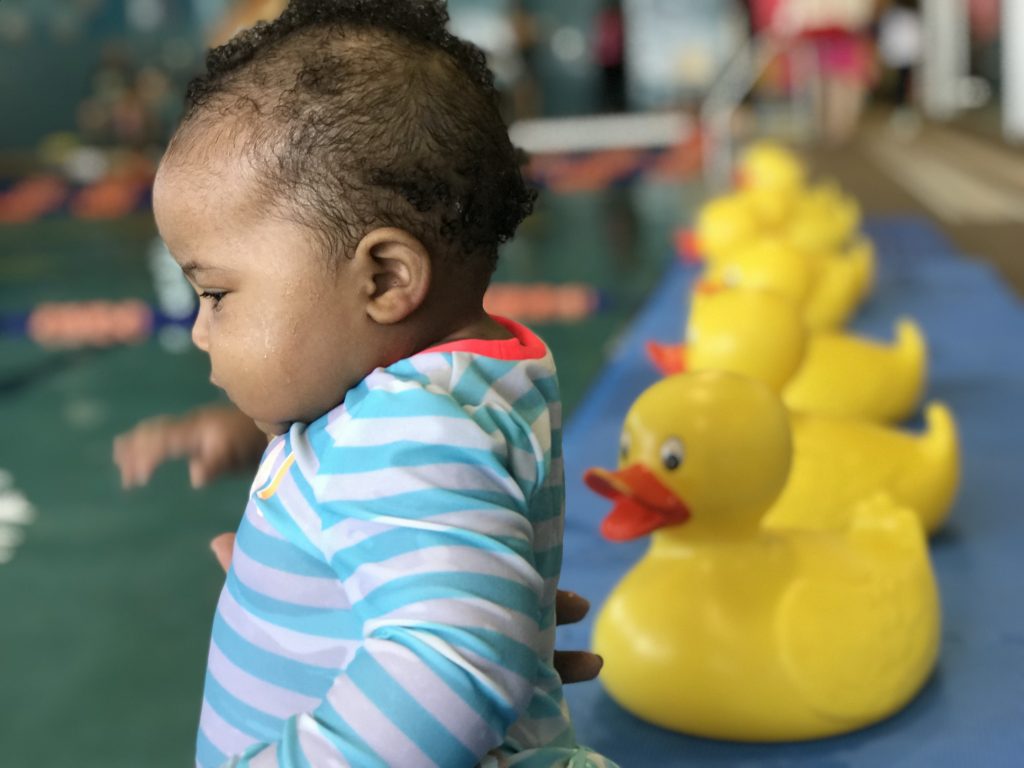 She's learning Water Safety skills.
Water safety skills are urgent and necessary! I know we all hate to think about these things, but I feel relieved that the baby is learning water safety skills during her lessons that can save her life. No, she doesn't know how to swim yet but water safety is more than swimming it knowing what to do and how to behave in and around the pool, and that's just as important. Since communication is mostly non-verbal at this point, I believe that these skills would feel more natural to her as she's learning through repetition.
She's learning to feel comfortable in the pool.
If you read my interview with a Goldfish Swim School instructor post, you know that one of the goals of the school is to help kids feel comfortable in the water. The baby is getting used to the water in her face (she doesn't like it, but she's getting a little better every lesson) and she's even done a few dips which doesn't seem to scare her much once her face is already wet.
[Tweet "When to enroll your baby in swimming lessons!"]
It's fun!
They make the classes fun for the babies and parents. I enjoy singing and playing with her in the water. Her favorite part of her lesson is getting to make a big splash in the pool. Her instructor uses toys and music to keep her engaged, and she seems to love it.
Socialization is healthy for her.
Besides storytime, swimming is the only time she gets to see other babies her age and well socializes (in her case stare). The toddlers love saying hi to "the baby," and she loves staring at them.
I'm excited to share this journey of the baby swimming with you and happy to see her learning and having fun at Goldfish Swim School. I believe that the earlier that you can sign up your child for swimming lessons the better. At Goldfish Swim School, you can sign your child up from the time they're four months old.
When did you enroll your baby  in swimming lessons?