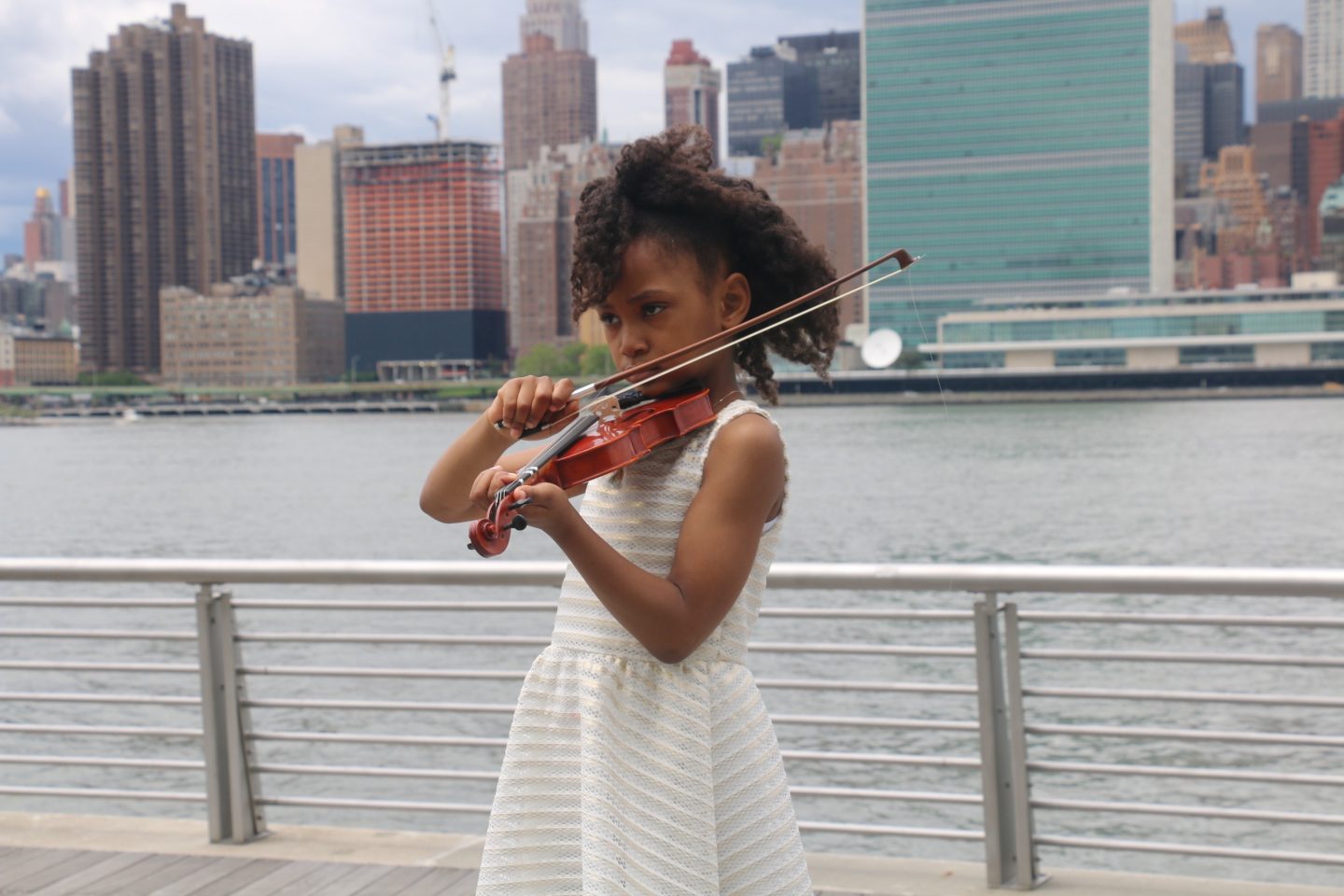 This post is in partnership with Guitar Center via The Motherhood. 
When my daughter started first grade, she came home one evening with a blue paper folded in half and as she handed it to me, she asked if I could "please, please" sign her up to take violin lessons at school. She said that she wanted to learn to play the violin so she could play her favorite songs and that was a good enough reason for me to sign the paperwork. I value self-expression, so I've always encouraged her even when that meant listening to her practice when she first started. My role is to plant the seeds so she understands how self-expression through music could help her be happy and develop essential life skills like stress management, self-confidence and unleashing her creativity. Conversations with her over the past few months gave me the indication that I needed to nurture her creativity and help her feel more confident about playing the violin. So I'm partnering with Guitar Center where she will be taking violin lessons with a pro-instructor for the next few months, and I will document the experience here on the blog.
Encouraging kids self-expression through music with violin lessons.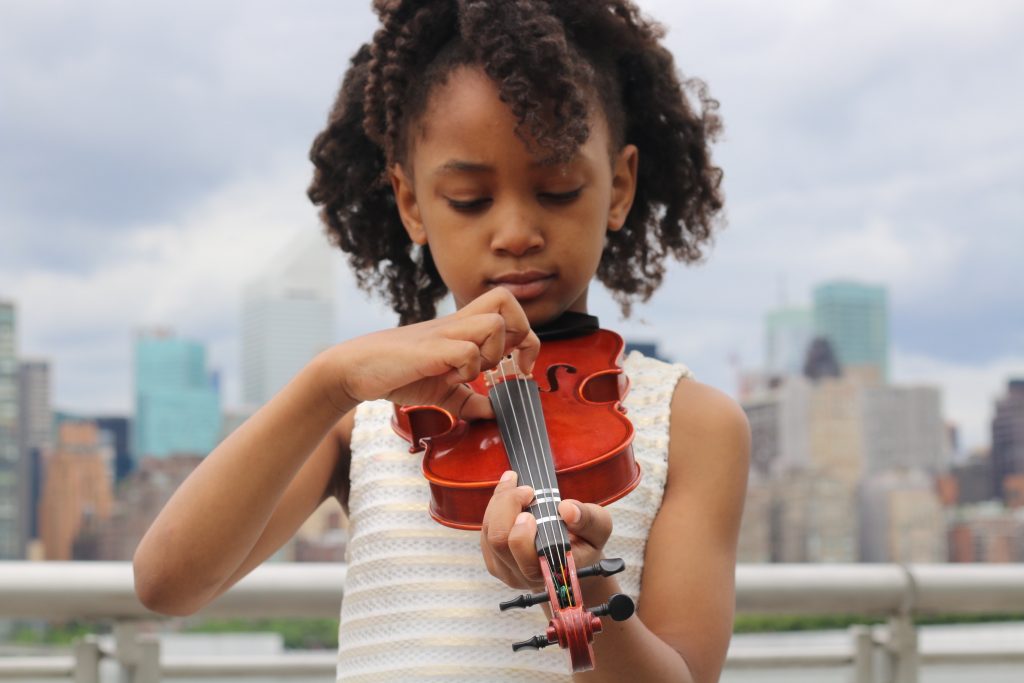 I looked into one other music school before but what stood out about Guitar Center is the custom curriculum that focuses on teaching theory through contemporary music. They have an impressive database of over 1000 songs she could learn that would help her self-expression through her music. Since, I can't play the violin or help her, knowing that her instructor at Guitar Center has office hours means we can stop by if she wants to ask questions or to get feedback before a performance. I'm not sure if my daughter's musical interest will expand to other instruments, but once I see that she's serious, I will support her. It will be cool if she learns how to play more than one instrument. I think now that she understands the discipline and focus required and she has the musical foundation to try any instrument that she enjoys and create music as self-expression. Guitar Center also offers other music instrument lessons like keyboards, drums, bass, guitar, vocals and more.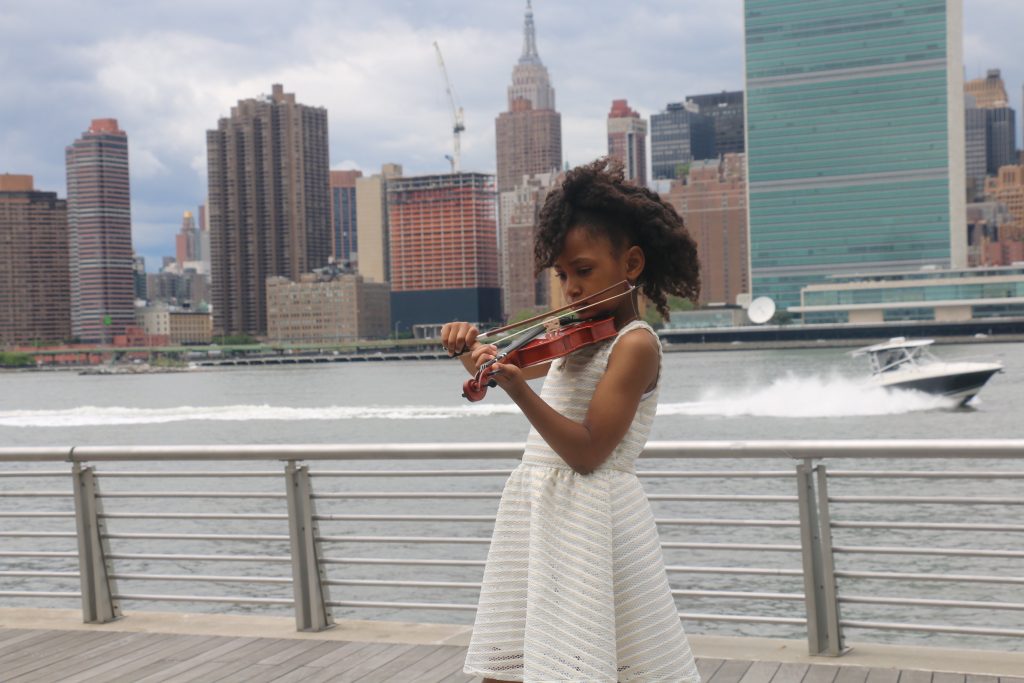 I'm excited to start this journey with my local Guitar Center store in Long Island City, New York. There are over 200 Guitar Centers with brand-new facilities all over the country offering everything from lessons to rentals to instrument repairs to flexible programs that allow kids to take lessons on the go with online resources and the ability to schedule at any location.
If you don't follow our Instagram stories, be sure to follow us on Instagram as I will share behind the scenes peeks into of her 30-minute individual violin lessons.
ps: The Guitar Center curriculum programs are approved by the National Association for Music Education as well as all of the instructors are professionals who focus on helping your child meet their goals.
Do your kids take music lessons? If so, what instrument?