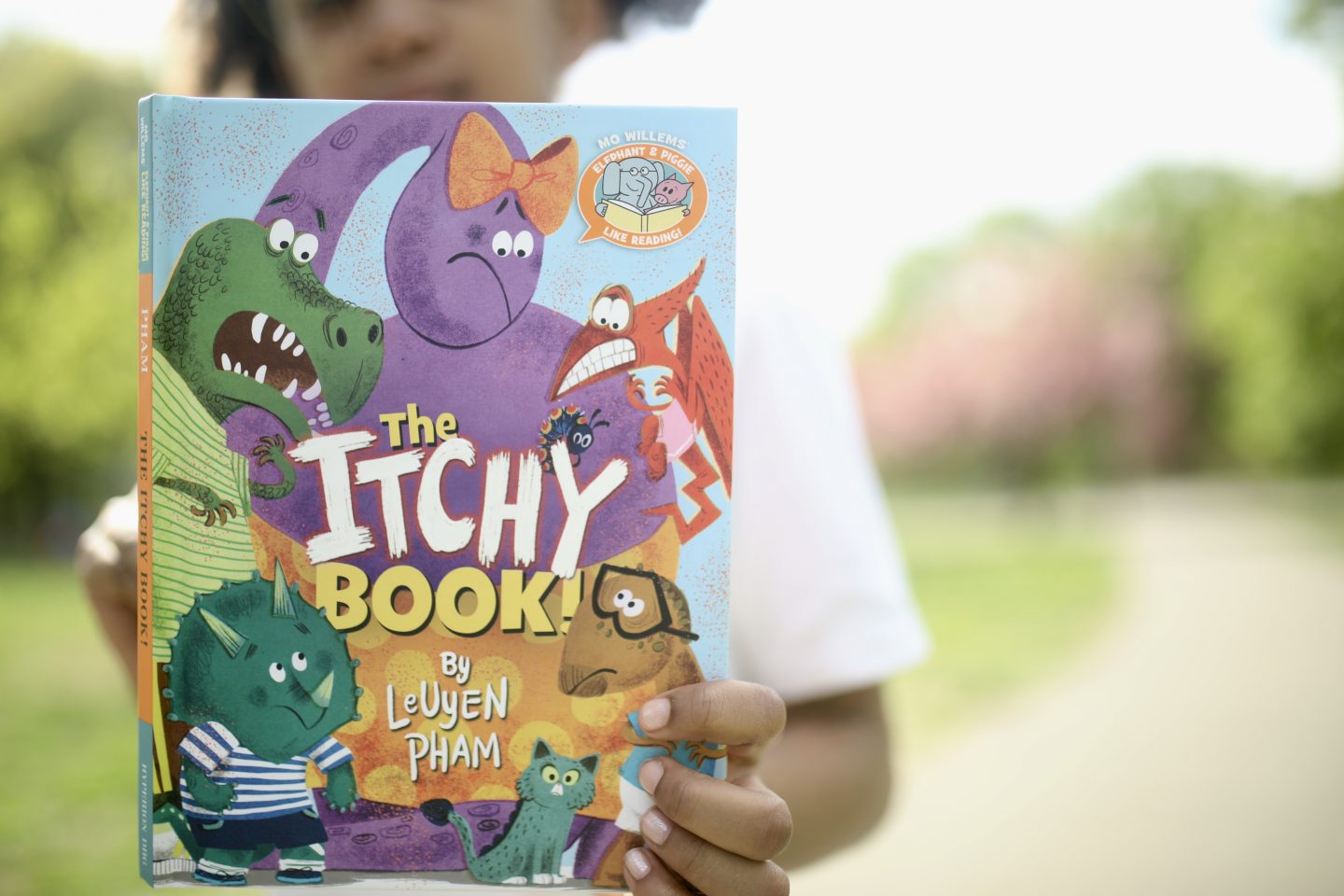 The Itchy Book giveaway is in partnership with our friends at Disney Hyperion! If you're a long time reader, you know that we're huge fans of the Elephant & Piggie book series. My son would reach for an Elephant & Piggie book almost nightly for his bedtime story so to encourage him to try other books; I started adding books to their collection from the Elephant and Piggie Like Reading! series. You might remember It's Shoe Time! that I shared back in December, another book from this series. All of the books in this series are introduced by best friends  Elephant and Piggie and although they're not the main characters in the books help kids who love them be open to a new story. The latest book in the Elephant and Piggie Like Reading! series is called The Itchy Book, and it's hilarious. The first time I read it to the kids, we were all laying on my bed, and the big kids laughed so much that even baby started laughing too. This book is about dinosaurs, and I've yet to meet a child who isn't intrigued by dinosaurs. It's been on repeat over the past week as either my daughter or I read it to my son on a daily basis. If you have a burgeoning reader on your hands, this book is a must-have. You can shop for The Itchy Book for your little ones in stores on May 15, 2018, or preorder a copy here but be sure to scroll down to enter the giveaway so you can win a prize pack including The Itchy Book.
Synopsis:
They may be dinosaurs, but their gigantic discover still holds true three million years later. Itchy dinosaurs try to follow a very important, very prehistoric rule. A rule so important and so prehistoric, it's written in stone. DINOSAURS DO NOT SCRATCH! Triceratops has an itch. . . so does Pterodactyl. . . and Brontosaurus. . . and T-Rex! But Dino-Mo reminds them all of the BIG rule: Dinosaurs do not scratch! What's an itchy dinosaur to do? Find out in this hilariously charming beginning reader by author/illustrator LeUyen Pham.
About the Author
LeUyen Pham's detailed and hilarious style is a perfect match for the Elephant & Piggie Like Reading! series. The Mo Willems/ LeUyen Pham collaboration will have fans itching for more! LeUyen Pham is the prolific and bestselling illustrator of many books for children, including Grace for President by Kelly DiPucchio, Freckleface Strawberry by Julianne Moore and God's Dream by Archbishop Desmond Tutu. Pham has also written and illustrated her own works, including All the Things I Love About You and Big Sister, Little Sister. A former animator for DreamWorks, she lives with her husband and two sons in Los Angeles.

ELEPHANT & PIGGIE LIKE READING! GIVEAWAY One (1) winner will an excellent book pack including:
The Itchy Book;
2 more Elephant & Piggie Like Reading! titles: We Are Growing! and The Cookie Fiasco;
The final Elephant & Piggie title: The Thank You Book;
branded back scratcher
PLUS custom THANK-O-RAMA "Thank You" notes!
  Giveaway open to US addresses only. Prizing and samples provided by Disney Hyperion. a Rafflecopter giveaway   Are your kids Elephant and Piggie fans?