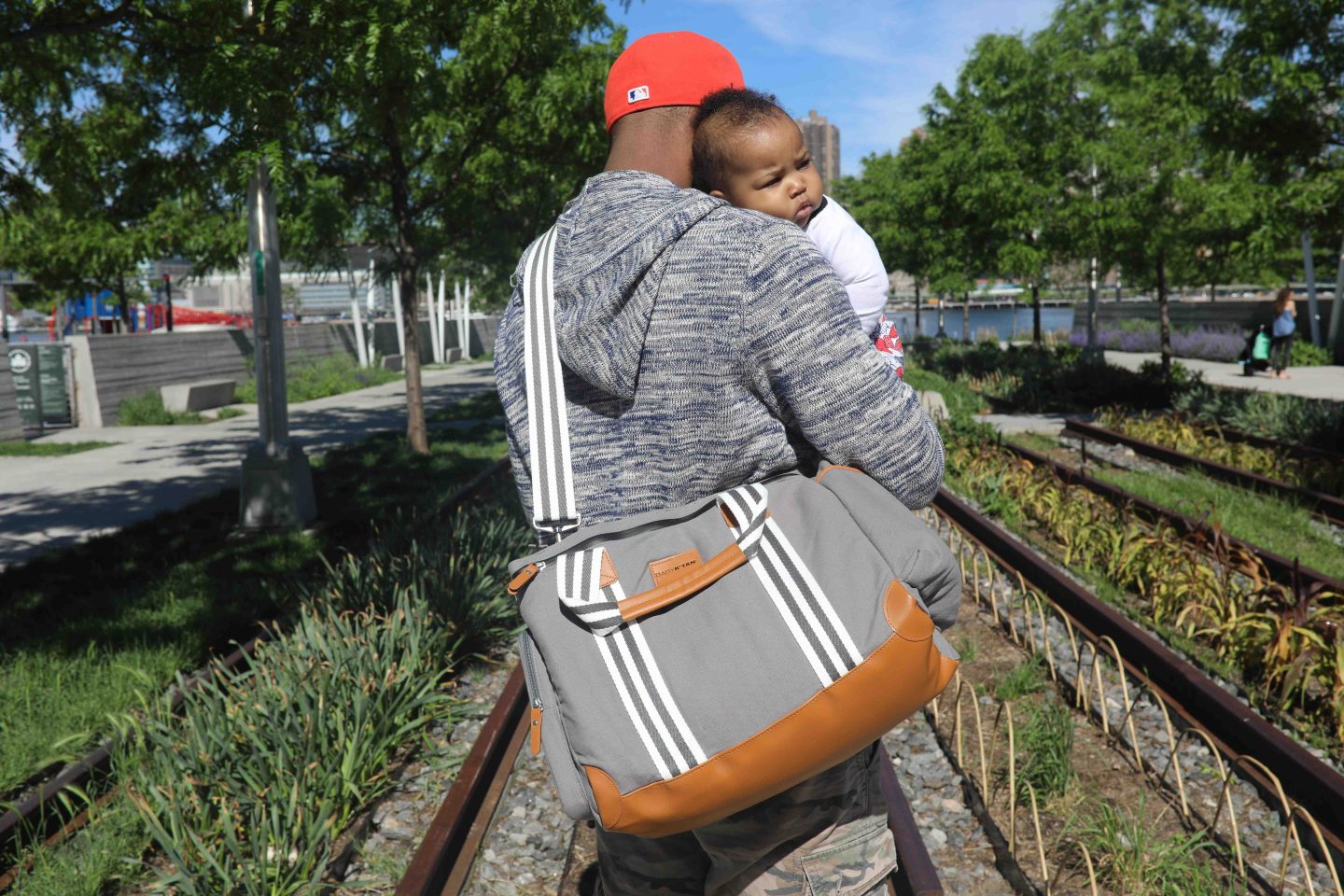 This post is sponsored by Baby K'tan. All opinions are based on my experience.
The best part of living in New York City is raising my little ones here! It's a really baby-friendly city although most people who don't live here may not think so. I love the diversity that it's walkable, and It's refreshing that there is always something fun to do with them regardless of their age. Baby Rattles is now six months old, and she loves observing her environment, people watching and animal watching. I wanted to share four things to do in New York City with a baby, things we did with all of our babies that I believe you should know about whether you're visiting or you live here. Before I share, I want to warn you that you should always walk with all of your little one's necessities when hanging out in the city as it's easy to get carried away and stay out much longer than planned. Right now we love to take the Baby K'tan weekender diaper bag filled with everything all three kids needs for our outings like extra clothes, snacks, water, toys, etc. The Weekender is perfect because there is plenty storage space, a wet bag for soiled baby clothes, a cooler pocket where I can store all of their snacks and a handy wipes dispenser.
[Tweet "Four fun things to do with your baby in New York City! "]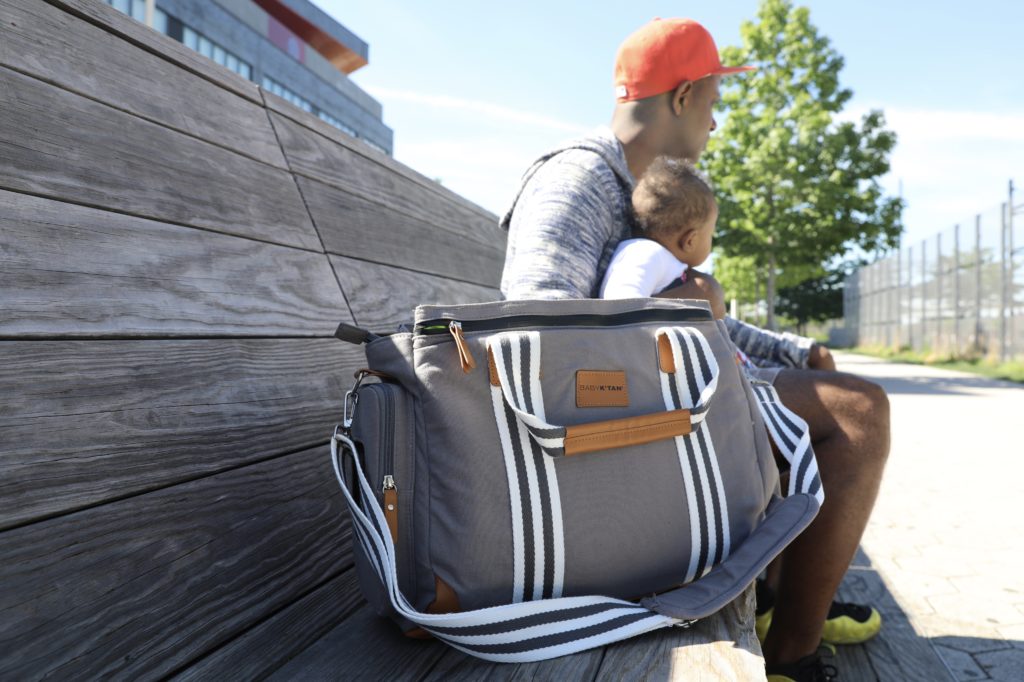 Queens Waterfront – Long Island City
One of the things we love about Long Island City waterfront is that while it's gorgeous and offers some of the most breathtaking views of the city, it's never really as crowded as some of the waterfront areas. On days when we want some low-key fun, we hang out there. Last week, we put her on the baby swing at one of the playgrounds there for the first time, and she seemed to love. Whenever we hang out there, I love that they have decent bathrooms and our Baby K'tan diaper bag changing pad with antibacterial lining makes changing her a bit more pleasant especially with easy access wipes dispenser is very convenient. When we're not playing with her on the swing and slide here, we're sitting people and birdwatching. She loves to scream at the bird (hahaha).
Bryant Park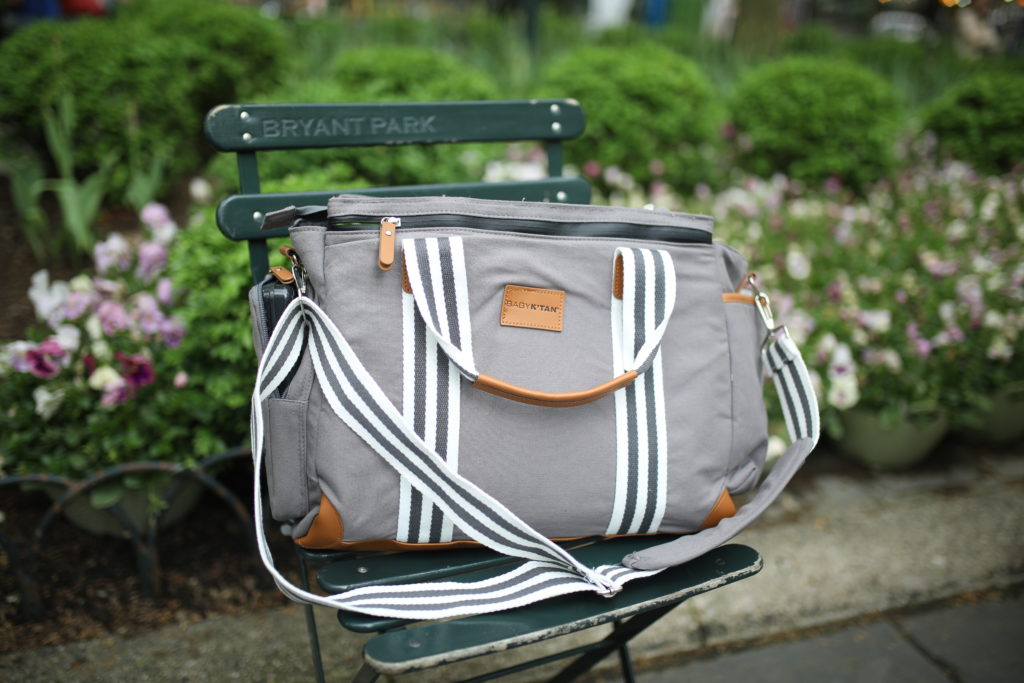 When my husband and I were dating, we would sit in Bryant Park and talk for hours so now that we have our kids it's one of our favorite places to hang out with them. There isn't a part of this park that isn't beautiful; it's one of the most gorgeous spaces in New York City and very baby and kid-friendly. This weekend, we enjoyed story time played games there and took her for her first carousel ride on the Le Carrousel. This carousel is very baby-friendly since it's small and slower than most. We sat on the bench which she seemed to enjoy it. You can watch us on my Instagram "New York City with Kids" highlights. I tell all my mom friends this, Bryant Park's bathrooms are clean. They usually have an attendant there all the time, and it's potty-training friendly.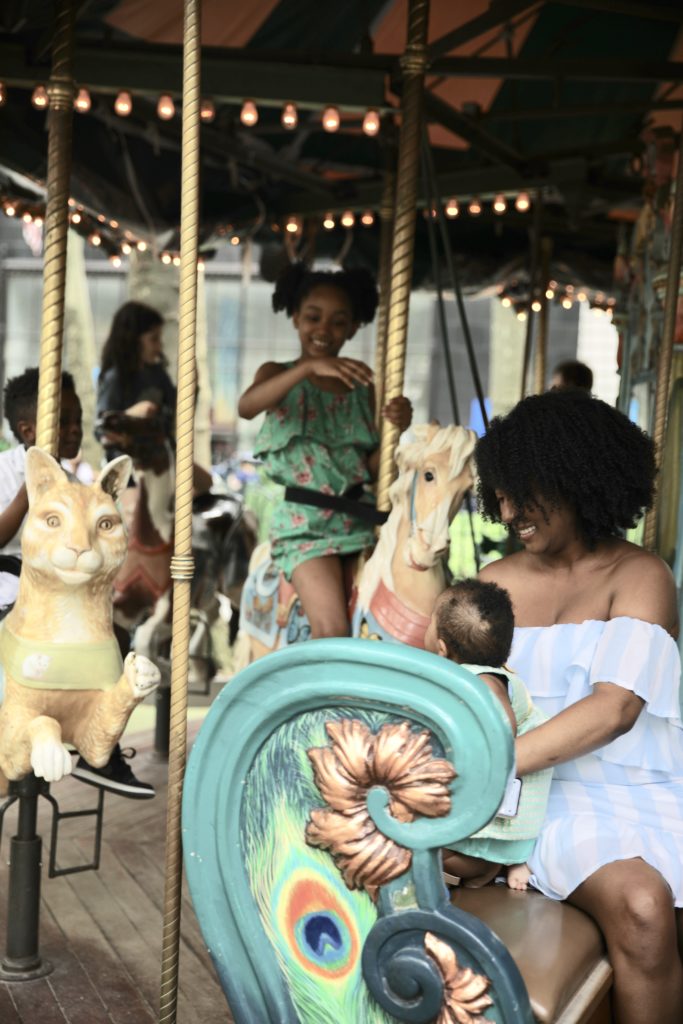 Brooklyn Bridge Park
If you've been following me for a while, I know you expected Brooklyn Bridge Park to be on this list because it's somewhere we go very often, every summer. I was there with my son only days after I gave birth to him; it's a great place to take your baby for a walk, to play, picnic, Jane's Carousel, etc. Be sure to pack a sun hat or bonnet for your little one as well as sunscreen for a trip to Brooklyn Bridge Park and avoid going when the sun is at its peak. It can get hot and uncomfortable for babies.
Central Park Zoo
Later this month, we're planning to take our the kids to the Central Park Zoo. We chose this zoo for her because it's small and not as overwhelming as the Bronx Zoo which is better for bigger kids. I'm excited to see her reactions to all of the different animals as well as her sibling's excitement to have this experience with her. A trip to the zoo usually takes an entire day so the Baby K'tan Weekender will come in very handy with its built-in wet bag for any messes and insulated pocket that will keep food cold.
We can fit everything we need in it, and I love that there is a handy pocket for everything. This bag is unisex so both my husband and I can use it. If you're planning to travel this summer, this bag is perfect for packing all of your baby's things.  We have the Baby K'tan Weekender in charcoal, but you can buy it in Olive Green and Navy blue as well. This baby no longer uses a pacifier but this bag comes with an antimicrobial pacifier pouch, I've had to purchase those separately in this past, so I appreciate the thoughtfulness of this design.
Share your favorite places to hang out with your baby in NYC below. And, if you loved the Baby K'tan Weekender as much as we do after reading more about it, grab yours over on their site.