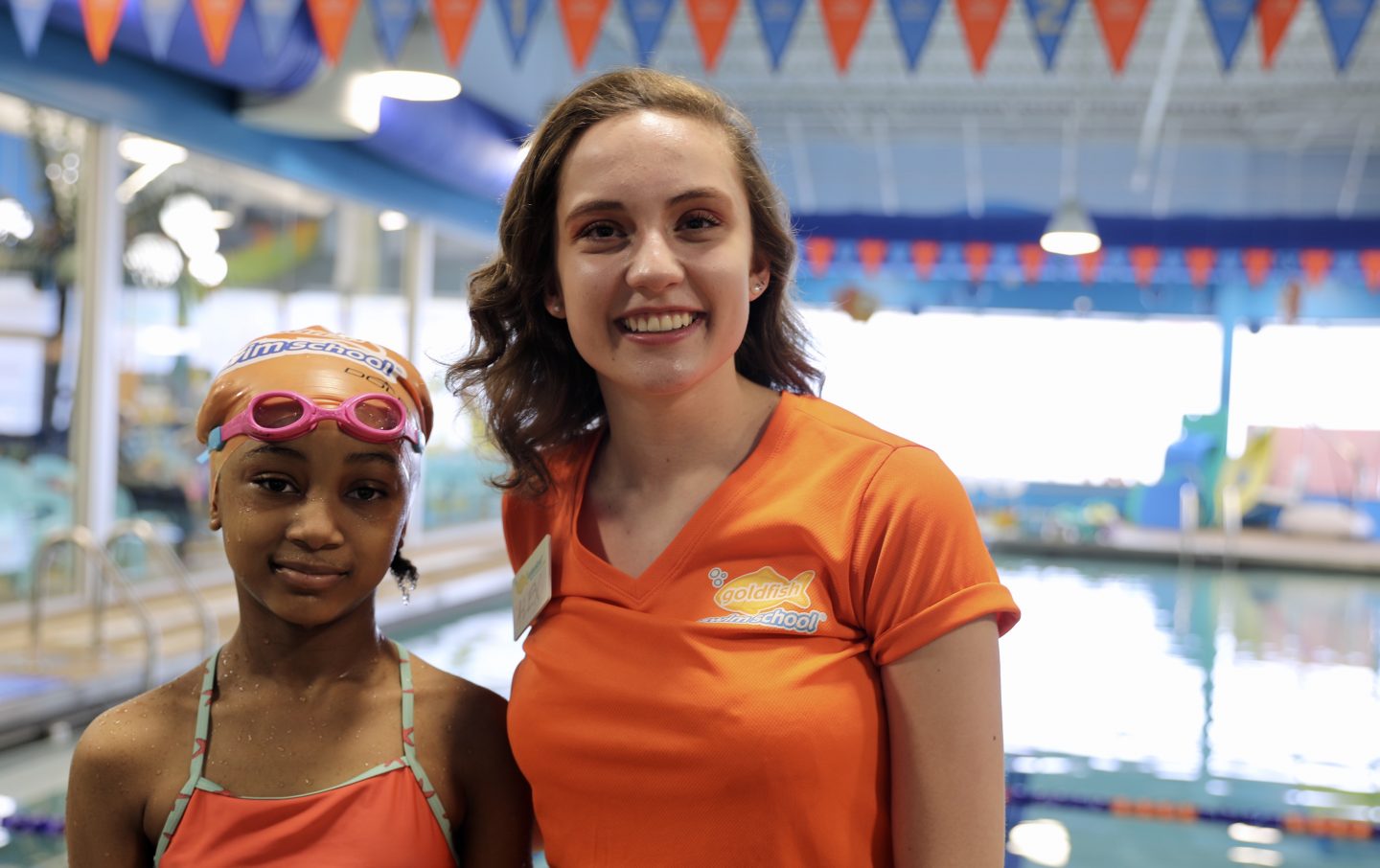 This post is in partnership with Goldfish Swim School. 
Since my kids started swimming lessons at Goldfish Swim School of Garden City, eight months ago and I've been impressed by how cheerful, patient and professional the instructors are with the kids both in and out of the pool. As the kids progressed and they got new instructors their old instructors keep up with their progress. It's refreshing and makes the swim school feel very welcoming for the little ones. I was curious to learn about the school from an instructor's perspective, so last week, I sat down with one of Alex to learn more about her and her experience at Goldfish Swim School.  She shared so many gems in this interview that I know will be helpful for those of us with kids enrolled in swimming lessons or considering enrolling children. Alex is also a college student, and she's been with Goldfish Swim School Garden City since it's opening in the summer of 2016.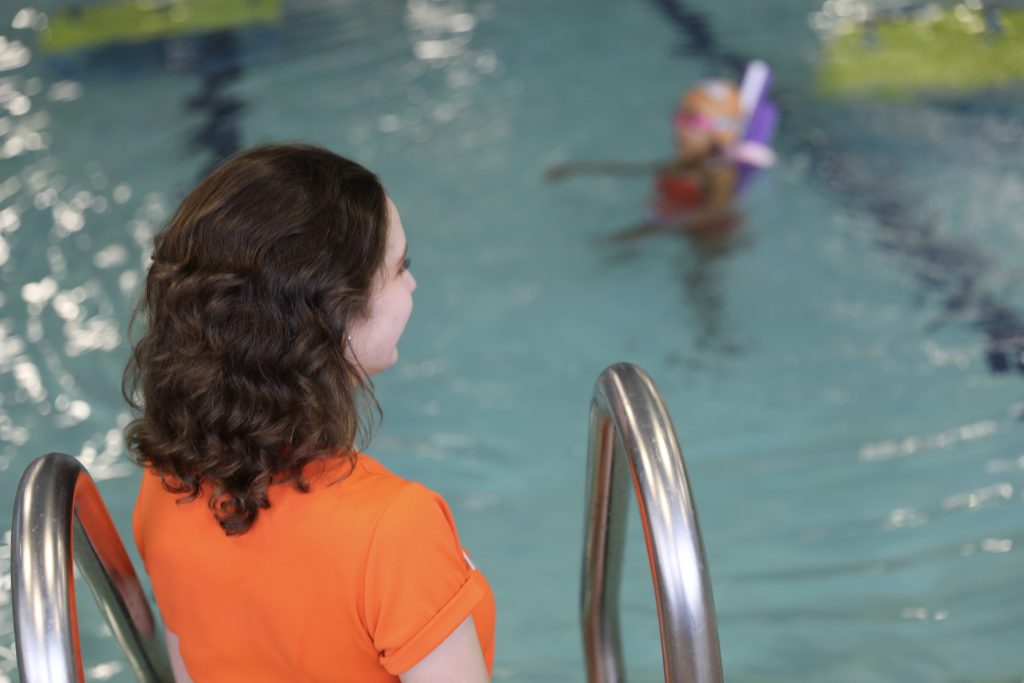 What do you enjoy most about teaching kids to swim?
I love working with children, I always have. My past jobs were as a camp counselor and a music teacher. I have always really loved kids, their vibes and I love teaching them new things. I have been a swimmer all my life; I grew up swimming, competing and diving, so it just seemed like such a natural fit for me when Goldfish Swim School opened up. When I came here, I just fell in love, and I just couldn't stay away. My schedule is always packed. I love the kids, the people and enjoy teaching. I feel like it's super rewarding, they are learning a significant life skill, and we are having fun at the same time.
[Tweet "I love the kids, and I love the people I work with, and I enjoy teaching the kids, I feel like it's super rewarding, they are learning a big life skill, and we are having fun at the same time."]
What attracted you to Goldfish Swim School?
I grew up as a swimmer and competing. I've seen a lot of different facilities and this vibe that we have here is fantastic and kid-friendly. The decor is different it's a tropical theme, the whole atmosphere in general. I can't stop saying good things about it because we have a separate curriculum from different swim schools which I think works to our advantage because it sets us apart and in a place where our primary goal is not to have children swimming well in their first class. We focus primarily on their safety; we are focused on having fun, we are focused on incorporating monthly themes, we are focused on all these different aspects of being kids, we are not trying to make them into something they are not. My manager is fantastic; we work together, we all want to be here, and we want to have fun. At Goldfish, we have specific values, and one of our values is to celebrate, and we take that to heart. We want to be this fun place and this safe environment where kids can learn a skill that's important.
[Tweet "Our main goal is not to have children swimming perfectly in their first class, but we focus primarily on their safety"]
What type of training do Goldfish Swim School Instructors receive?
Every trainee is shadowing another instructor that have been here a while, and then we pair them with people that are considered golden teachers which means they know the curriculum. So, we have a process bi-weekly, and the trainee starts observing the class, and they start giving positive reinforcement, and then they start teaching a quarter of the class, half of the class, then a full class. We do in-water workshops every month, a few times a month to work on those skills with all of our instructors and not just the new ones. Everyone who is new can learn the new skills and everyone who has been here for a while can brush up on their skills. We also have them training with the desk advisors like myself. I write up a report after each shift I am supervising to go over their progress and tell them what they are great at and what we are still working on. Of course, we also have our lifeguard certification classes that everybody goes through which is through, and they take a CPR class, first aid, and shallow water, lifeguard information that way, God forbid, if we have an emergency, we're always prepared.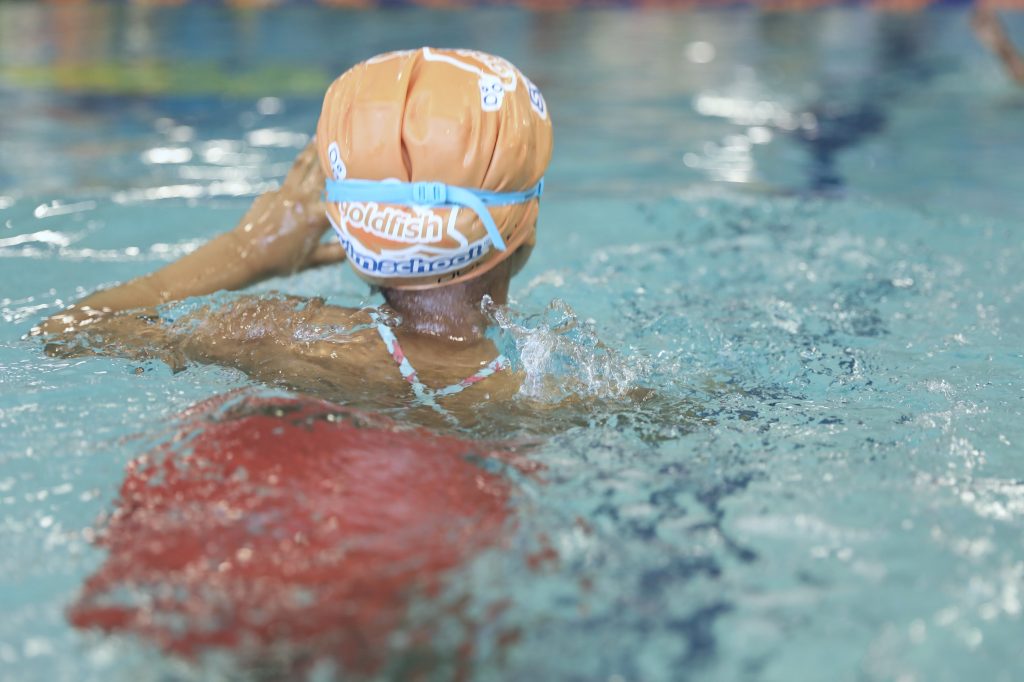 What can we do as parents to prepare our children for their first swimming class especially kids with a fear of water? 
There are a lot of different things you can do as parents. If your children are coming to Goldfish Swim School you can do the mommy and me classes; we give out cards that have homework on the back, "homework" where we incorporate bathtime. So, they go through the skills until they are like 5 or 6 and they start understanding a little bit more.  You can practice, you don't want to get them super nervous about it. You can start putting water on the back of their heads, or tell them "we are going to go swimming" we just want to let them know and let them be aware that it's going to be okay and we want to reassure them. We can practice blowing bubbles in the bath; we can practice getting our face wet, we can practice getting water put on top of our face, just integrating little skills like that before swimming is important. To prepare them mentally for it when they come in the water to say  "You're going to do a great job!" Whenever we have children that are getting upset or nervous (because that happens) it's inevitable; we just allow them to get upset because once they realize that they can overcome it. It's much better than if we just pull them away and they don't get used to it. You want them to get used to it as quick as possible and be there to support and encourage them. Also, when they have their lessons, go home and reinforce those skills during bathtime again until they can come here and be ready without any nerves.
[Tweet "So, you want them to get used to it as quick as possible and be there to support and encourage them and then also, when they do have their lesson, to go home and reinforce those skills during bathtime until they can come here and be ready without any nerves."]
These are great ideas to prepare younger children. How about children who are older, 6 and above? 
So, with older kids, it's a little bit more difficult because they're at that age where it's in that sensitive area, we don't do the bathtime skills, but we reassure the child that it's going to be okay and start with small skills. We don't put the children under the water within the first three weeks if they don't want to at that age. We give them the opportunity to show them,  we are going to work with them going at their pace, at your level and we are not going to do anything they're not comfortable doing if it's the first time. After the three weeks, we do want to start getting them comfortable with water on their face underneath the water especially with 9 or 10-year-olds. We reassure their confidence through positive reinforcement, celebrating the little things that they do that are right because, at that age, it's kind of hard to eliminate the fear. Whenever I teach children that are a little older, that are nervous, they get frustrated because they are at that age where they realize "I should be progressing a little bit more." It's a lot of verbal communication; I like to tell them: "Listen,  you are going at different paces and you will get there." Addressing that concern, showing and supporting them physically in the water and emotionally when as they are trying to get through.
[Tweet "We don't put the children under the water within the first three weeks if they don't want to at that age"]
What can we do as parents to prevent regression? 
At the end of every class to ensure the parents are on the same page we feedback on the student's lesson that way at home, they can reinforce. Obviously, you don't have a pool at home to use in December, but you can still practice reaching arms out, pulling back, keeping their legs nice and straight and kicking.Whenever kids do not have swimming lessons, they can practice those at home. They are easy enough, and if they are swimming year-round, we can go over in the summer if the parents are on the same page as the students a little bit older and they can practice on their own. You can also come to family swim. Just remembering those skills and just keeping them incorporated, constant repetition.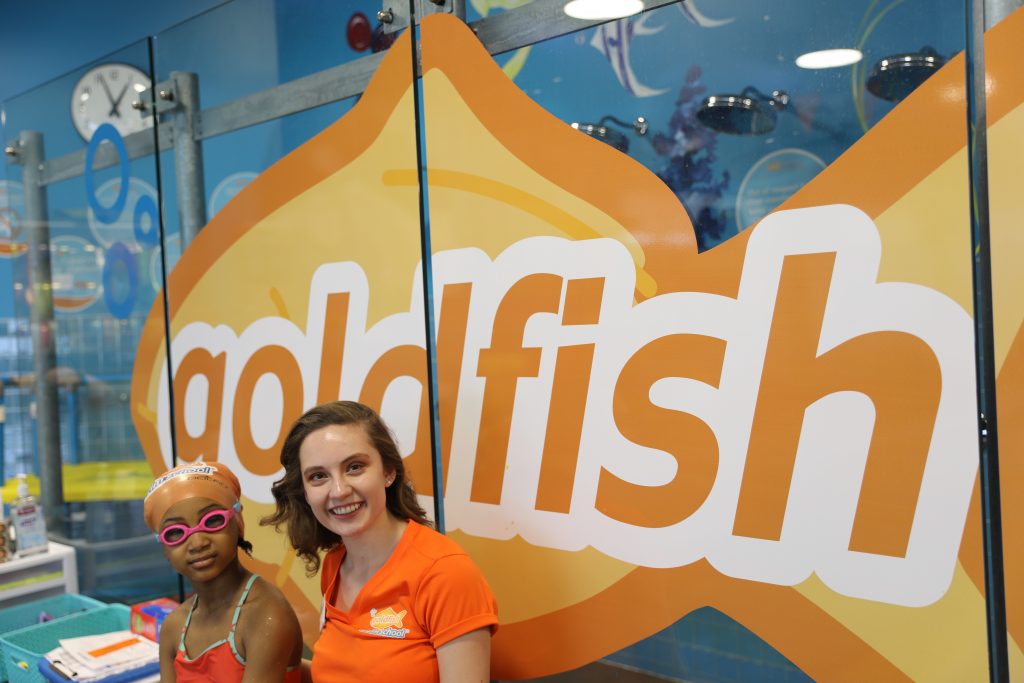 Would you recommend swimming lessons year round?
I swam year-round, and I've come to realize that helped my progression especially as I got older. It just kept reinforcing those skills, no matter what stage I was developing. Our pools are warm and indoors, so it's easier for us to help the children to continue to progress. In the winter time, it's reinforcing those skills, and I feel like it builds their confidence especially over the summer, it's not like, "Oh let me learn how to swim again. And it's a little more dangerous in the pool and ocean. So, it's good to keep reinforcing those skills, keep learning water safety, our lessons aren't just swimming, we teach about water safety, we show on and off the pool deck. I would recommend getting children in perpetually or at least once per month or twice per month just to keep reinforcing their skills.
I can tell you're passionate about teaching children water safety. Could you leave us with one experience as a swimming instructor at Goldfish Swim School that was meaningful to you?
Wow, that is such a great question because I just had an experience probably two weeks ago. I have a lot of kids that I hold dear to my heart because of what I know, I have become close to their family (their parents) after seeing them every week. But there is this one little boy in particular who was afraid of the water, and I was supervising one night, and I jumped in with him. I had one of my deck teachers look over the pool while I just get in and see what I can do to help him, and he was so scared, crying and crying but I could see that we were getting somewhere. We started playing games together, and he started getting more comfortable in the water, and the next week we just felt better, and I have seen him improve over the last couple of months and I have grown close with his parents. His mom came up to me a few days ago and told me: "Alex, ever since that one lesson with you, he stopped crying. He didn't want to come to swimming at all, but after that one on one lesson, he realized it's okay." and she said it was a complete 180. I've seen so much progress, he's three years old and he is almost independently swimming by himself in the class.