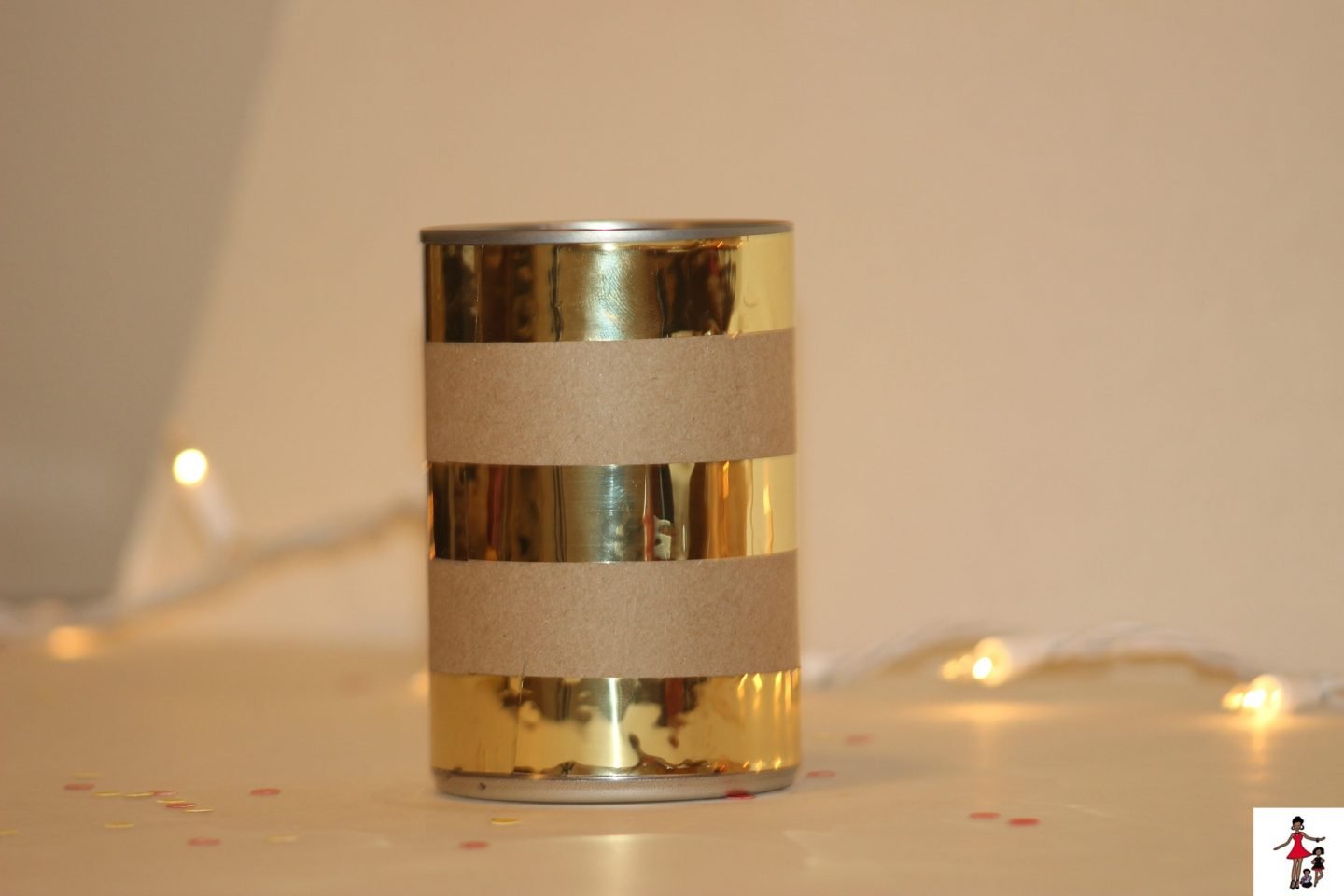 [Tweet "Upcycle old food cans to make this gorgeous holiday DIY #holidays"]
This weekend was supposed to be all about decorating. We planned to put up the tree and all that jazz but all we ended up doing was wrapping gifts and sending out holiday cards. I did squeeze in a holiday DIY that I am really, really, really excited to share with you. I made them using old food cans that I upcycled for holiday decorations and storage. These are so pretty and chic and I already know that you're going to love them as much as I do (Yes. I'm a tad bit psychic). They were very easy to make and inexpensive. It's such a good way to use old food cans instead of tossing them in the garbage.  You can use these for decorations, tablescapes, to store stationary, as plant pots, utensils and the list goes on and on. Basically, they are really functional and multipurpose.
I can try to convince you that you don't have to be a crafty mom to make them and you may not believe me so I decided to record it, that way I have proof and you my friends have a tutorial.
 Supplies you're going to need:
Gold Washi tape (I purchased mine at Target)
Clear scotch tape
Brown wrapping paper (Discount store)
Used food cans
Here's how you'll make them:
 Cut wrapping paper 10 1/2 " x 4″
Tape one end of wrapping paper with clear scotch tape to can and then wrap around can then tape the other end.
Wrap gold washi tape around can at top, middle and bottom. Make sure they are evenly spaced.
Your end result should look like this: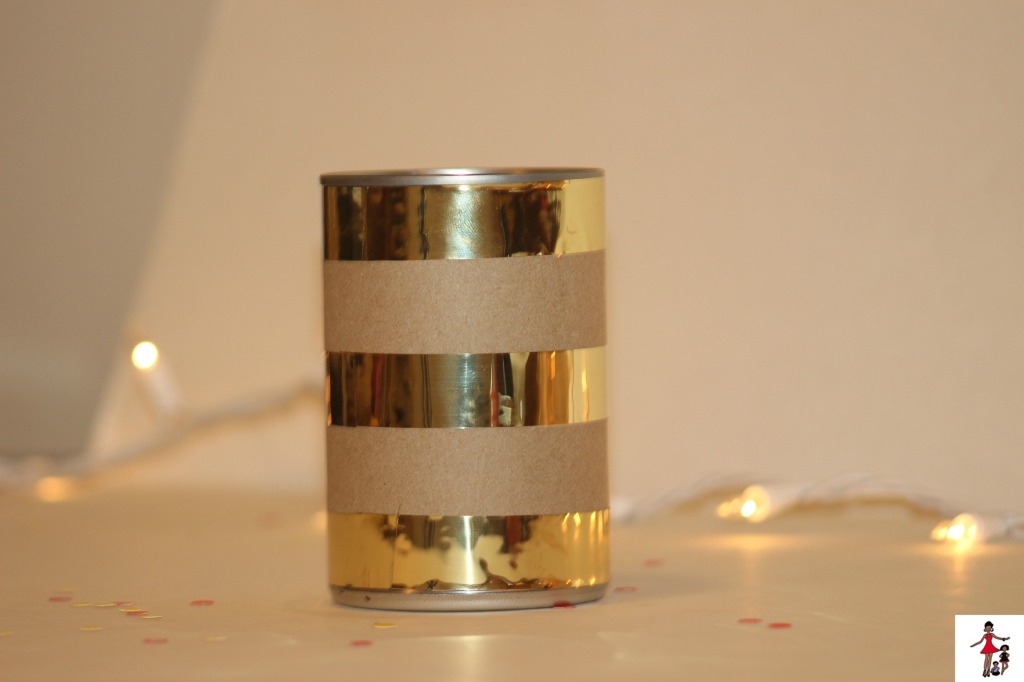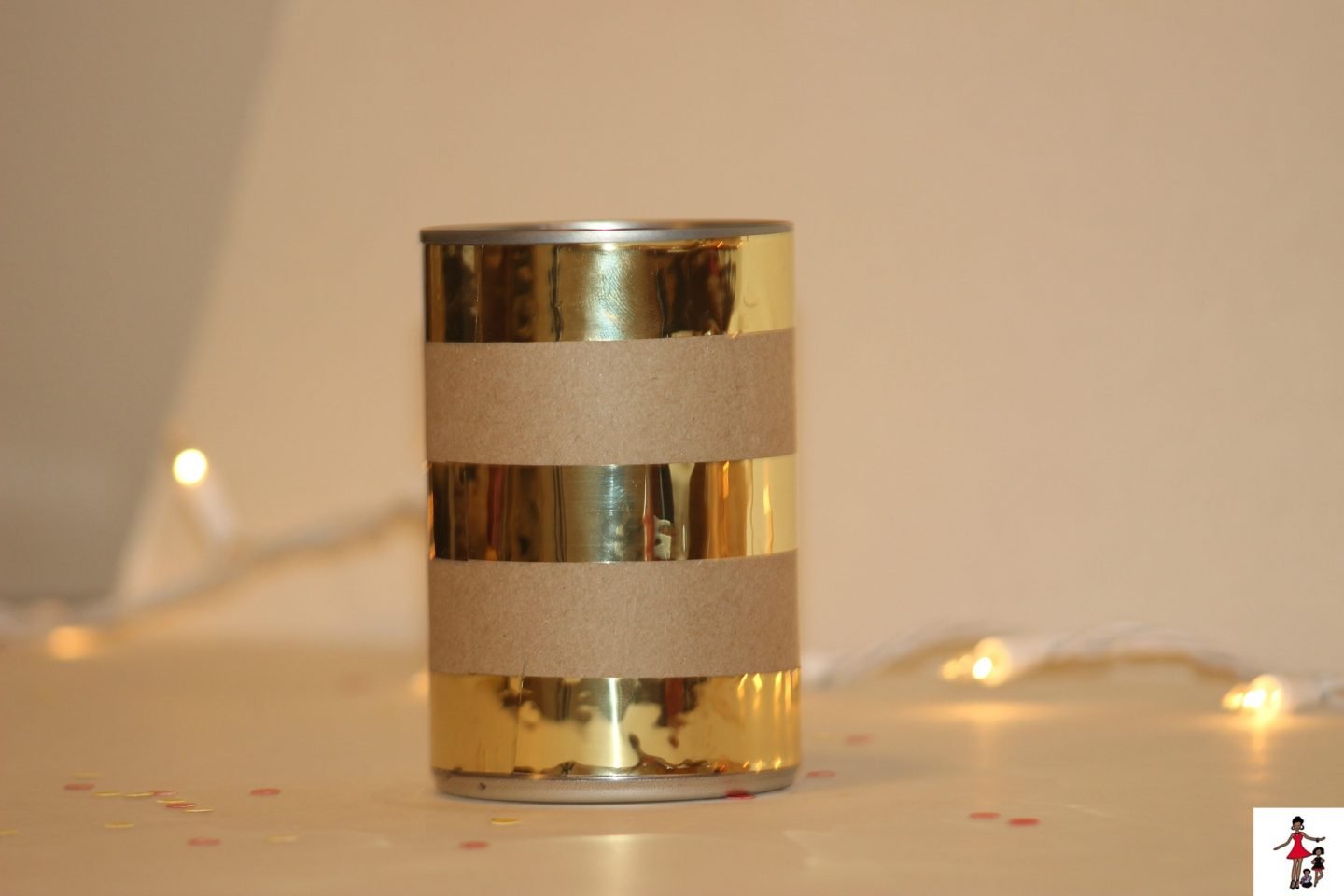 I chose to use them to store my holiday paper straws but you can use them as you like 🙂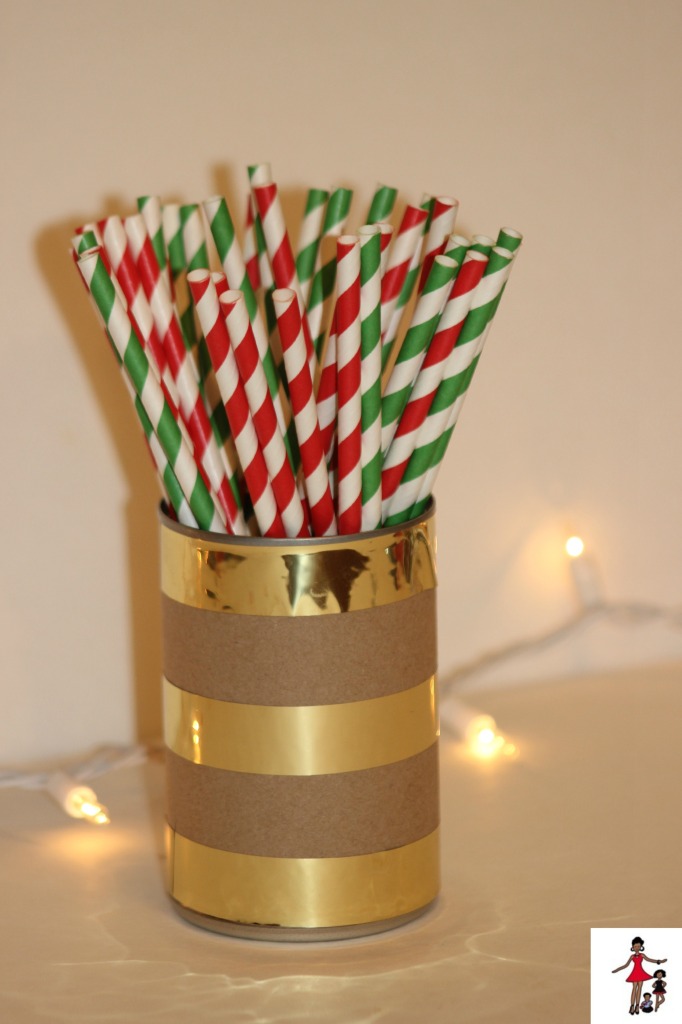 You can be creative and try different styles using different materials. I also made this one using chalkboard gift wrapping paper, bakers twine and leaves.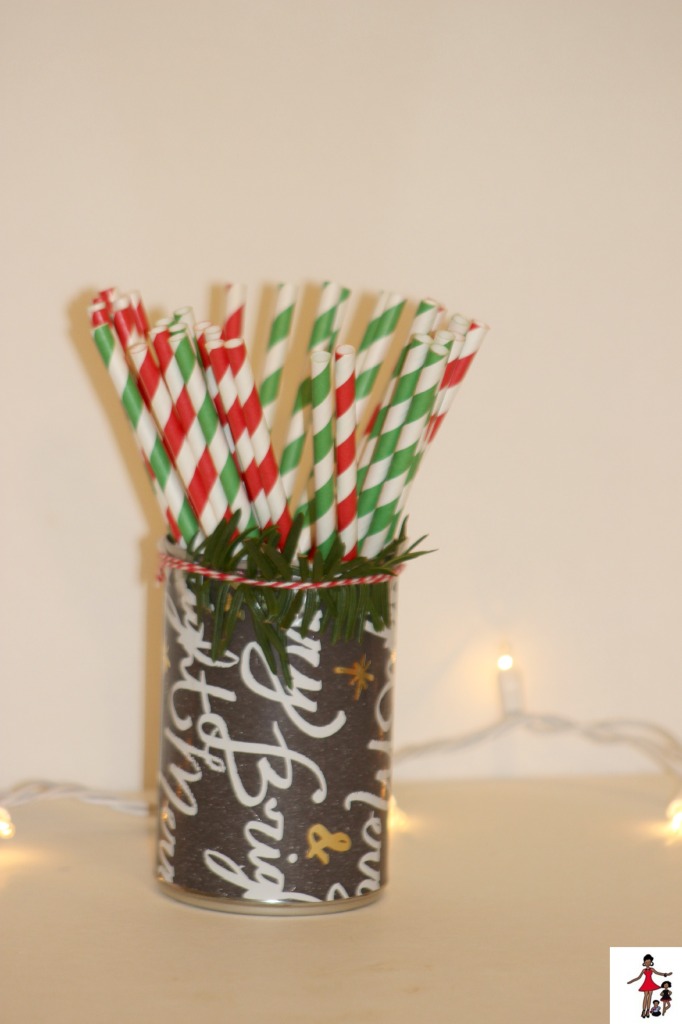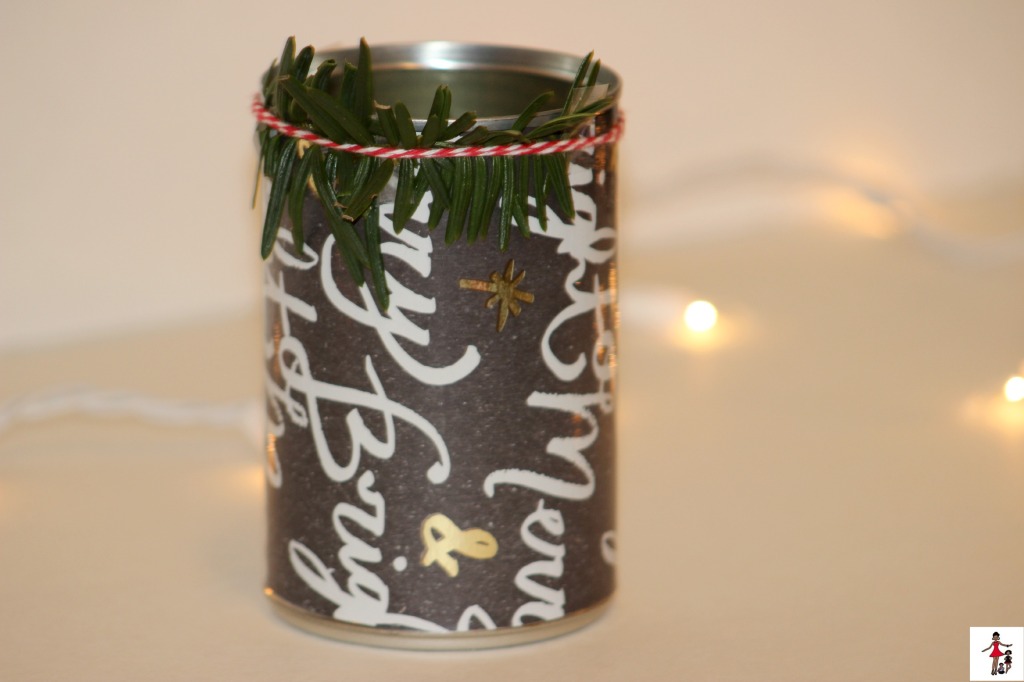 You can also pin this and make it anytime of year, it's perfect for candles or to store your make-up brushes.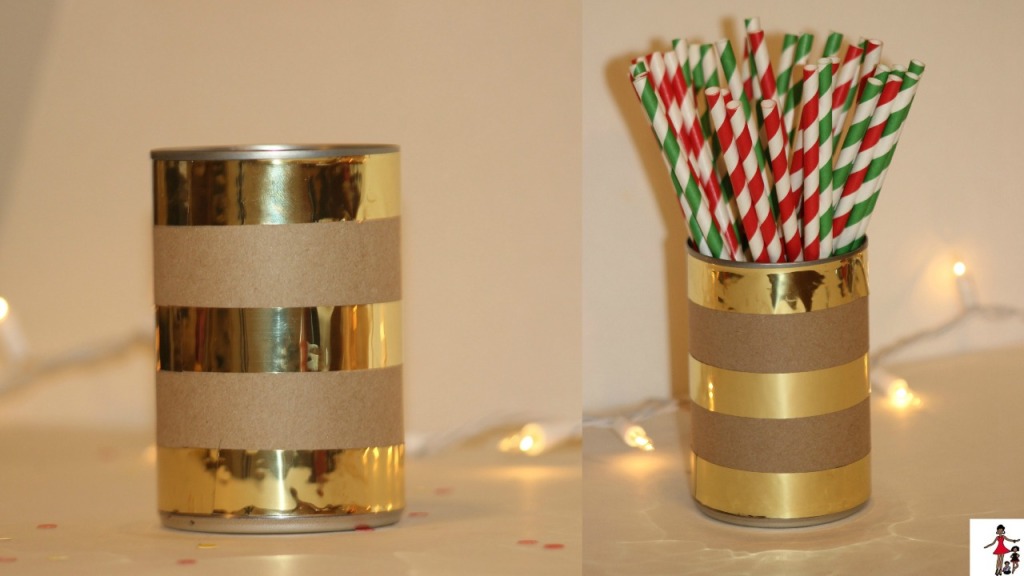 I love this holiday craft because there is no drying time or messy products needed which minimizes possibility of a fail. Plus, it looks polished and expensive because of the gold tape.
Are you going to make this holiday DIY?