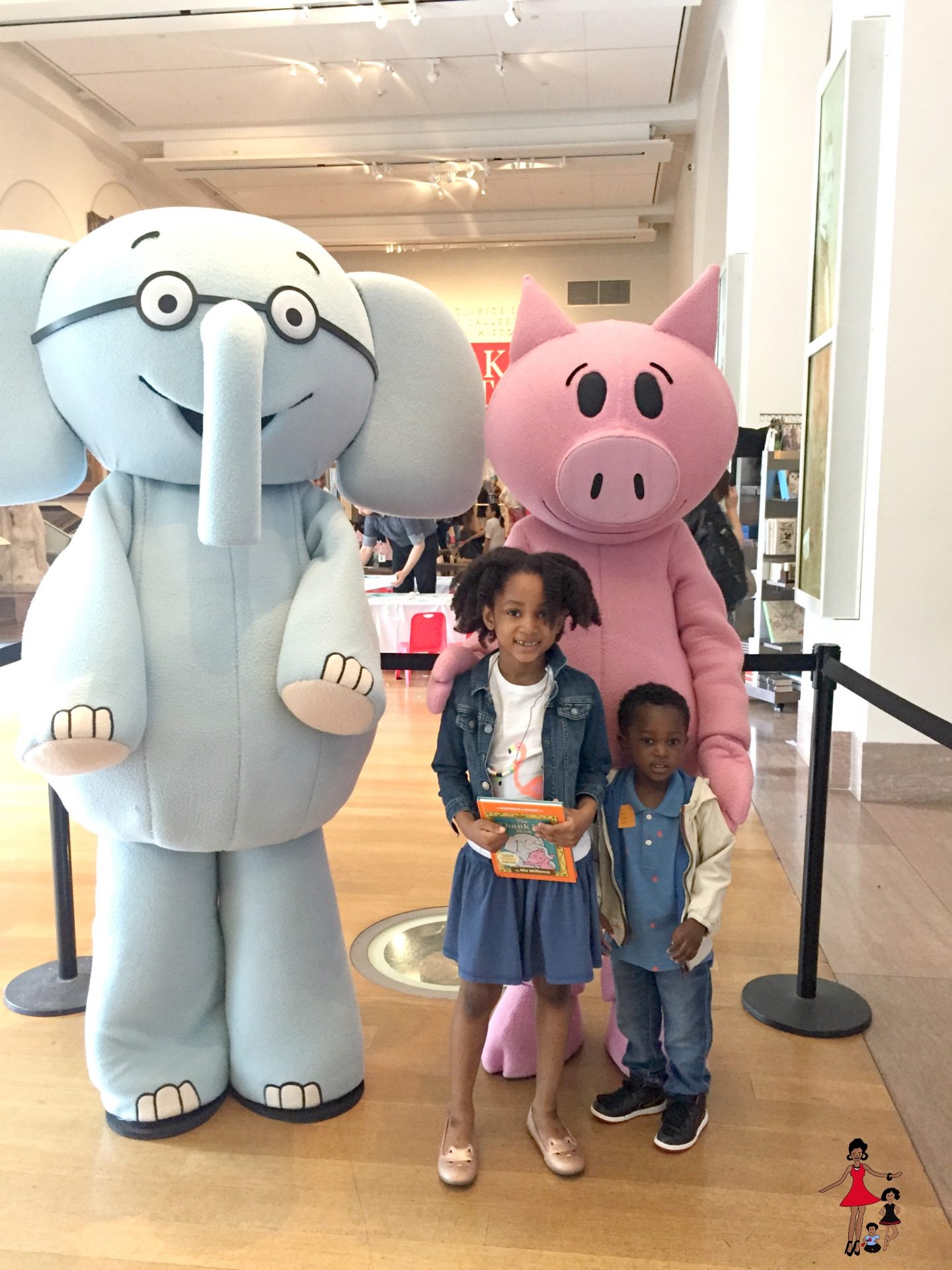 My kids are obsessed with the Elephant and Piggie book series by Mo Willems! I mean they've memorized many of his books and they laugh really loud and raucous whenever we read them. My daughter's love for the Elephant and Piggie books even led her school librarian to order them for the school's library. They're little but clearly big fans so when I heard about The Art and Whimsy of Mo Willems exhibit taking place at the New York Historial Society, I knew that they had to go.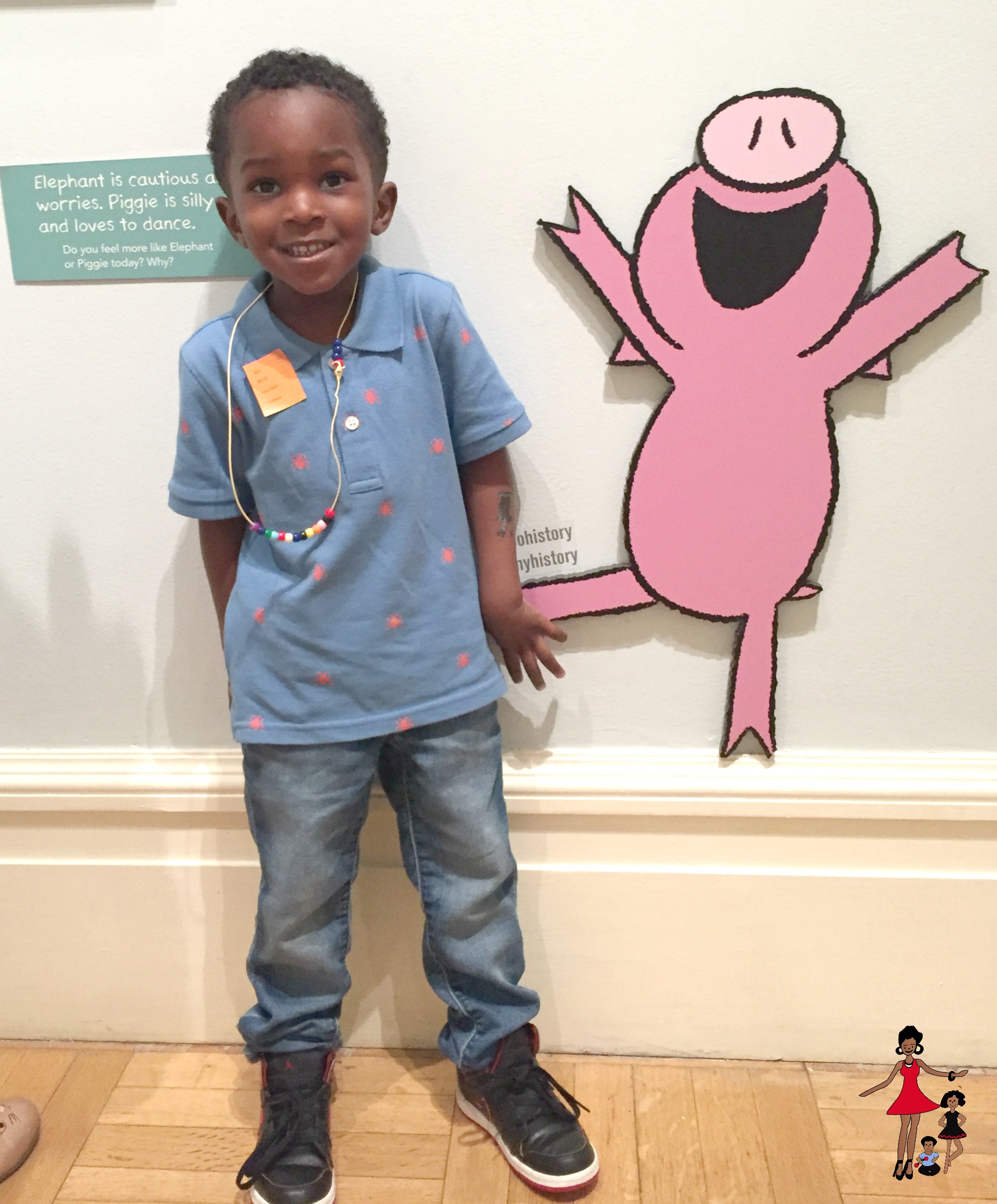 I decided to take them last Sunday when I discovered on the museum's website that the Elephant and Piggie characters would be there on that day. The kids were so excited they spent the entire ride sharing different scenarios about how their meeting with Elephant and Piggie's meeting would go and what they would say to them. They didn't have to wait a long time to meet the beloved characters because we were greeted by Elephant and Piggie the minute we walked into the museum. My kids immediately forgot all that they planned to say so we took photos of them together (photos they now really cherish) and we went off to do some crafts in a little station set up on the first floor. I love that the museum had these activities inspired by the exhibit for children because not only did it make the experience more exciting, it gave us parents some fresh ideas of ways to use Mo Willems characters to encourage creativity.
The kids made necklaces and we quickly head up to the second to The Art and Whimsy of Mo Willems exhibit. The NY Historical Society has a children's museum which is where I thought the exhibit would be housed. However, I think there was so much more to the exhibit beyond the children's books that adults would appreciate. For me it was learning more about Mo Willems creative story,  I wasn't aware that he started out on Sesame Street and I was fascinated watching all of his drawings as he developed his characters and stories. These were things that didn't mean much to my kids especially my toddler well except that he worked on Sesame Street (they love Sesame Street).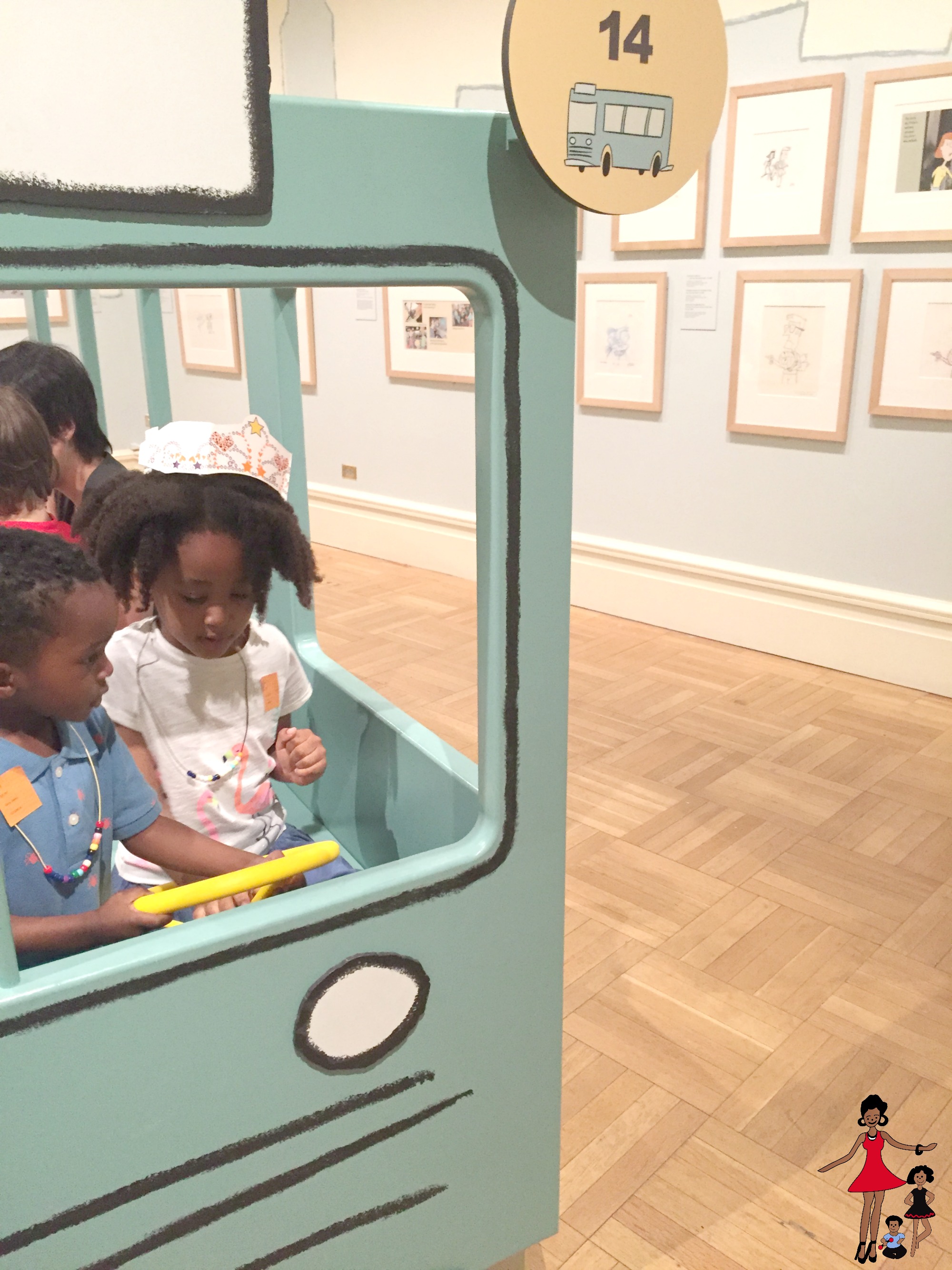 My kids were excited about playing on the bus from the 'Pigeon Drove the Bus' book. The bus also serves as a cute little reading nook but we went on a rainy day so it was a really packed area where parents relaxed and read to their kids. There are a few other places where you can sit and enjoy the books with your kids if you visit. I love that there are so many of his books there as I think it really brought the exhibit to life.   Since the kids have most of the Elephant and Piggie books in their library collection we used the opportunity to check out other Mo Willems books.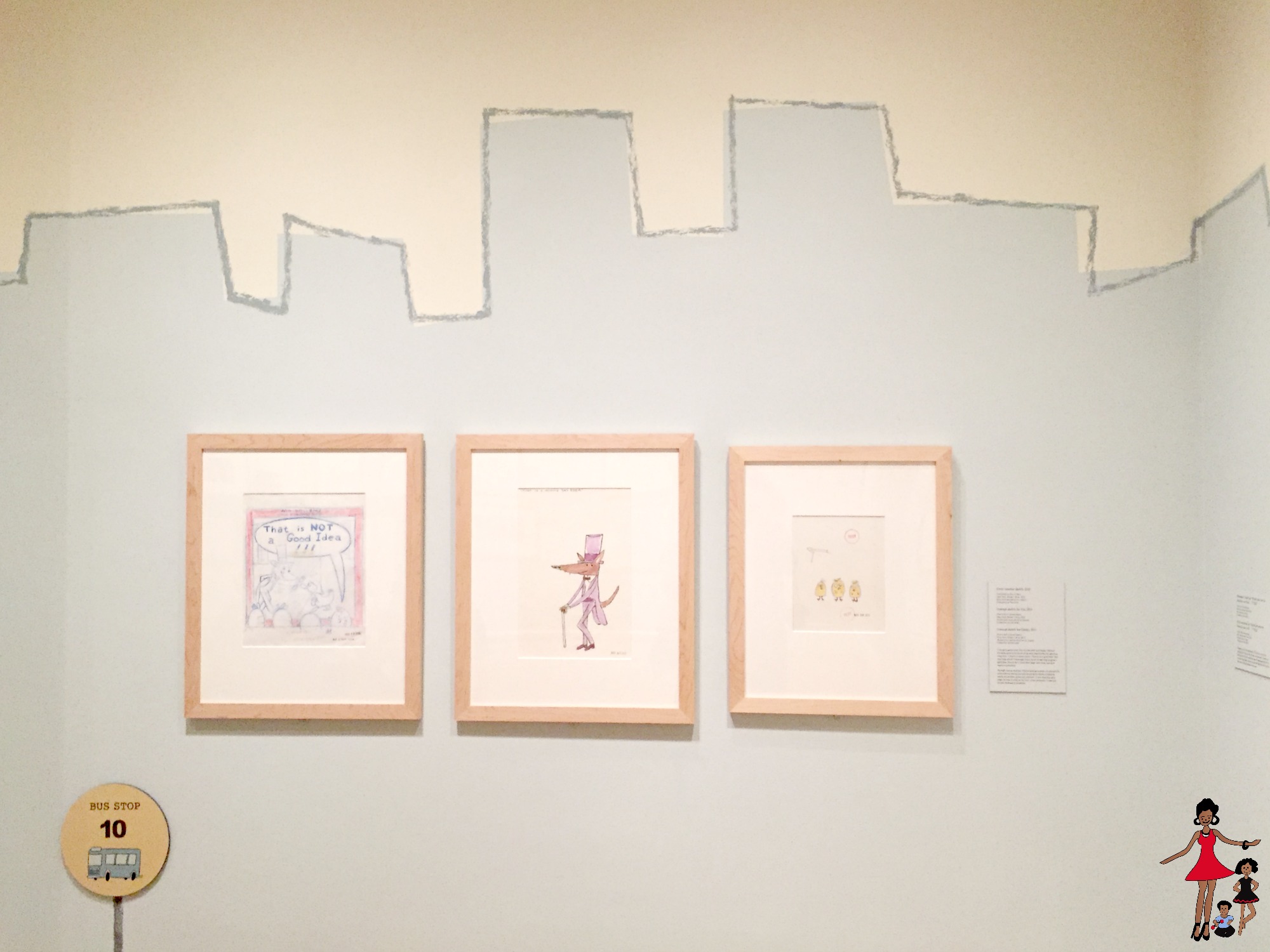 There was also a really cute gift shop in the exhibit where you could purchase signed copies of your child's favorite Mo Willem's books and well as toys and gifts inspired by his work.
I think this exhibit is worth a visit if your children are fans of Mo Willems books or even to introduce them to his work. When we left the museum, the first thing my son said was, "I love Piggie and Gerald!" and I knew the visit was all worth it for him. If you're going to be in New York City this summer, this is definitely an exhibit you should visit with your kids. The exhibit ends on September 25, 2016.
Here is a video of our visit to The Art and Whimsy of Mo Willems exhibit.
Thank you, New York Historical Society for providing my family with complimentary admission. You can learn more about The Art and Whimsy of Mo Willems exhibit and the museum address and hours here!