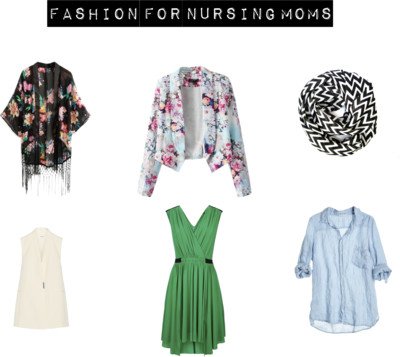 This week is World Breastfeeding week, a time to celebrate the women who choose to breastfeed their babies. Choosing to nurse can be a difficult choice and it's extremely time-consuming but very beneficial for both mother and child. So, in celebration of all you moms who are currently nursing, I wanted to keep you encouraged by sharing some stylish nursing tops and clothing choices. I consider myself a bit of a veteran when it comes to nursing and wearing clothing that  provides quick and discreet access since I breastfed both of my children. I also know first hand that it is hard to find stylish nursing clothing so I wanted to share these options with you so you can continue to look absolutely fabulous and nurse your baby.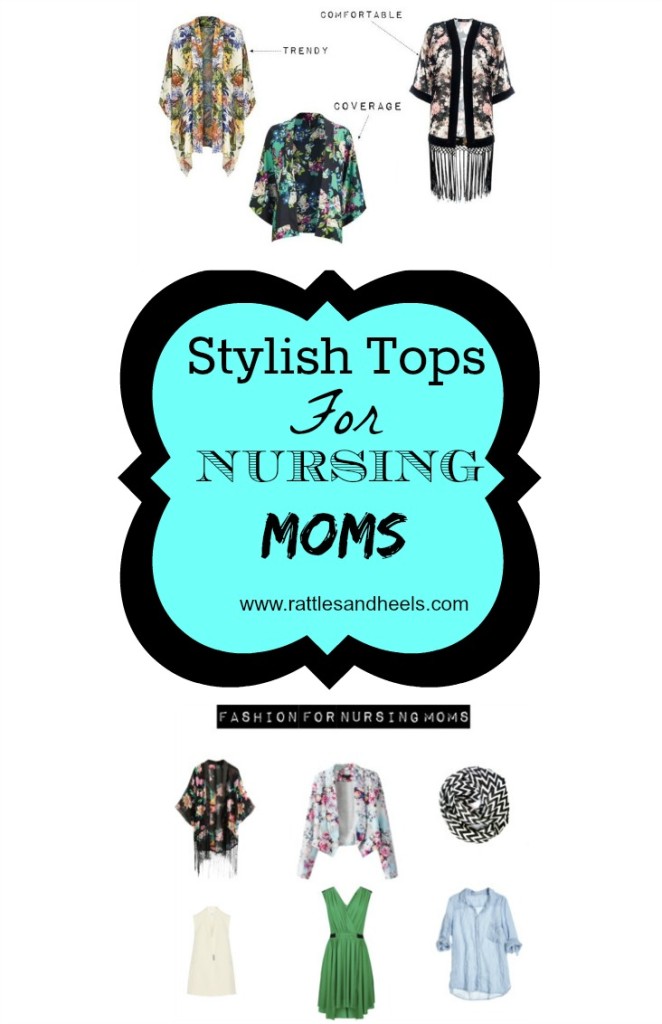 [Tweet "7 Fashion Must-Haves for Nursing moms #breastfeeding"]

1. Kimonos

Kimonos are on trend right now and they are a  really cute clothing choice for nursing moms. This is a great time to get a kimono as they are perfect piece for transitional weather into the fall.

Aren't these cute? I want one 🙂
[Tweet "Kimonos are the cutest trend for nursing moms. Privacy, comfort and style. #nursingmoms"]
2. Infinity Nursing Scarves
There is no shortage of cute infinity nursing scarves. I can almost guarantee that you'll wear these even when you're not with the baby. #MomTip You can find tons of really beautiful, unique and inexpensive infinity nursing scarves on Etsy.
[Tweet "All you need to know before you purchase a nursing bra #breastfeeding"]

3. Nursing Bras

About two weeks after giving birth get fitted for new bras. Your bra size is sure to change so you need to get a proper measurement done. When purchasing nursing bras ensure you get a few without underwires for sleeping. Some lactation consultants advise not wearing bras with underwires at all while you continue to nurse. However,  I skipped that bit of advice and the underwires never affected my milk supply.



[Tweet "All the camisoles, tops and dresses nursing moms need #breastfeeding"]
4. Nursing camisoles
I love nursing camisoles because they are very comfortable. First of all they're pretty cute and no one would look at them and think there are nursing tops.  Secondly, they're great for layering up but you don't have to, you can just rock them by themselves.
5. Button down shirts

A no-brainer for nursing mothers, you need easy access and this is the first piece of clothing that will come to your mind. Regardless of the season, this is always a viable option.


6. Vests or Blazers

This is my favorite item for new moms because it hides that new mom pouch and I stand by it as perfect for nursing. It gives coverage and a sense of privacy that many of us women consider important while nursing.


7. Wrap shirts/dresses

Again, very easy access  you'll notice that most nursing tops are made in this style but I don't think it's worth getting the ones specifically designed for nursing since they tend to be more expensive. I'll recommend that you purchase regular styles so that you can wear them after.



I wanted to add that while you're nursing you may want to avoid wearing tight clothing or clingy materials especially if you will be away from your baby and may get engorged. Also, don't forget to always wear nursing pads to avoid leakage. Personally, I prefer disposable pads, I've tried cloth pads but dislike the way they felt almost as if I stuffed my bra.




Are you a nursing mom? What other clothing options would you add to this list?


{The post may contain affiliate links}