This is a sponsored post created in collaboration with Stiletto Media and Northwell Health-GoHealth Urgent Care. As usual, all opinions expressed are my own.
 The hardest part of motherhood for me has been caring for my kids when they're sick. You know what makes it worse, just like babies seem to only poop when you're eating, my kids tend to get sick at night or on weekends when their pediatrician's office is closed. That's when as a parent you end up in some murky waters. I usually call the pediatrician and based on my description of my symptoms he would tell me to take my kid to either to the Emergency Room or an urgent care center to be safe. The problem is he's never specific as what would be better.
In the past few months, we've chosen to go to urgent care centers over the emergency room. I'm not always sure which is the better option based on my kid's symptoms so I was happy to attend the opening of a new Northwell Health-GoHealth Urgent Care center here in New York City this week. I learned a lot about the backend of urgent care centers, the importance of the design of the Northwell Health-GoHealth Urgent Care Centers and their determination to make sure that patients are treated well to facilitate healing. However, the most valuable lesson for me was to understand when to head to the emergency room versus to an urgent care center.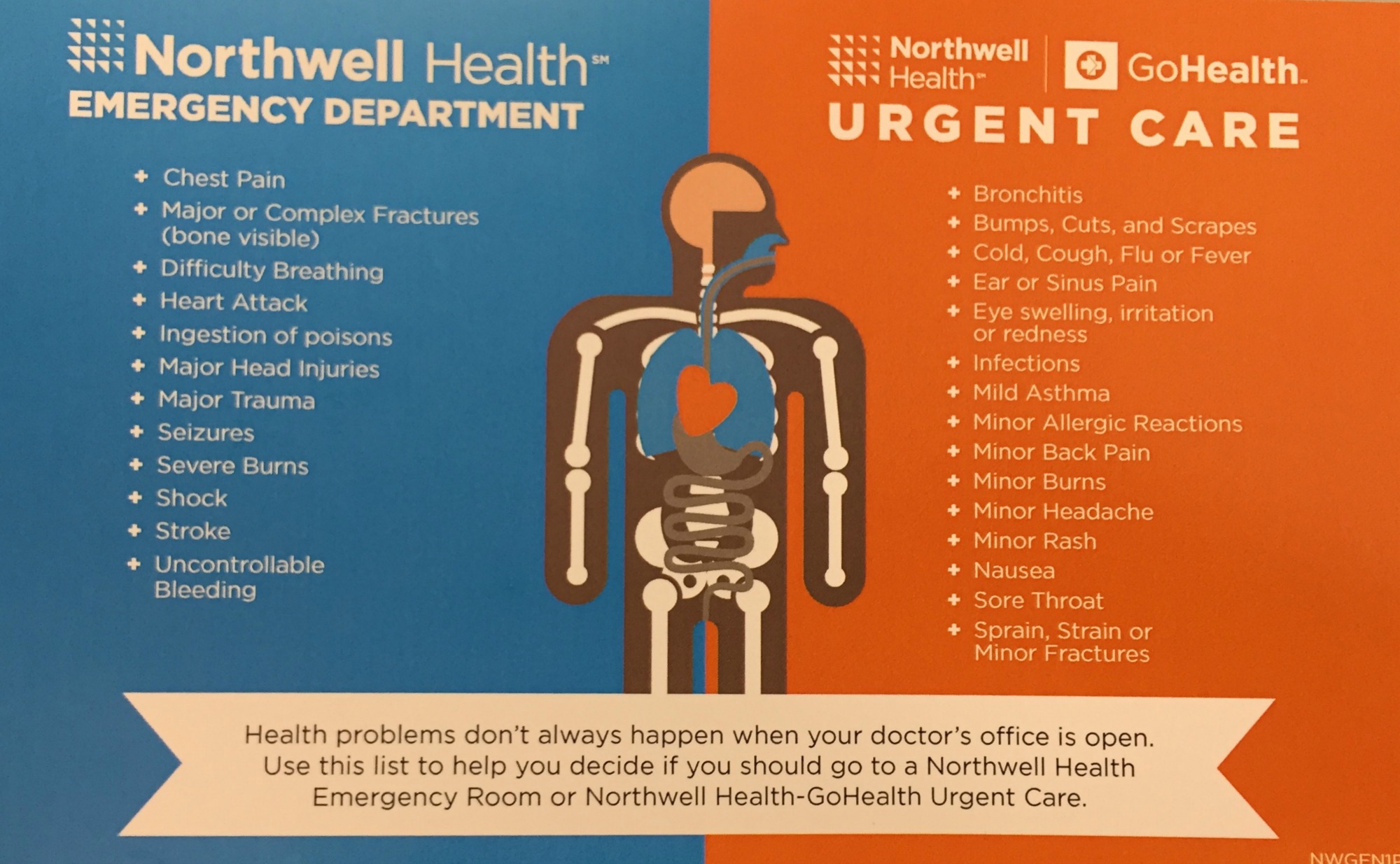 Actually, I wish I had this list last December when my son accidently hurt himself on an end table while playing with his sister. My heart fell as I saw him crying in pain , the blood and what looked like the need for stitches. My husband spring into action and literally put his coat on and headed out the door to an urgent care center. I worried about whether he should have taken him to the hospital instead but they returned quickly, my son was happy again and they took great care of his wound which healed really nicely.
Since I have two children and they're usually not sick at the same time I hate having to take a healthy kid to the emergency room and risk that child possibly catching something. The Northwell Health-GoHealth Urgent Care Centers allows you to do online check­ins which mean less time for my sick child in a waiting room with sick people. As I mentioned on Twitter, as a millennial mom I enjoy the fact that they provide WiFi which keeps me connected. Most health care providers are starting to roll out this type of modern access to patients but I love that they are already providing patients with online access to their healthcare records.
Similar to the emergency room, urgent care centers are not designed for preventative care and you wouldn't visit the way you do to your regular doctor.
I
t's fantastic that the
GoHealth Urgent Care
centers
p
artner with leading health care systems which gives patients access to a best in class network of medical providers for after care. I hope we don't end up deciding between emergency room and urgent care center ever again but if we do, I would be sure to go to a
Northwell Health-GoHealth Urgent Care
Center.
Do you take your children to an urgent care center or the emergency room when they are sick?