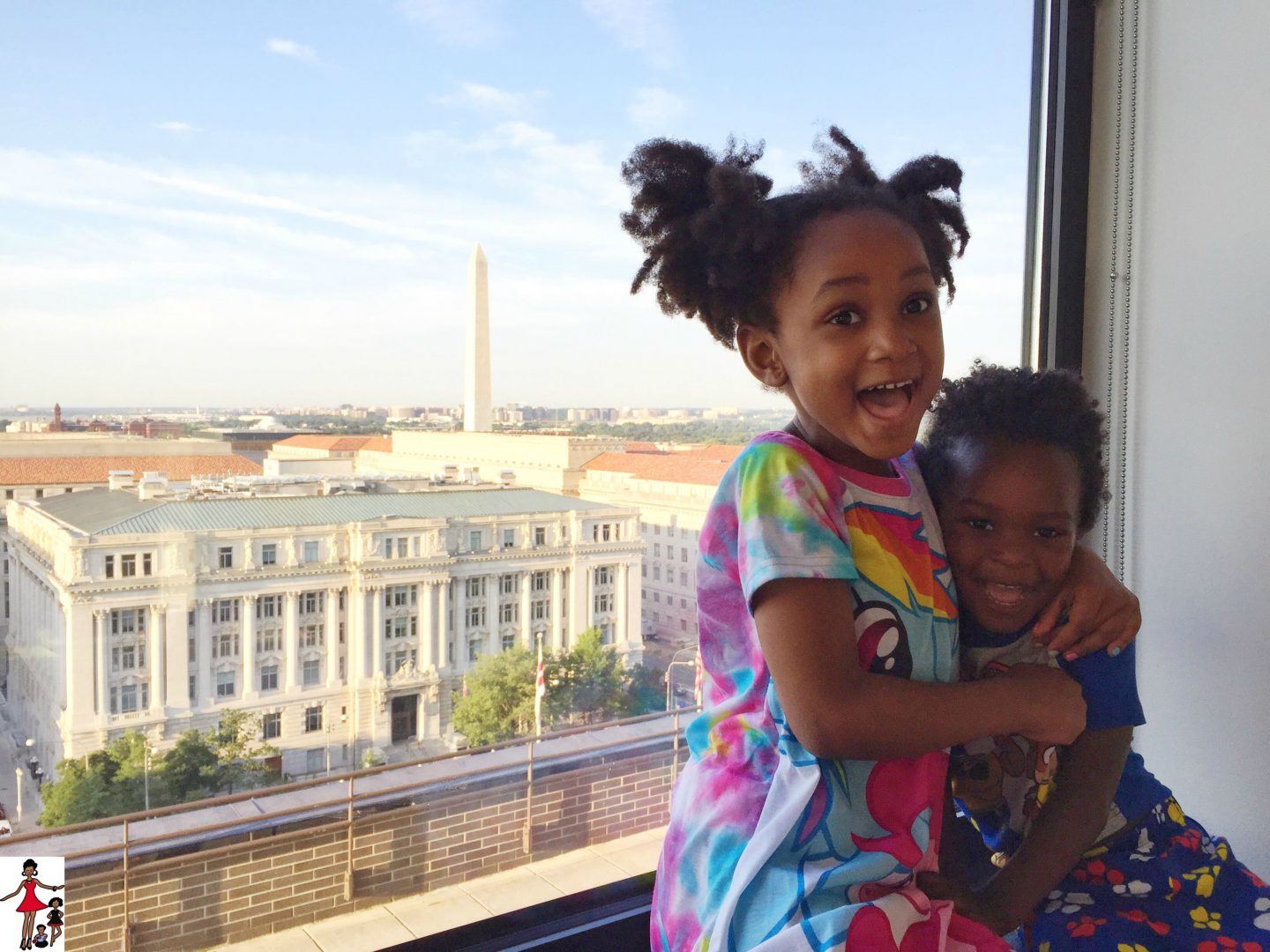 During our recent visit to Washington, D.C  we were hosted by the JW Marriott Washington, DC.  While planning, packing and even on the drive from NYC to DC one major question was on my mind. Is the JW Marriott Washington a family friendly hotel?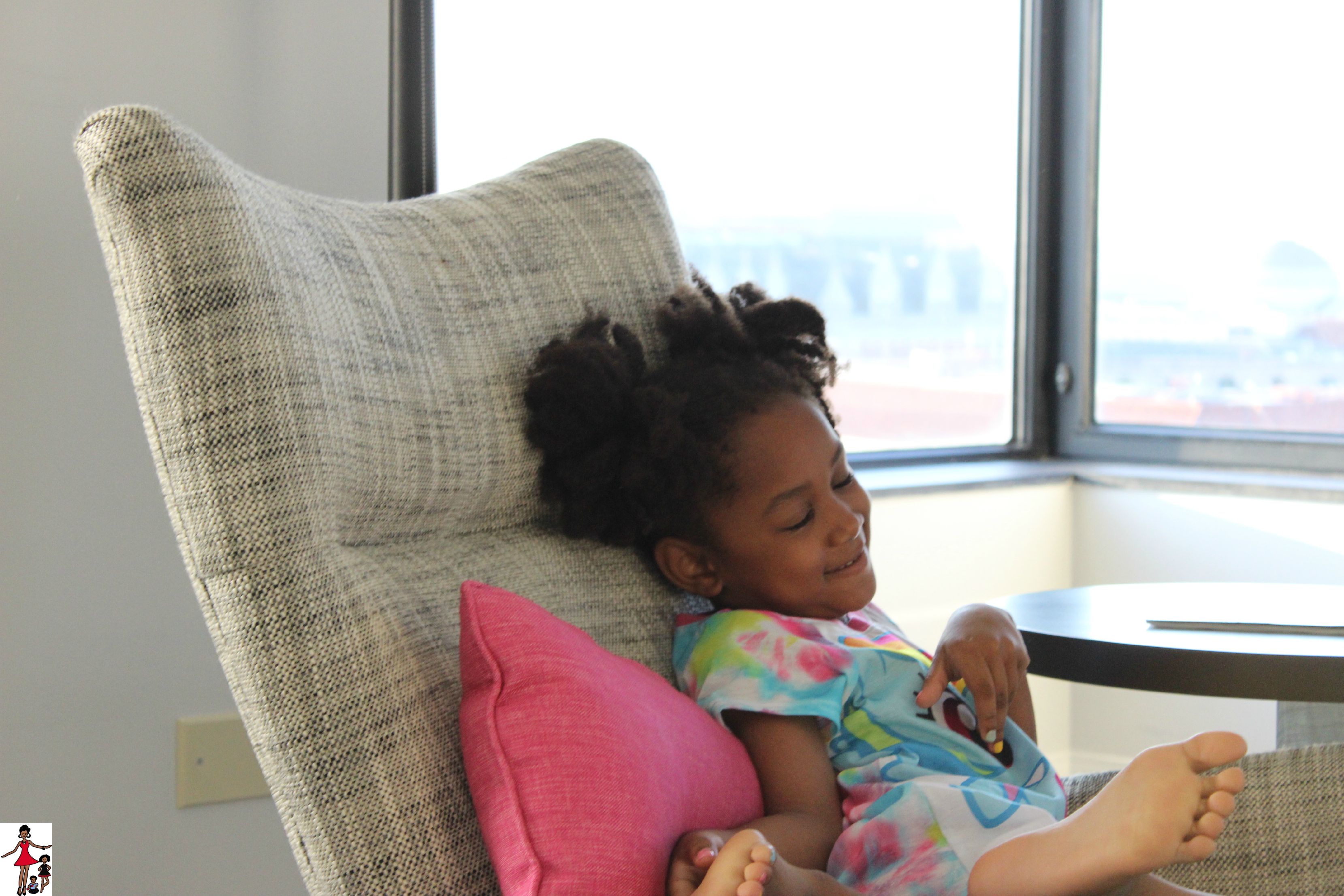 I got the answer to my question shortly after checking in and seeing my little ones faces light up when they saw our room. This hotel is definitely family friendly and I wanted to share all the fabulous reasons why the J.W Marriott Washington, DC is ideal for staying with kids:
The View
Let's cut to the chase, the main treat of staying at JW Marriott Washington, DC  is the picturesque view of Washington, D.C. When we got to our room, the first thing the kids did was run to the window and shout "WOW!"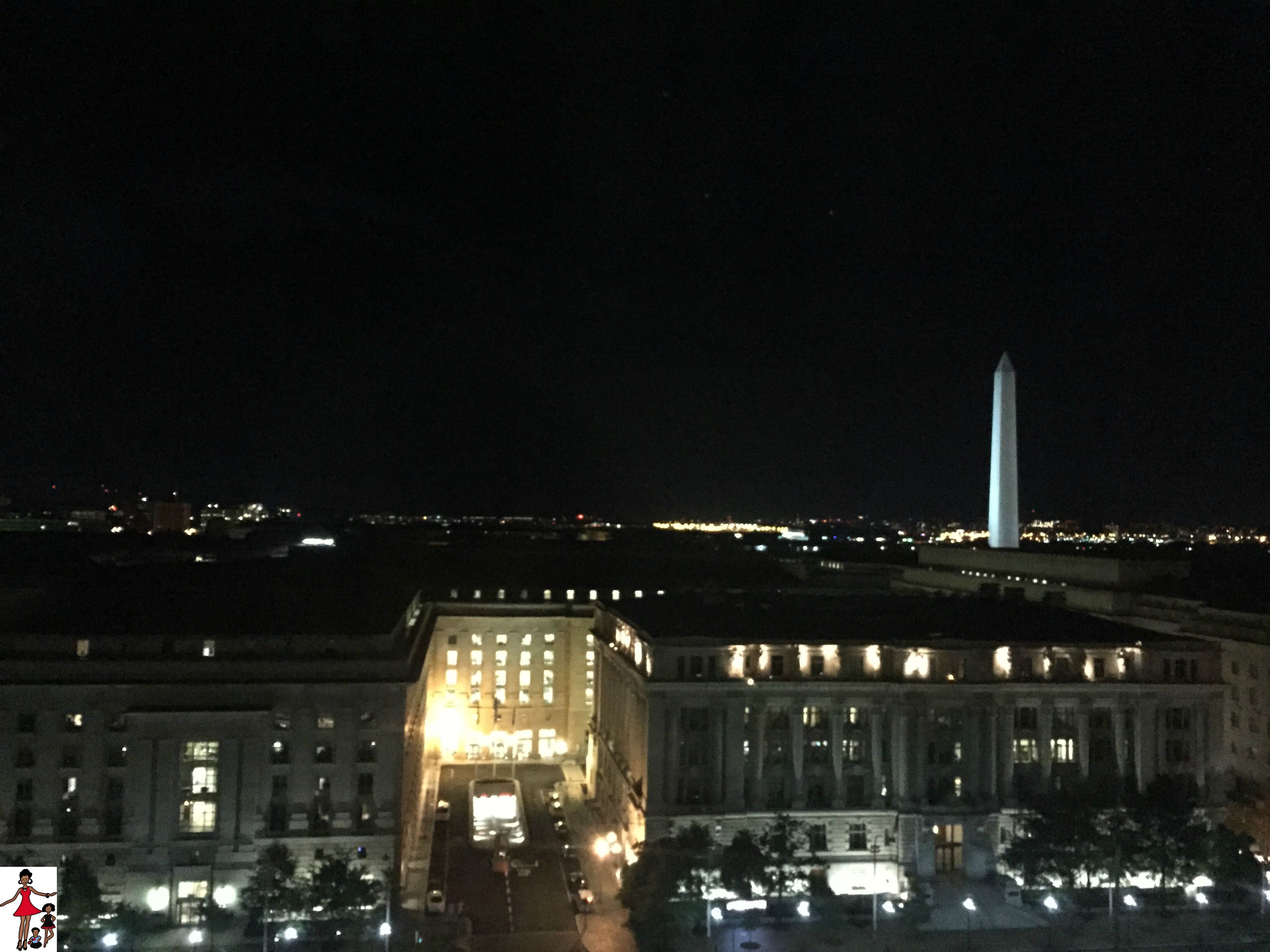 It was refreshing to walk into our room at night and see all the lights of the city with the Washington Monument glowing in the distance. It's definitely an experience you must have yourself.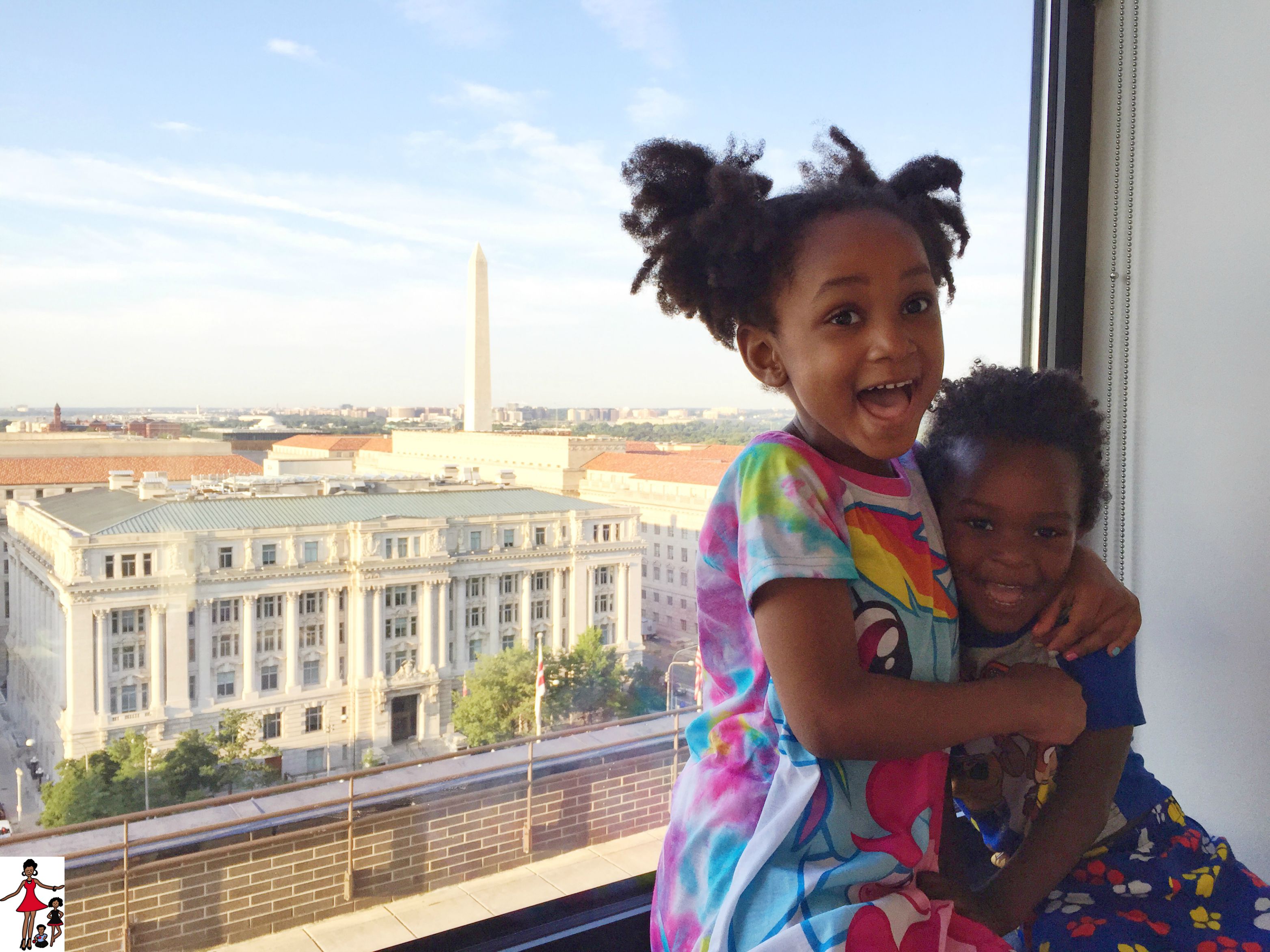 I chatted with a few other guests at the hotel and they agreed that the view was just incredible. One family shared that they only stay at the JW Marriott Washington, DC when visiting D.C. because their kids really love the view.
My kids enjoyed staring out of the windows at the historical city that laid in front of us. I think my daughter will always remember sitting at the window learning about the history of the Washington Monument.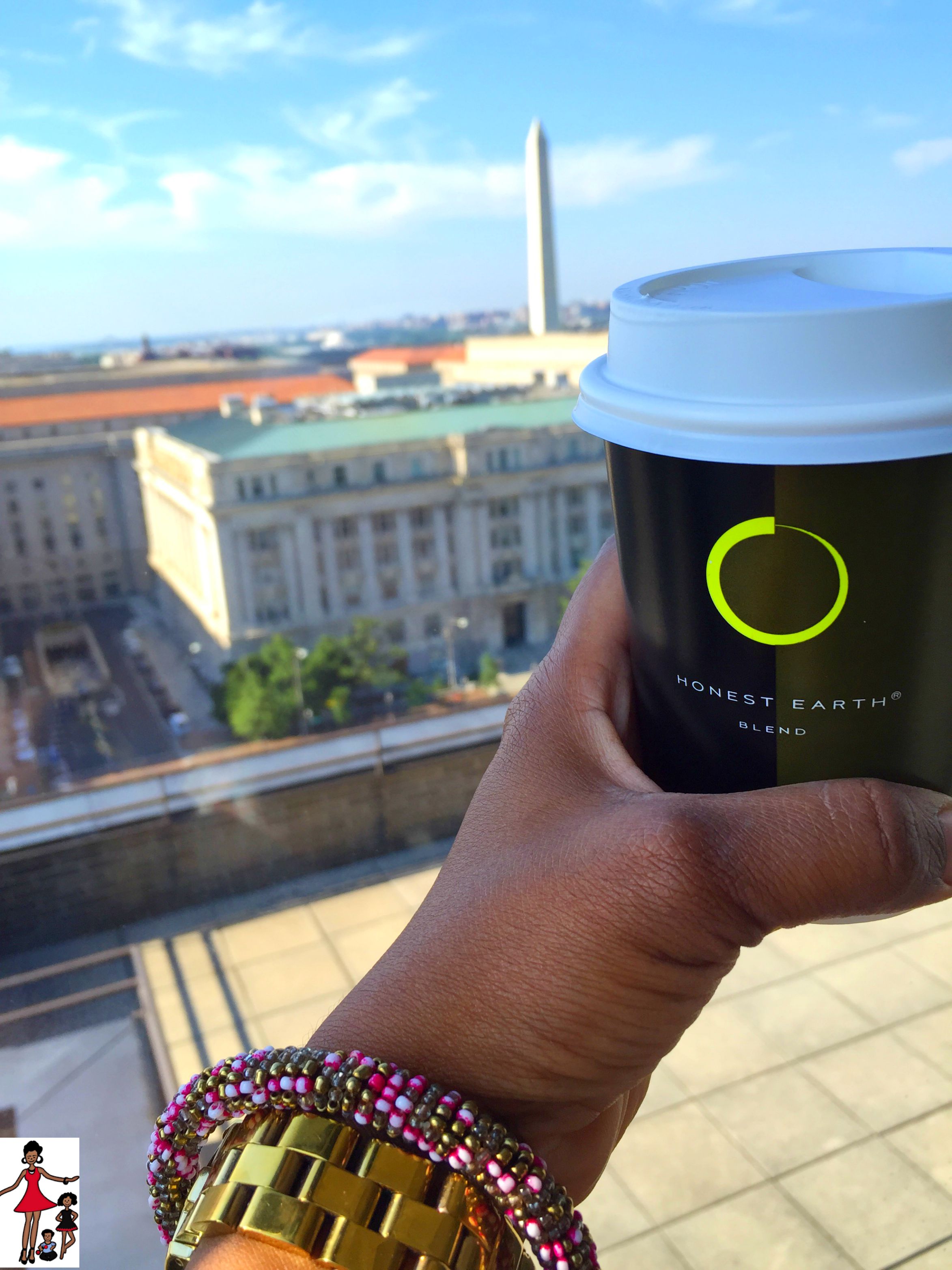 Actually, I suffered from major withdrawals after I left because I missed laying in bed staring at that beautiful view every night and morning.
Beautiful Modern Rooms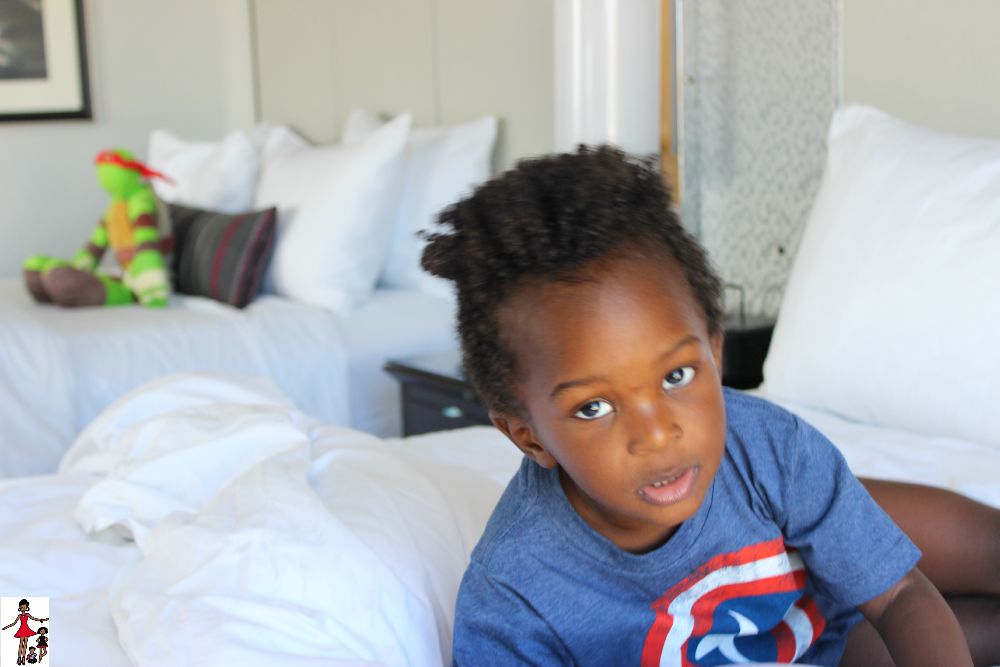 Prior to our visit, like any millennial mom I did a little online research and discovered that the hotel recently underwent a multi-million dollar renovation. Yay!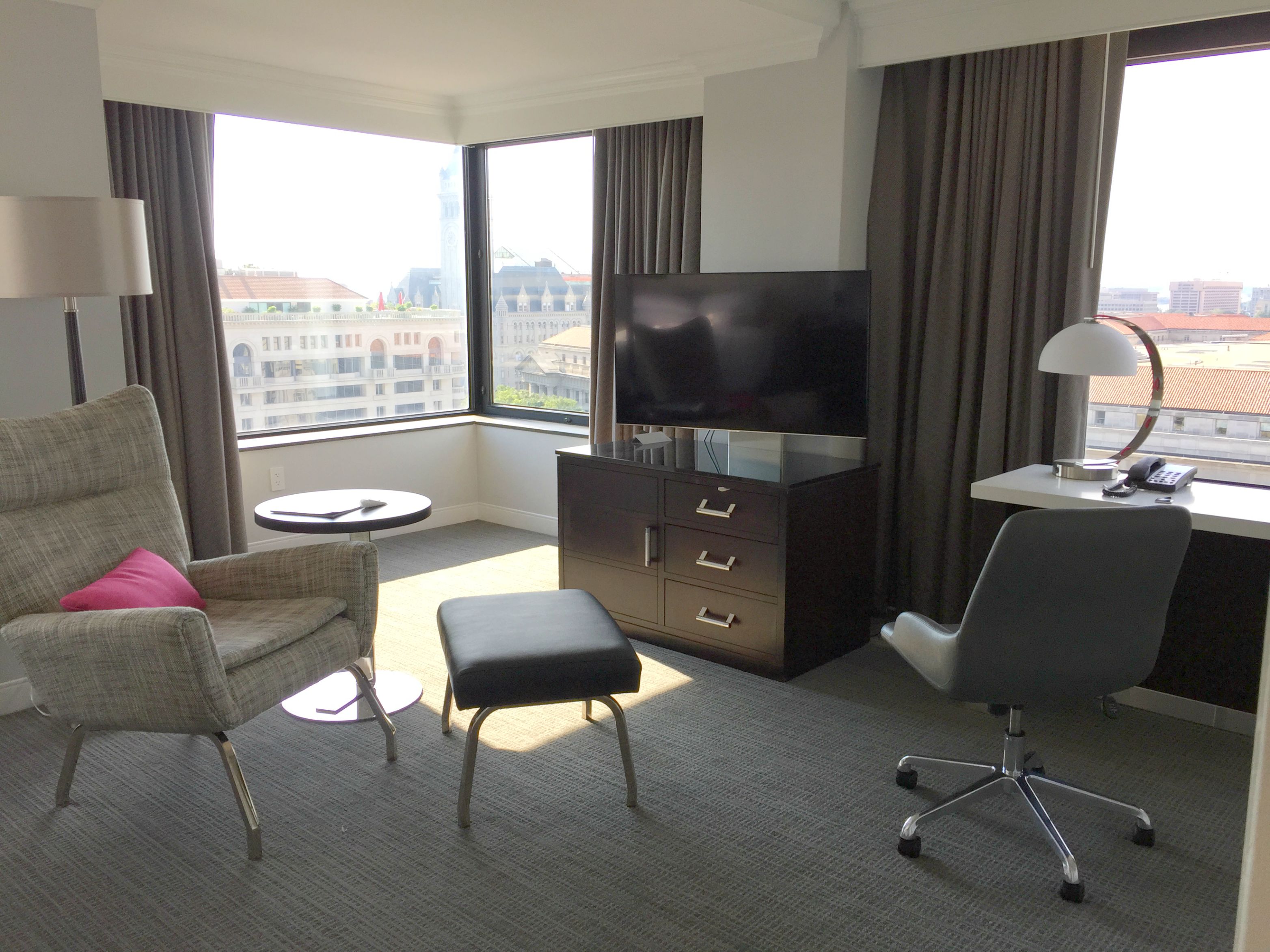 Our room was chic and modern with plenty natural light. There was obviously lots of attention to details in designing the room which made it quite comfortable and spacious.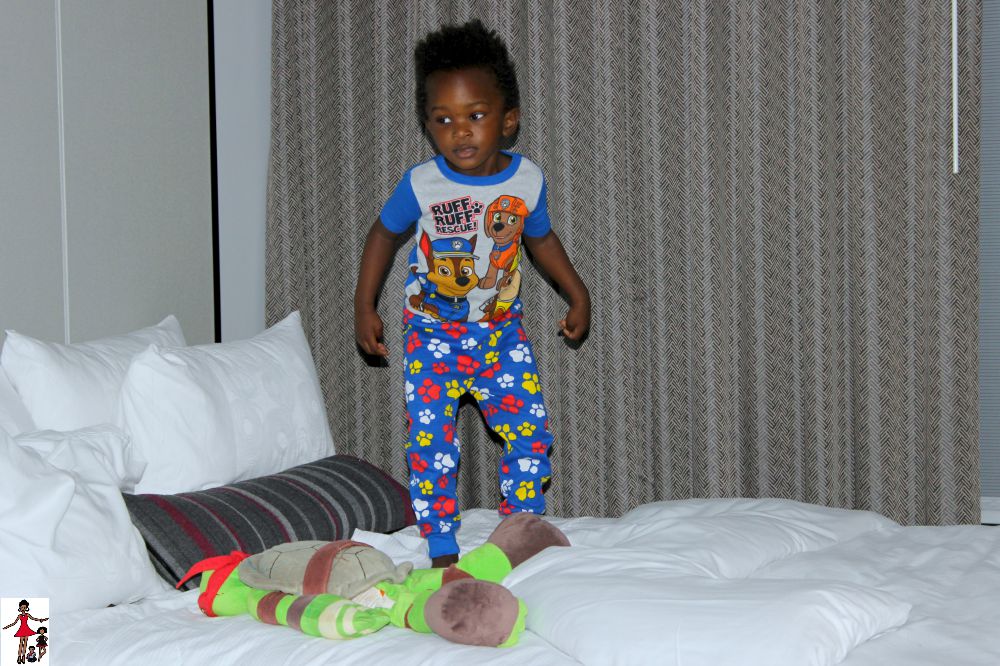 I particularly loved the bathroom which was bright and beautiful with granite counter tops and modern trimmings.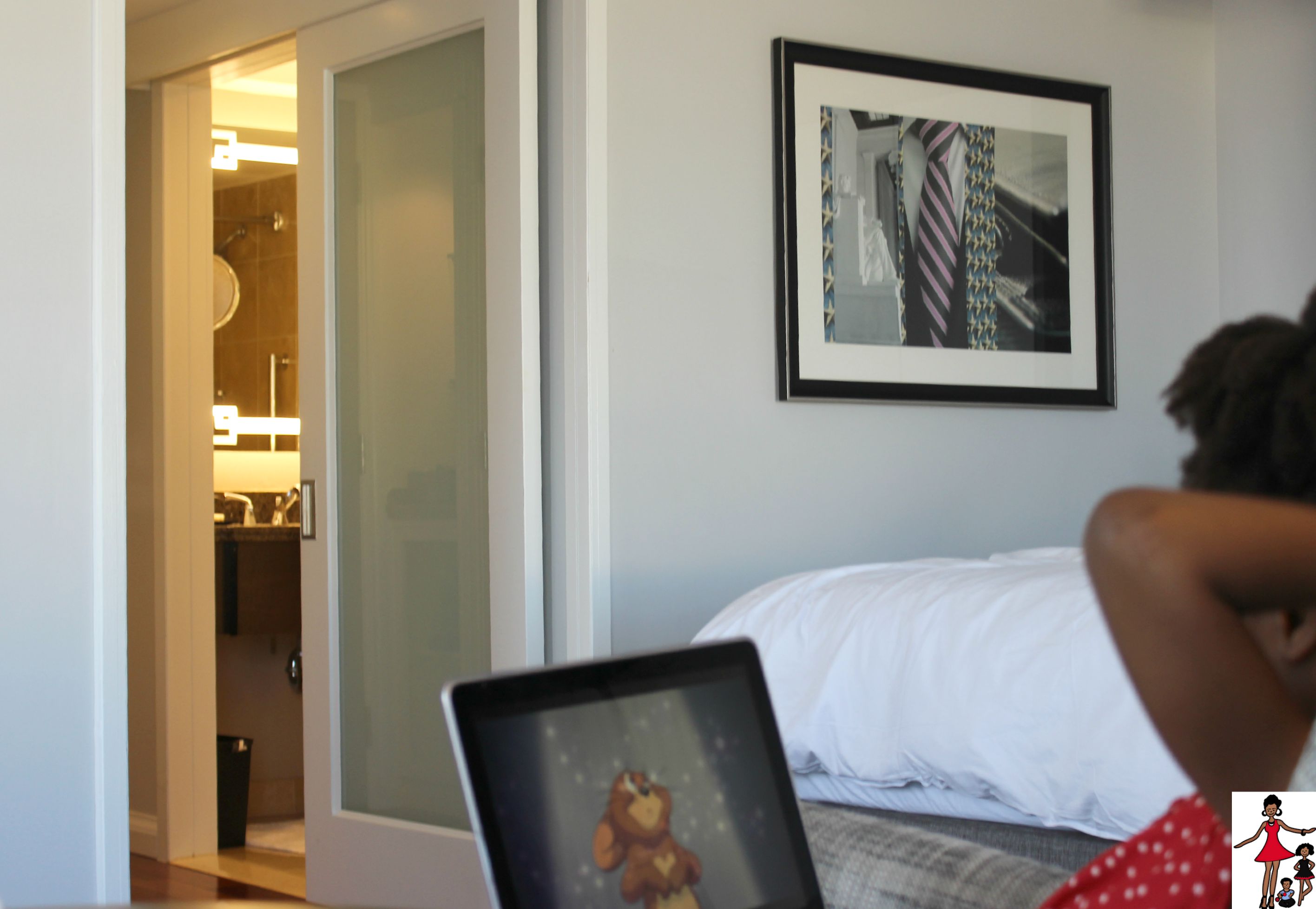 Location
The JW Marriott Washington, DC is located on Pennsylvania Avenue only a few blocks away from The White House. We were able to walk to the National Mall, the Smithsonian museums and everything that I mentioned that we did in my previous post of fun things to do with kids in D.C.  There's also shopping and restaurants in the immediate area.
Starbucks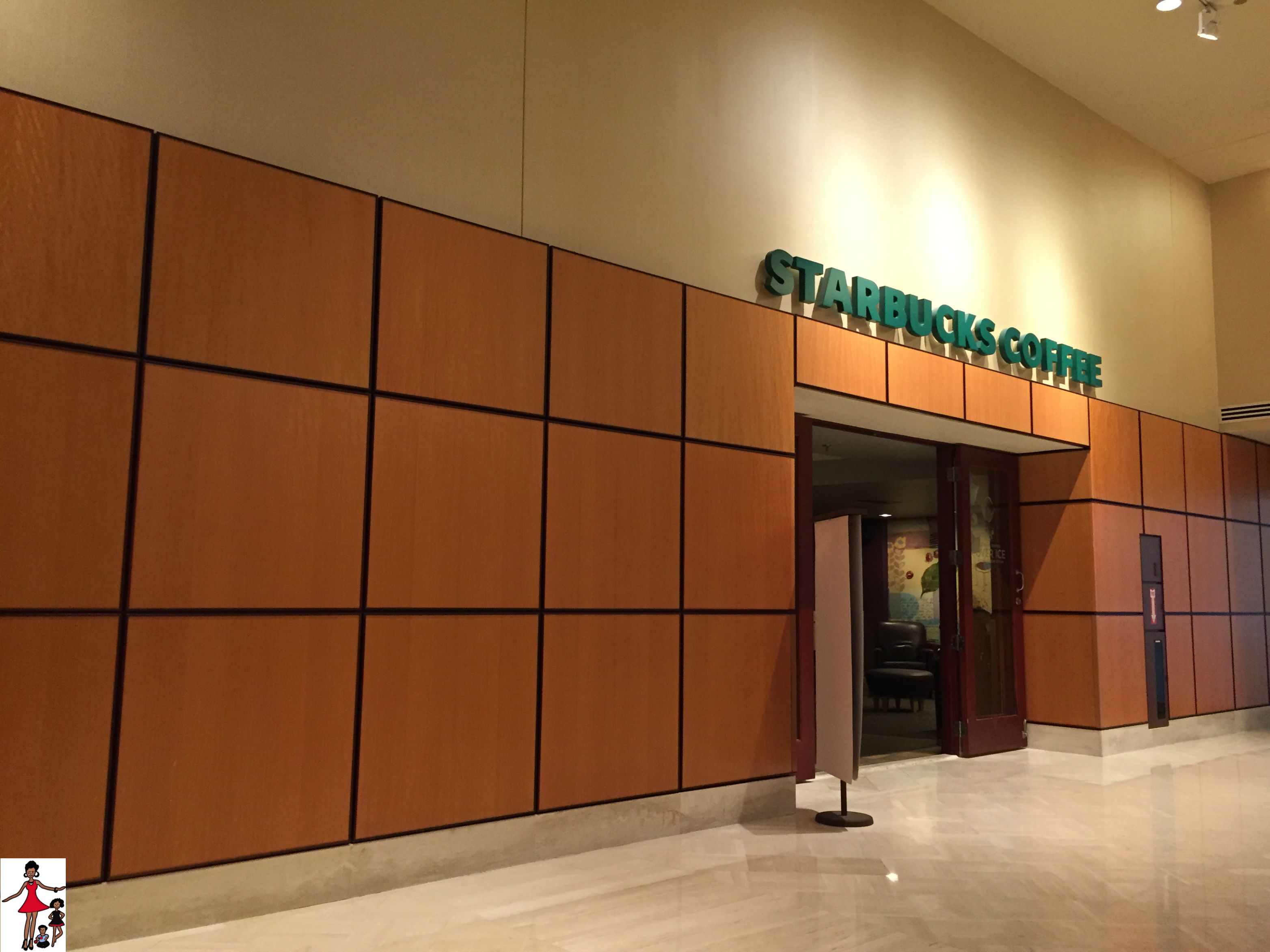 It's no secret that we LOVE Starbucks. So Starbucks at the hotel? Yes, please. It's nice to wake up and take a quick ride down the elevator to Starbucks. No big deal, right? After venturing out with the kids, I grabbed my favorite Starbucks Refreshers™ drink to get enough energy to get through the evening.
Two On-Site Restaurants
There are two restaurants at the hotel; the Avenue Grill and the 1331 Lounge. We had dinner at the Avenue Grill during the second night of our stay. The food was amazing and we had the option of dining outside. The kids menu had organic offerings and balanced meals. I noticed many other families also dining there with children. They offered restaurant favorites for kids like crayons and coloring pages to keep kids busy.
Exceptional Service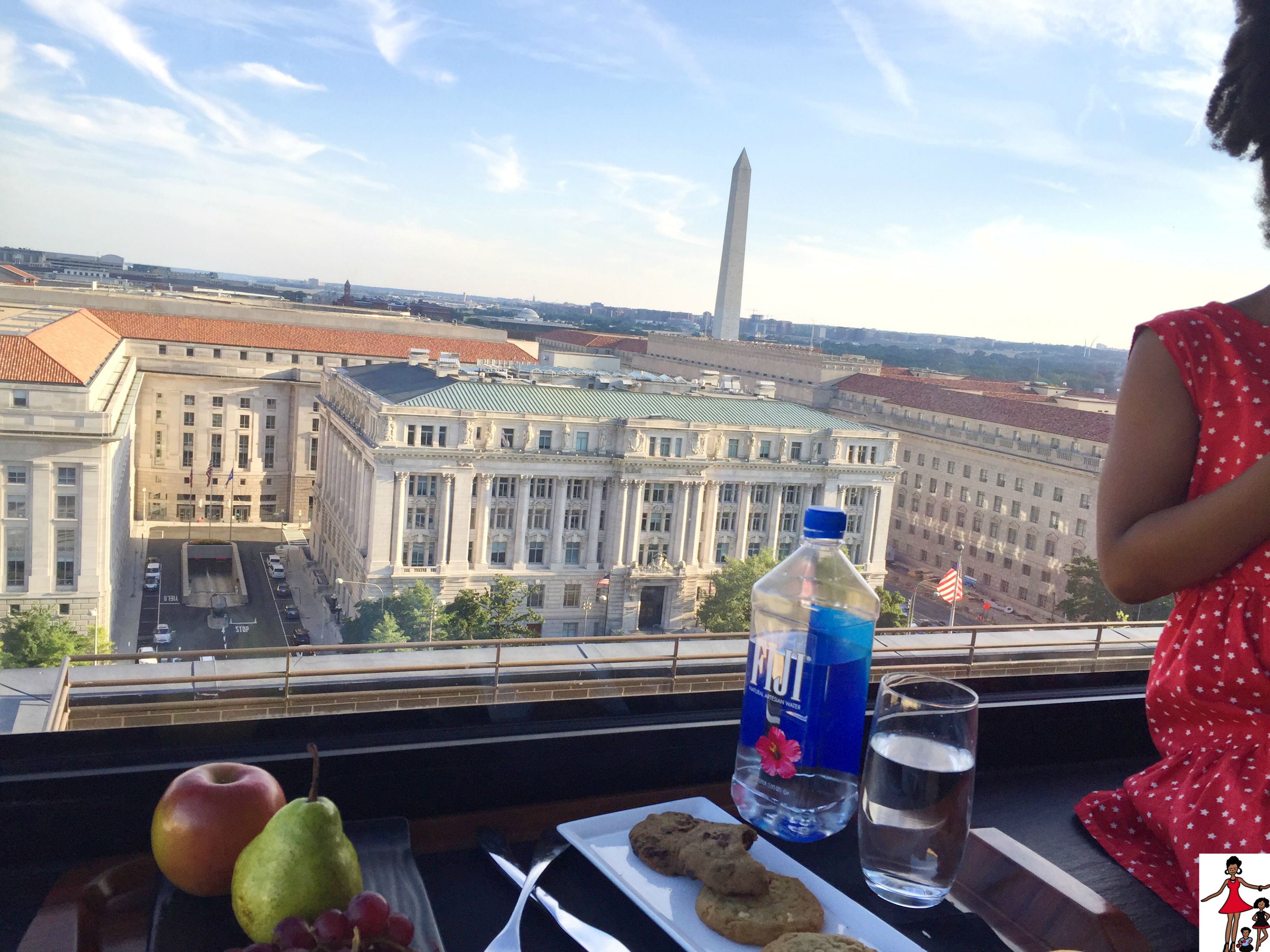 The staff at JW Marriott Washington, DC went out of their way to make us feel at home and comfortable. They were very friendly and accommodating.  After getting to our room and unpacking, I realized that I forgot my DSLR camera in the car. One of the hotel employees was nice enough to go down to the garage to the car and retrieve my camera. I was very grateful that I didn't have to do that myself with two small children.
Indoor Pool
While we didn't have the time to experience the pool ourselves other guests bragged on how kid friendly it was. My daughter was actually really bummed that we didn't have the time to take a dip. We ended up missing the opening hours. If you're visiting on business or just tired from all the sightseeing, it's awesome to have a pool on premise to unwind in.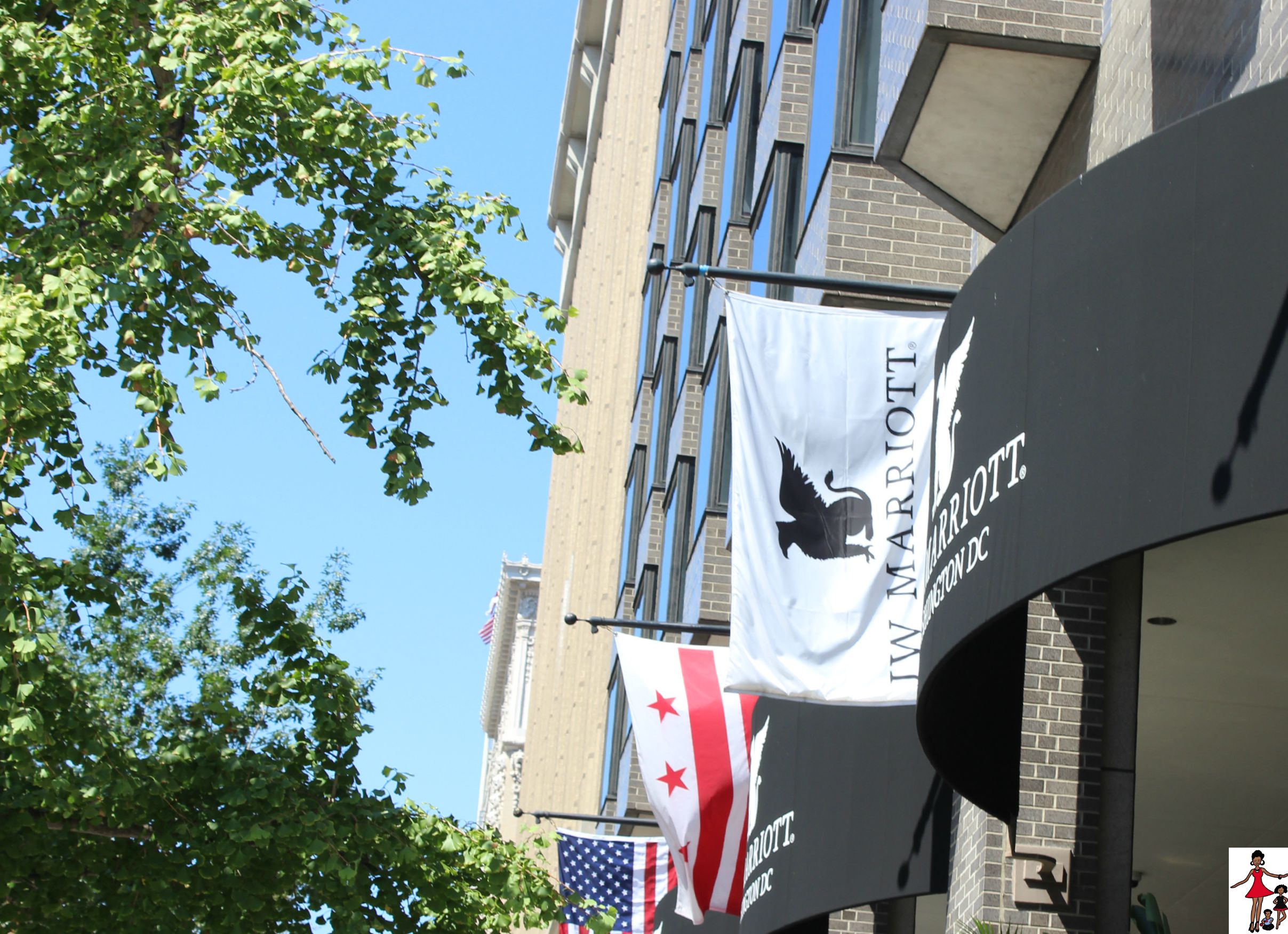 Valet Parking
When traveling with kids, nothing comes in handier than a hotel with valet parking. Not having to worry about parking gives you the ability to focus on enjoying your time with your family. One tip I would give you is to call valet 20 minutes ahead to get your car. We had to wait twice because I forgot to call ahead.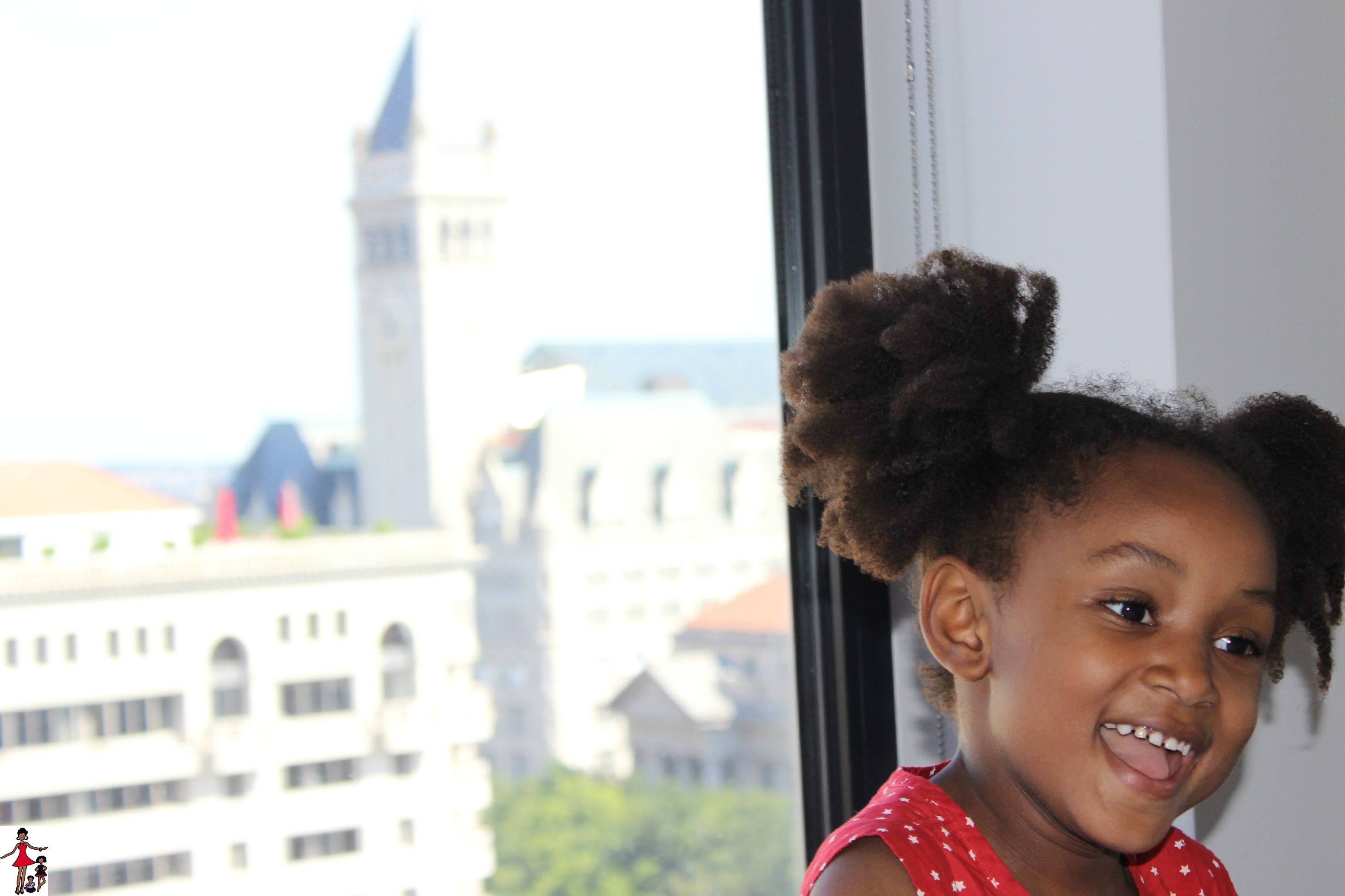 So these are all the fabulous reasons that the JW Marriott Washington is family friendly. If you decide to stay there when you visit Washington, D.C. make sure to tag me in your photos so I can enjoy the view through your lens.
You can book your stay and find out more about the hotel here. Also, if you're a Marriott rewards member you can use your rewards to stay at the hotel, for free wi-fi and to mobile check-in.
This post was written in partnership with the JW Marriott Washington .  However, all opinions expressed are my own.
What do you look for in a family-friendly hotel?