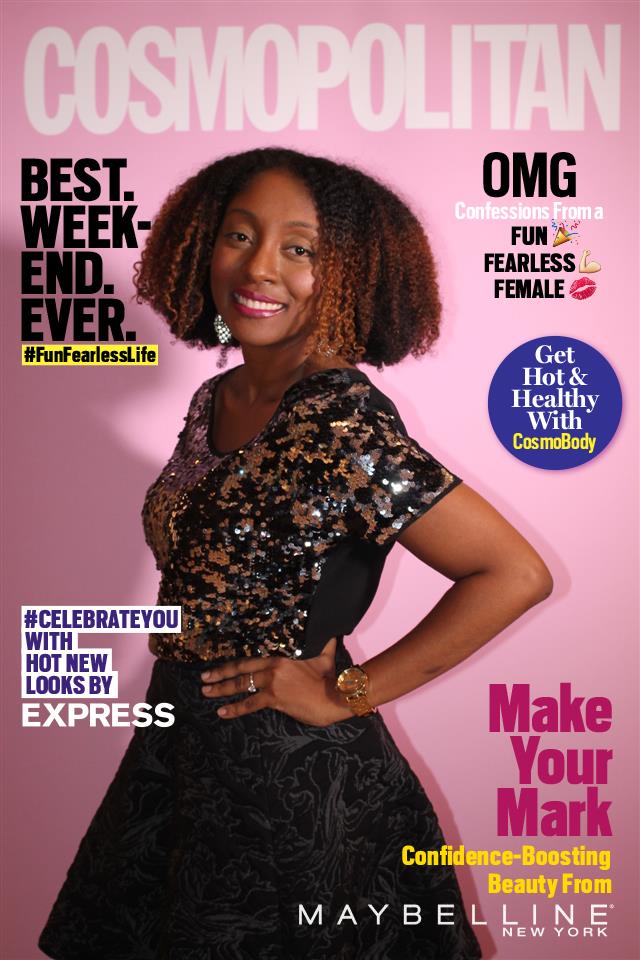 When I was 17 years old, I discovered Cosmopolitan magazine. I was still living in Grenada and I would beg my mom to buy  me a copy at a souvenir shop next to the supermarket. I would go home and sit on my balcony and read all of it…the juicy bits and the confessions. I was 17 and this was an interesting window into adulthood. Fast forward (about) 15 years and you'll find me sitting at Lincoln Center in New York City on a cold Saturday morning at the same magazine's first Fun Fearless Life Weekend event. Basically, I went from sitting on my balcony in the Caribbean to actually sitting in the audience of Cosmo's audience in real life. Amazing right?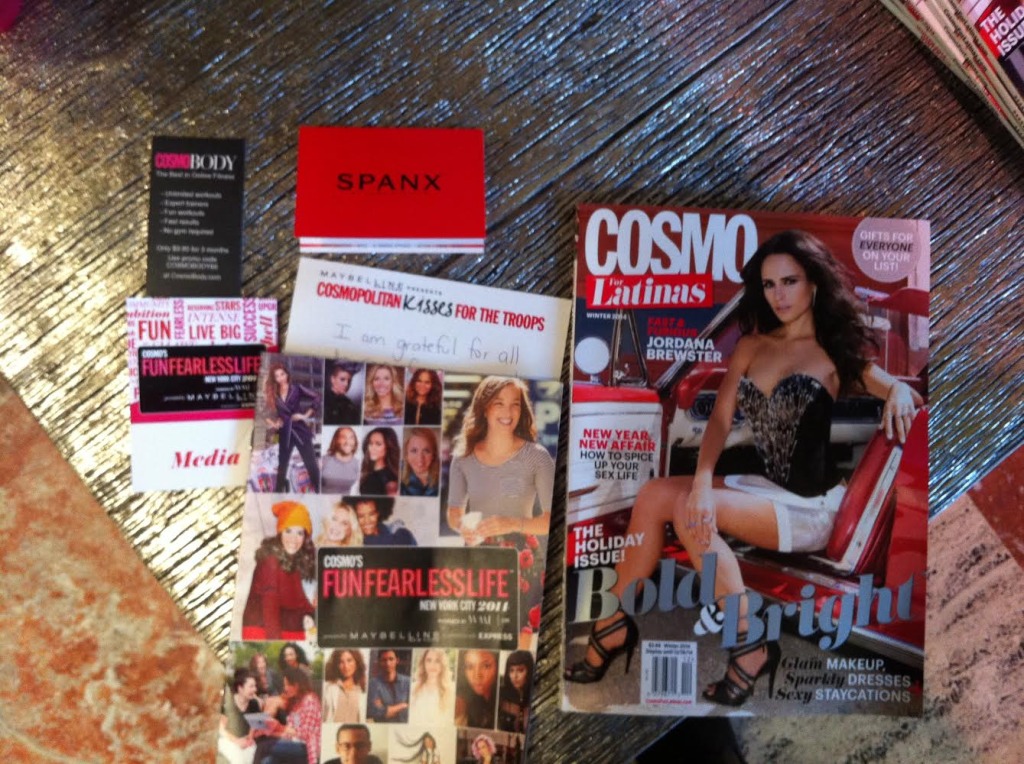 [Tweet "From sitting on my island balcony reading @cosmopolitan to @funfearless weekend"]
I was more than happy to attend the event as media because it meant that I not only cover for my own self development but to share my experience with all of you. Fun FearlessLife kicked off very early last Saturday morning, I really loved the way that the event was curated. Prior to the start of the day, attendees were able to get their makeup done by the Maybelline Team, take pictures with the latest accessories from the Express Collection, purchase products from the presenters and conferences souvenirs, check out the latest Spanx and network. Everyone was given smart bands that sent pictures to your email, entered you into contests etc.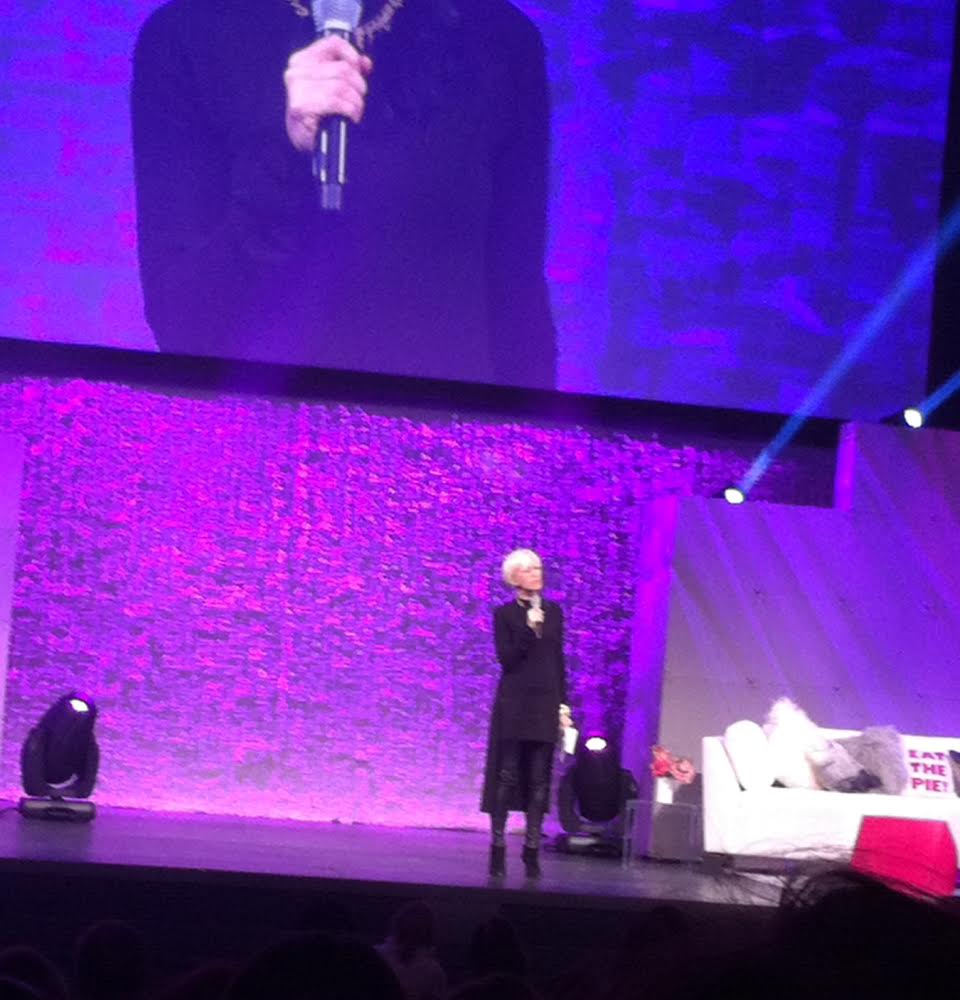 The goal of the conference was to encourage and inspire young women to pursue their goals in a fierce and confident way. The moment that Joanna Coles, the Editor-In-Chief at Cosmopolitan hit the stage I knew that this goal would be achieved. There is nothing about Joanna to not like, she is funny, smart and down to earth. Actually, Joanna read and favorite many of my tweets which shows how down to earth she is. I think we all fell in love with her tell-it -like-it-is attitude  and her story. When Joanna was 9 years old she published her first magazine by herself and bravely sent a copy to Buckingham Palace for Queen Elizabeth. Buckingham Palace responded with a thank you letter and that was all the encouragement that Joanna needed to become as great as she desired.
"When you don't see the opportunities you want, create them!" @JoannaColes #FunFearlessLife

— Rattles and Heels (@RattlesandHeels) November 8, 2014
Joanna then welcomed on stage the marvelous Sara Blakely who is the Founder/CEO of Spanx and also the youngest female billionaire. That's right – billionaire. Sara told her story in raw form, she didn't hold back her struggles (financial or emotional). Let me tell you, Sara went through it all in pursuit of making her vision for Spanx a reality. Her idea was rejected and laughed at over and over but Sara didn't stop. She didn't allow what other people thought of her vision for her life stop her from achieving that vision. Some of my favorite parts of her story were:
When Oprah sent her team to Atlanta to record Sara at her "headquarters" having meetings with her "staff" and Sara had a friend she met at Mailboxes come over and pretend to be her assistant in her living room.
After not feeling confident about sealing the deal with Neiman Marcus to carry Spanx, Sara asked the buyer to follow her into the bathroom and lifted her skirt to show her Spanx which led to immediate purchase for 7 stores.
Sara went to Neiman Marcus stores often to move her products so they would be more visible to purchasers who would be interested in Spanx.
She named her product Spanx and it came to her in the middle of traffic and she pulled over to write it down. According to her own research, made up names do better for products.
Moving forward when I think about the word branding, I'll think about Sara. Sara is her brand, when she walked out she lifted her skirt to show us her Spanx. Just her story made me want to go out and a grab a few more.
[Tweet "Attitude & Drive is what's going to propel your success @Spanx"]
Next we had a power women panel, these women are all very successful and powerful in their industries and shared their stories of sacrifice and working in male dominated fields. One of the ladies Sallie Krawcheck advice to women intimidated by men in the workplace was to play your own game be your best and don't focus on the fact that you are female. Fake confidence until you completely feel it and don't be afraid to let go and be vulnerable.
Another topic that the conference covered that I enjoyed learning more about was the strength of weak ties in Dr. Meg Jay's session. Okay, so I have to admit that I've never really thought about the power of weak ties. Until this session, I've always beat myself for not making my weak ties into strong ties. Well, turns out that weak ties are way more important that our "urban tribe" of bestie girls who are obviously important to us for daily life and our emotional well-being. However, weak ties are more likely to help us get a job, aid our career advancement and open us up to good opportunities.  So guess what we did? We all wore name tags so we can establish new weak ties. Of course, Joanna brought this conversation to life when she asked Dr. Jay how we can we reconnect with an old tie? She suggested highlighting shared experiences, events, times etc. Basically focusing on the things that you have in common. For instance, if you have an old friend from college you can share a memory that would ignite a fun time you spent together.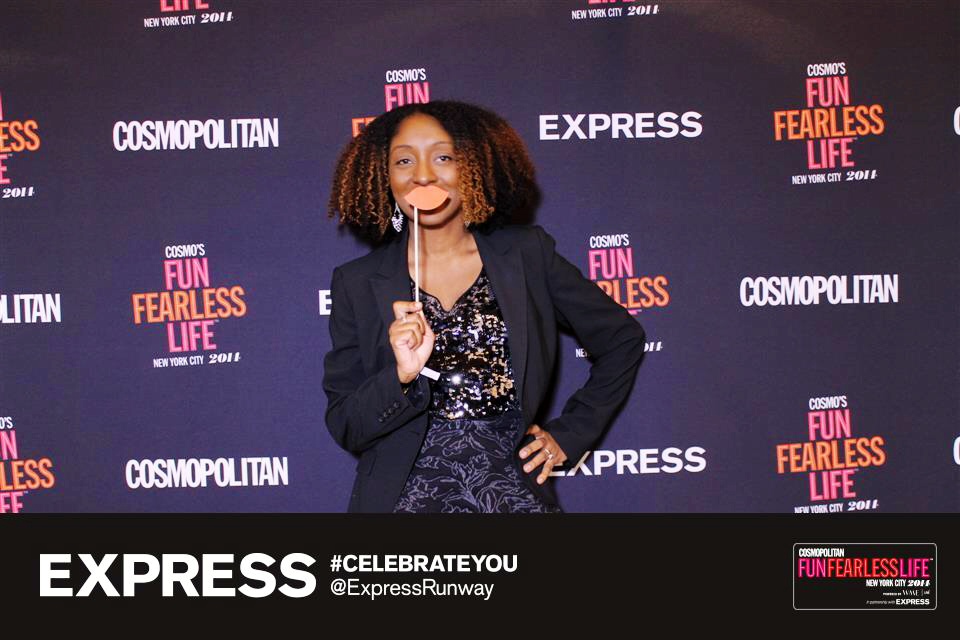 After the power women panel we headed out for a break which meant time to snap pictures, makeup, shop or read Cosmopolitan magazines. Truly a girl's dream. Maybelline gave attendees makeup while Express gave us all a cute clutch bag with a power pack to charge our phones. Cool right?
[Tweet ""Stand up straight and realize who you are that you power over your circumstances"]
We returned from lunch to learn all about the unspoken language – body language. TED talk sensation and Harvard professor Amy Cuddy had us all stand up and learn power poses. According to her explanation, we expand as we feel more powerful. She used examples of athletes, politicians and other powerful people standing with superman poses and with their hands out. She explained that power poses make people feel happier, remember positive memories and increase  (positive) risk taking. In situations where it would be inappropriate to strike a power pose, she suggested that you visualize yourself power posing. She shared that she's been doing power poses with her son since he was a toddler and showed us pictures of his poise and confidences as a preteen. I was sold and when I got home, I power pose all night with my kids. Okay, all night is a bit of an exaggeration but let us just say that The Princess Fairy power poses every morning before school. The benefit for children? Building a proud posture, increase math performance and decreases the likelihood of your kid becoming a victim of bullying. I'll take that!
Here is Amy's TED Talk if you want to learn more!

Next we spoke about branding and social media with Twitter CEO Dick Costolo and YouTube star and now author Grace Helbig and in a nutshell  the message was the importance of being authentic. Share things you enjoy and people who you think are interesting. You should be able to watch your videos, read your tweets, look at your timeline and see yourself.
[Tweet "Success doesn't come without sacrifice."]
My last session for the day was with some powerful female entrepreneurs. It started with the founder of Origami Owl, Bella Weems who started her company at age 14 because her parents refused to buy her a car. Now at 18, her company is worth $250 Million, To get her company off the ground her parents made many sacrifices including selling their furniture and cutting off their cable. Bella's advice to female entrepreneurs was to "Keep a positive attitude and remember success comes with lots of bumps in the road and doesn't come without sacrifice."
Next, everyone was excited to hear Girl Boss author and Nasty Gal owner Sophia Amoruso's journey and advice. Sophia shared how major mistakes, poor management skills, poor operations systems and inventory issues in her company allowed her to grow up in retail management and gain the experience she needs to run Nasty Gal. She shared that she had many bumps and bruises and stories of how she had to scramble many moments to make it work.  What struck me was her love for her team and their understanding and patience with her as an evolving and growing leader. My favorite quote from Sophia was "Create desire and over deliver on everything you do."
[Tweet ""Create desire and over deliver on everything you do.""]
Then I headed home but not before grabbing the opportunity to be on the cover of my beloved Cosmopolitan magazine.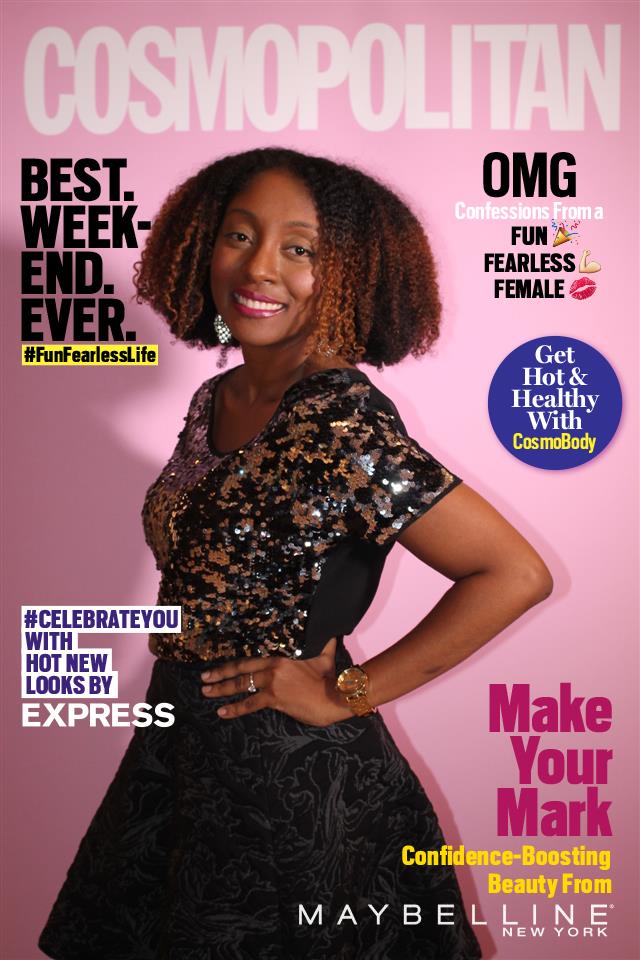 I started writing this recap thinking that I could squeeze everything that I learned in two days into one recap but the conference was so awesome. I'll have to share a part two with Day two. xo
How are you a funfearless female? Do you incorporate any of these into your life?