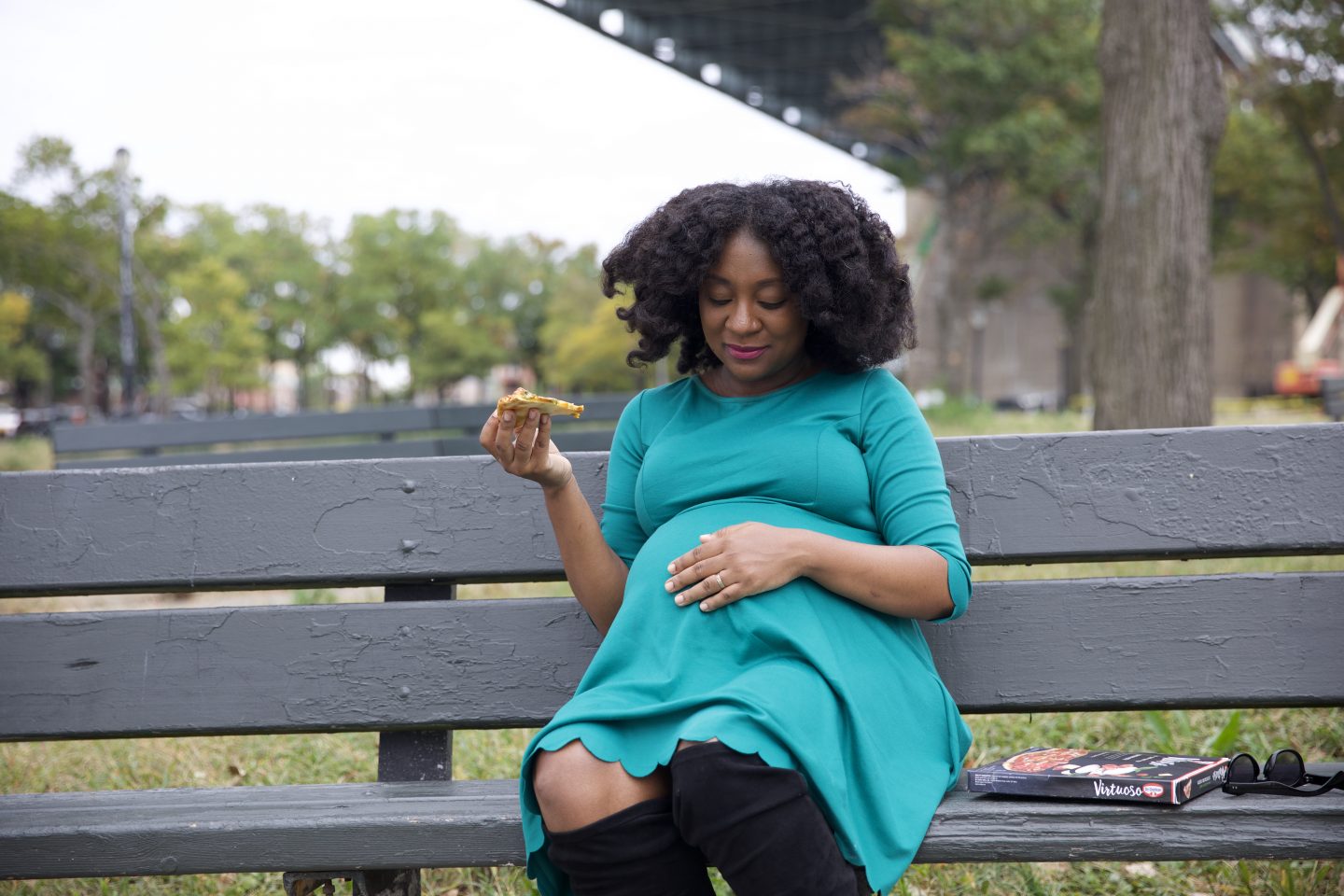 Thank you to Dr. Oetker USA LLC for sponsoring this post. Visit the store locator to find Virtuoso Pizza by Dr. Oetker in a retailer near you!
Gosh, I remember how excited I was towards the end of my very first pregnancy. I wanted to meet my daughter so bad that I spent my days obsessing about when she would come. It didn't help that friends and family kept calling to find out if I had the baby and sharing their disappointment that I hadn't gone into labor yet. As I look back at that time, I cringe the poor use I made of my time and I feel sad that I didn't relax and enjoy my last days before becoming a mother. I was a little bit more relaxed with my son yet still excited, but now with my third, I am very patient. Actually, I'm reclaiming my time while I wait and I'm loving every moment of it. If you ever find yourself impatiently waiting for the baby to arrive here are three things to do:
Spend time with your partner.
My husband and I have lots of memories walking and talking during fall seasons past. Actually, we met in September and we would walk all through the streets of Manhattan getting to know each other until the weather got too cold. The fall is our time, and since we haven't had the chance to have a date night these last few weeks, getting away to the park to walk around, enjoy pizza and chat while the kids are at school is our version of a date lately. Sure, we will be able to do that when the baby gets here but the focus will be on making sure she's comfy and happy, so it's nice to just hang out – just us. As I mentioned before, Virtuoso Pizza by Dr. Oetker is our favorite brand because they have so many delicious varieties that we can enjoy when the kids are not around. Their carefully crafted recipes that combine wholesome ingredients like a unique blend of cheeses, fresh-picked vegetables, and flavorful meats make it our number one choice. We keep both their Classic Crust and Crispy + Thin crusts frozen pizzas in stock so we can simply pop one in the oven, slice it and then head out to enjoy the lovely weather.
Spend special time with your older kids.
This past weekend, laid in bed and snuggled with my older children as we watched the Trolls movie. We laughed out LOUDLY, sang along to the soundtrack and I made no fuss when they raced each other around. I know that in a few weeks, they will have to be quiet when the baby is sleeping. Things will be a little restricted at times and movie time will change so with each of them snuggled under each arm, I kissed their foreheads and took in the moment.
Do something for yourself.
Making "me" time is already challenging with two children and I can just imagine with three it wouldn't get any easier, especially a newborn that I plan to breastfeed. So, I've been really serious about doing something for myself lately. My favorite things to do during the past few weeks have been getting manicures and pedicures and I'm looking forward to my appointment to get my hair braided next week. It's important that I do things just for myself now as I will have to care for all the needs of the new baby soon.
Check the Virtuoso store locator to see where you can find Virtuoso near you. For the latest updates, follow Virtuoso on Facebook or Instagram.
This is a sponsored post on behalf of Dr. Oetker USA LLC. I received compensation for this post, however, all opinions stated are my own.
What did you do while you waited for your baby to arrive?