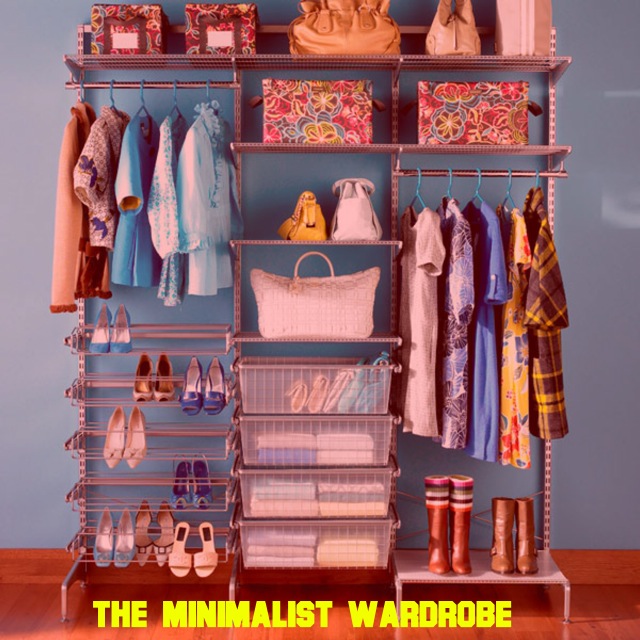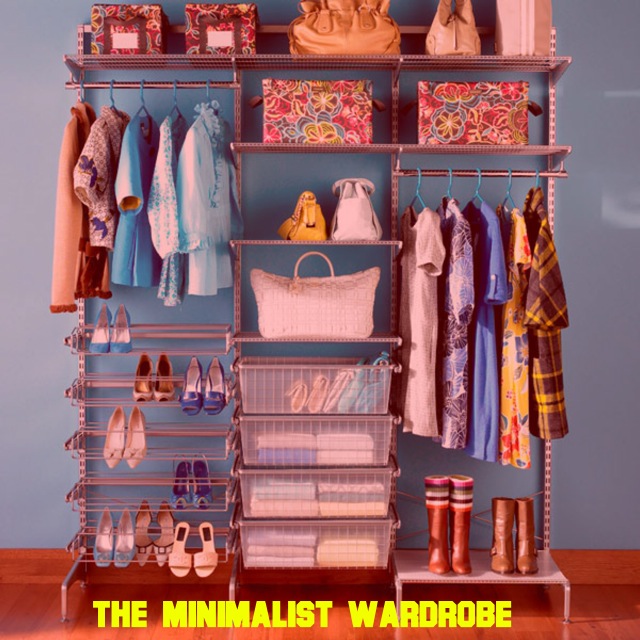 Recently, a stylish friend and I were chatting about spring cleaning our wardrobes. As young mothers both of us have similar goals when it comes to our wardrobes. We need functional, wearable, versatile, quality pieces that can easily be paired together. We need to have clothes that we can wear comfortably. We don't want to spend an hour combing through a bunch of clothes that we can't fit into or we no longer like. That's  why both of us found the idea of a minimalist wardrobe very appealing.
What's a minimalist wardrobe?
The idea is to minimize the amount of clothing that you have in your closet. Everything that you keep in your closet should fit you well, fit the needs of your lifestyle and style. A well executed minimalist closet should remind you of a boutique. You're able to see what clothing you have and enjoy them. The quality not quantity is the focus point. Let's face it, we are all bursting at the seams with clothing, lots of clothing. Most of us, have a lot of clothes that we have never worn, will never wear or will only wear once. The irony is that with all of the clothes in our closets, we constantly complain that we don't have anything to wear. This is because of poorly executed wardrobes. The minimalist wardrobe is effective and intentional. Every piece is used and there is no waste or worry of nothing to wear. Here's how you achieve it.
Step 1: Do a closet detox:
What do you do before starting a new diet? A detox. Same rule applies to minimizing your closet. You need to remove the pieces that aren't useful to you so you wouldn't be tempted or distracted by them. Try on everything for fit and be completely honest with yourself about whether they fit well or not. Ensure that clothes are not slack or tight. If you buy trendy pieces, you'll need to get rid of pieces that are no longer on trend. If you're not sure about the fit or how you look, ask a few trusted friends or family members for feedback.
Step 2: Do a test run
Once you've decided which pieces you'll keep, try pairing them to create different looks. Take pictures in every outfit so later on you'll remember how to style it.
Step 3:Make a shopping list
Once you know what you have and you've put outfits together you would determine areas where your closet is lacking. Maybe you need a pair of flats or a button down shirt. Make a list so you wouldn't end up buying pieces that doesn't fit your style or doesn't mesh well with what you already own. Look for these pieces online, the beauty of online shopping is that it's much more easier to find the specific product that you need. Websites like ShopStyle allow you to shop for clothing based on very specific descriptions. You can also set up sales alerts on ShopStyle and figure out if your local store carries the products that you're interested in getting. Also make sure that you load up on basics and foundations, all the nice clothing in the world doesn't look good if you're wearing shoddy foundations. Below is a list of must-have spring basic clothing.
Step 4: Plan your looks
Once you've purchased your new complimentary pieces, you'll need to plan out outfits and hang the pieces together. Take the time to think about where you usually go and then plan looks accordingly. For instance, if you work full-time, you'll need 5 looks for the week plus weekend outfits. Maybe you need a laid back Saturday look that's comfortable for running errands and you get dressed up on Sundays for church. Planning your closet in this way, makes it possible for you to wear every piece, saves you time and keeps your style consistent.
What your technique for cleaning your closet and seasonal shopping? Do you have a minimalist wardrobe?