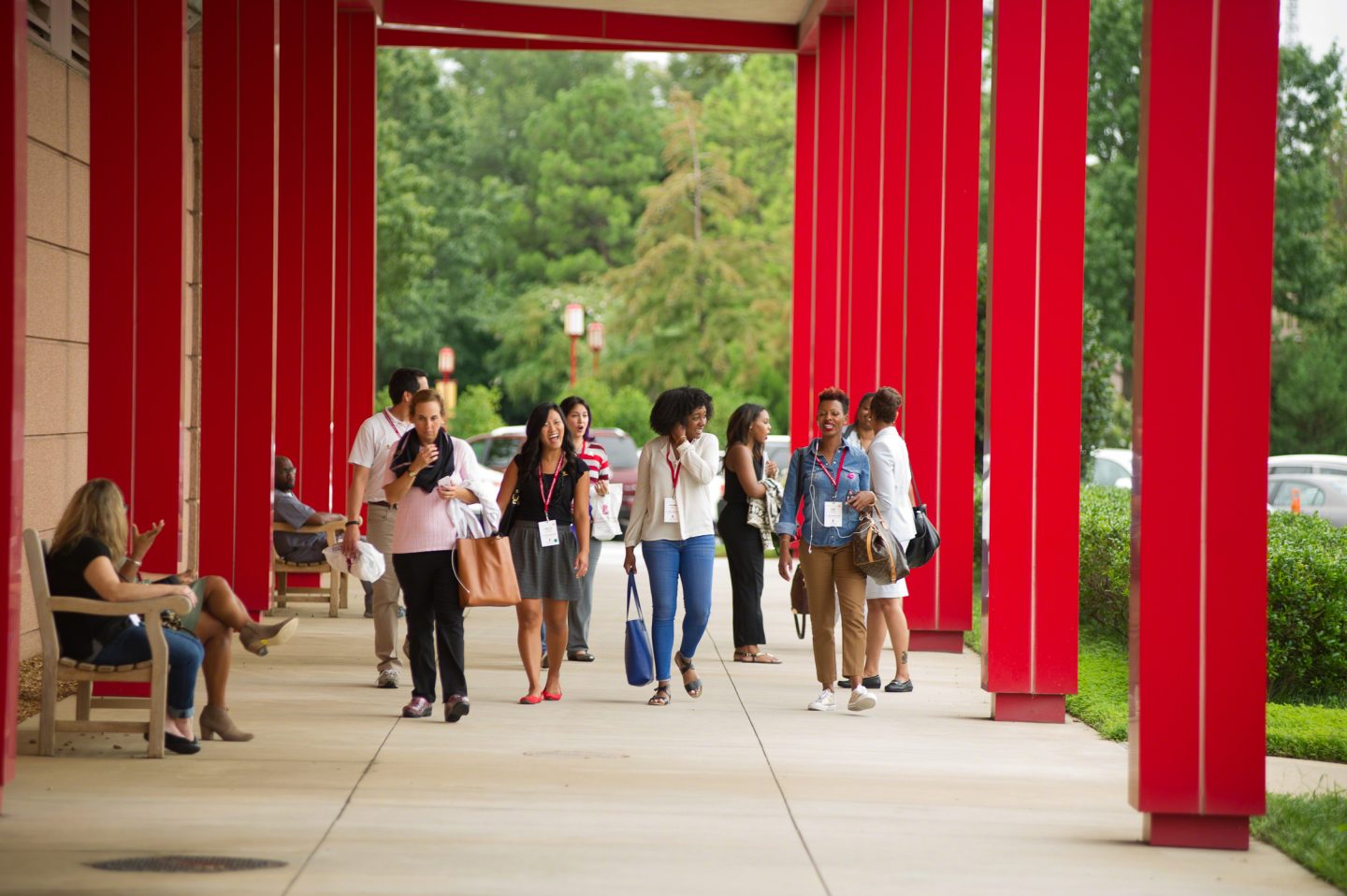 Today is September 1st, the start of Childhood Cancer Awareness Month and so I thought today would be perfect for us to talk about my recent trip to St. Jude Children's Research Hospital in Memphis, Tennessee. Those of you who follow me on social media already know that this was a powerful experience for me, one that I will forever keep close to my heart.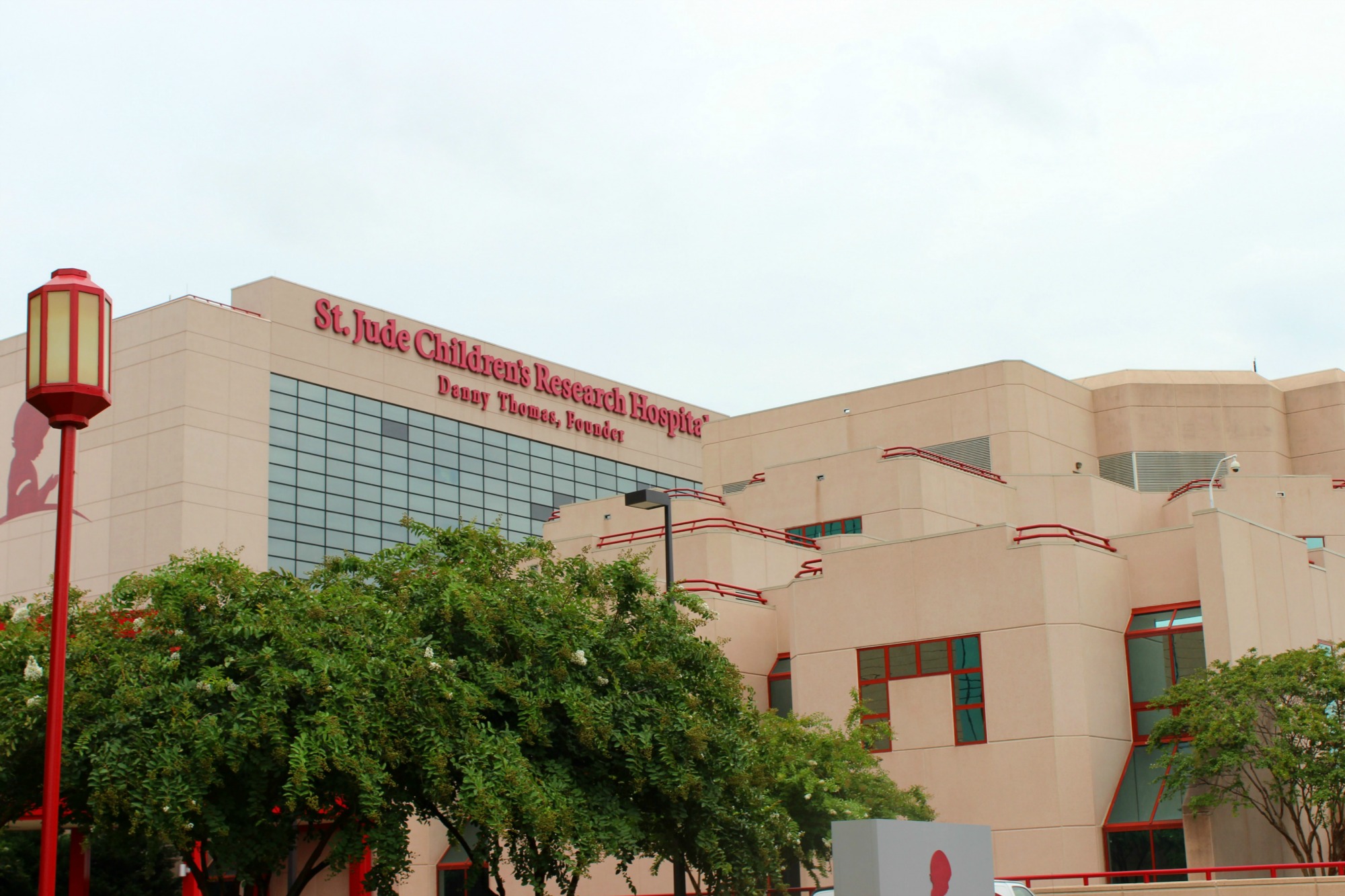 I'm sure most of you have heard about St. Jude Children's Research Hospital and their mission of "Finding Cures. Saving Children." But after three days in Memphis, on the campus meeting staff, scientists, patients, patient parents and doctors, I've learned that St. Jude is more than that mission and what I can only summarize as a community of love.
I want you to walk along with me through this tour because every moment was really insightful, and I hope by the end of this post, you feel what I felt when I left Memphis.
Going to the hospital I had so many questions which I think you are probably wondering about too, so I am going to address them through this post:
What is it like to be a parent of a child who is a patient at St. Jude?
The first part of the tour included meeting a patient and her family. I remember spotting a beautiful mother walking into the room where myself and the other bloggers on the press trip were sitting having breakfast. Alongside her, ran her two rambunctious and happy kids.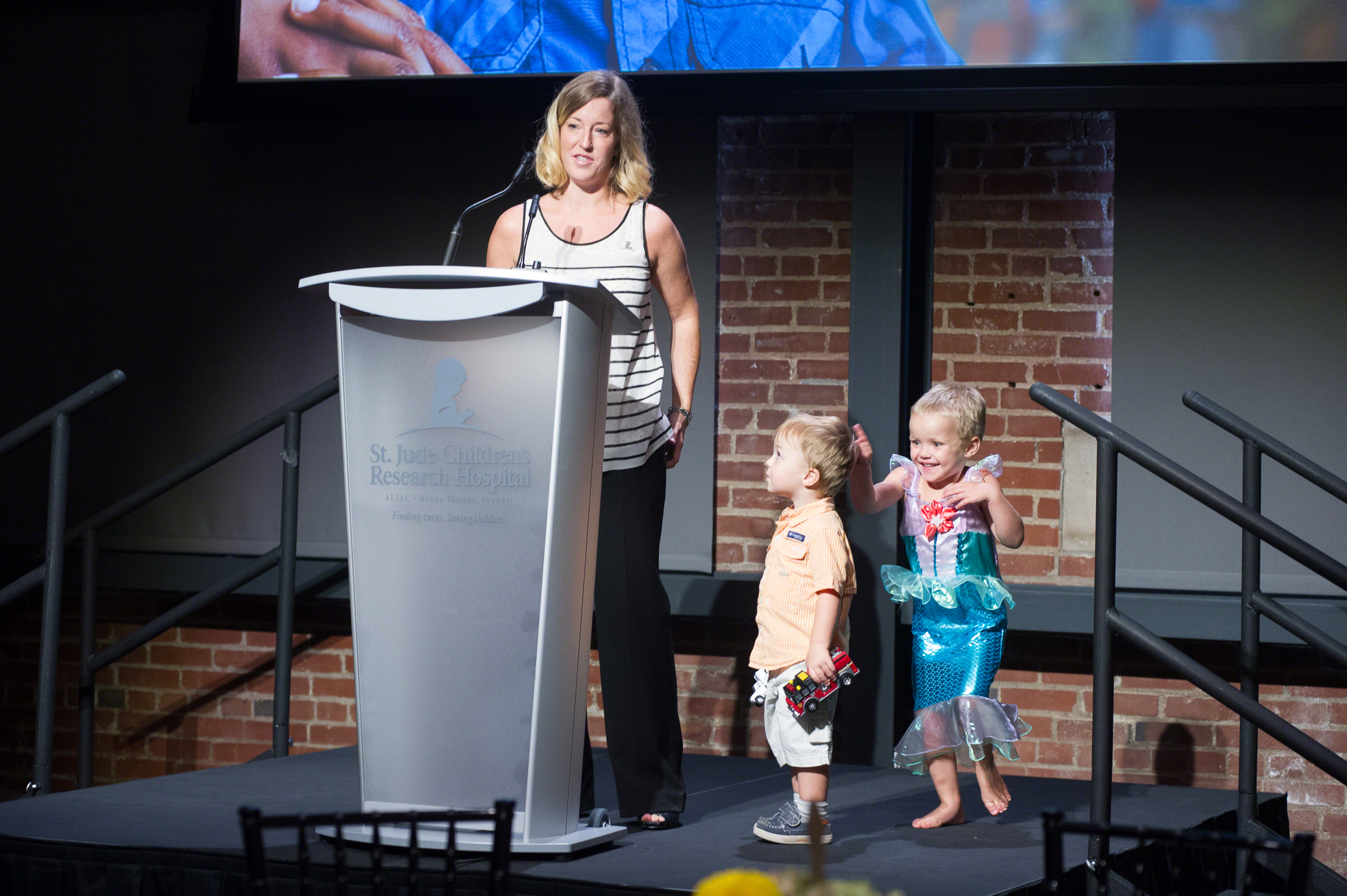 They were clearly happy but my attention then shifted to the little girl because she was wearing  a mermaid costume and I thought that was so cute. I tried my best not to stare at them, aware that I would make them uncomfortable if I did but I have to confess I was curious about their lives.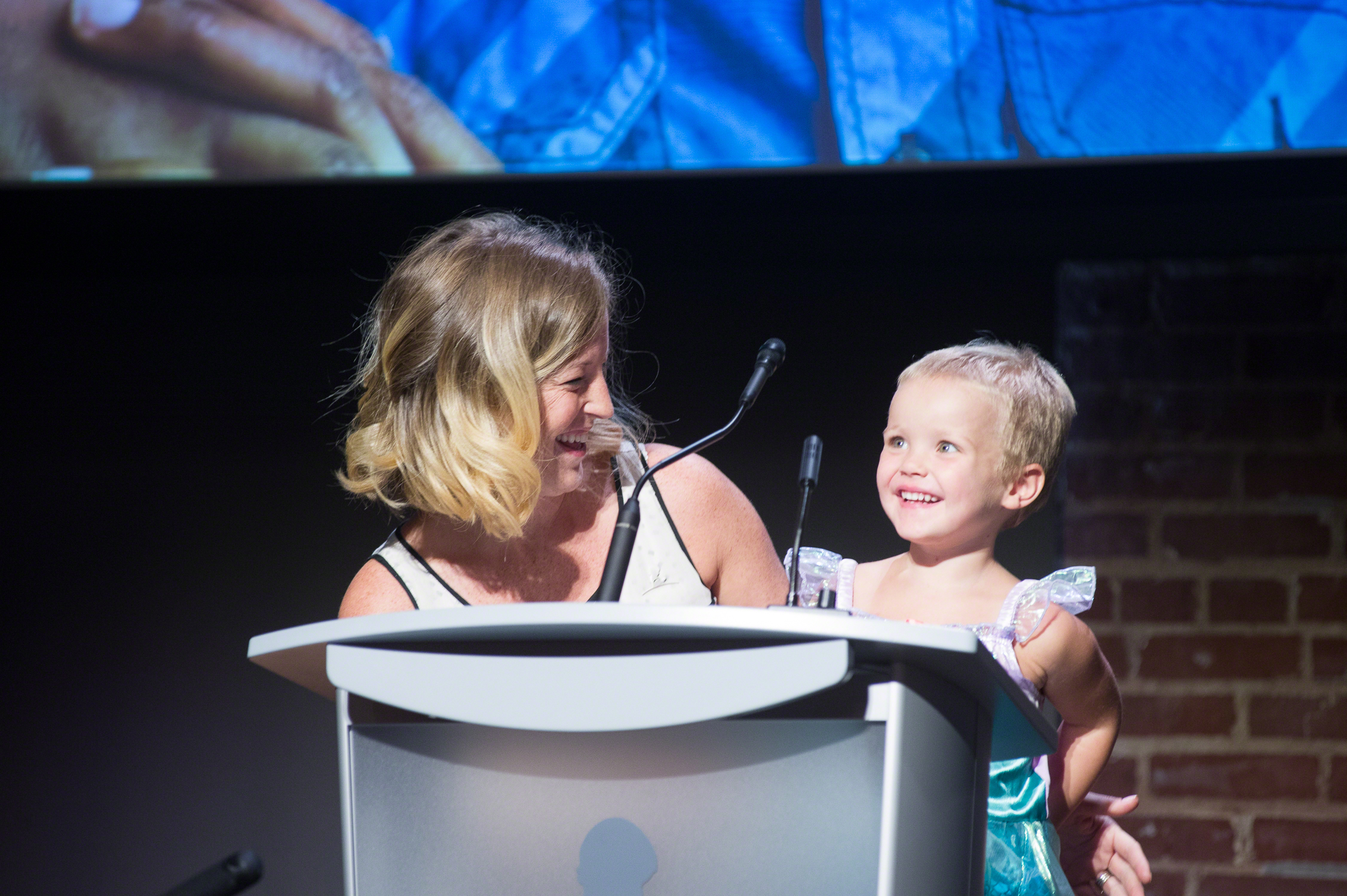 A few minutes later as the mom stepped on stage to share their story, I learned that the girl in the mermaid costume name is Mabry and she was diagnosed with Acute Lymphoblastic Leukemia when she was only 2 years old. Let's stop for a minute and imagine what it's like for a mom to learn that her precious toddler has cancer. Her mom shared how this news shook her and that their family was initially very scared but when they arrived at St. Jude everyone was so confident that she felt better almost right away. It helps to know that St. Jude increased the survival rates for Acute Lymphoblastic Leukemia from 4% before opening in 1962 to 94% today.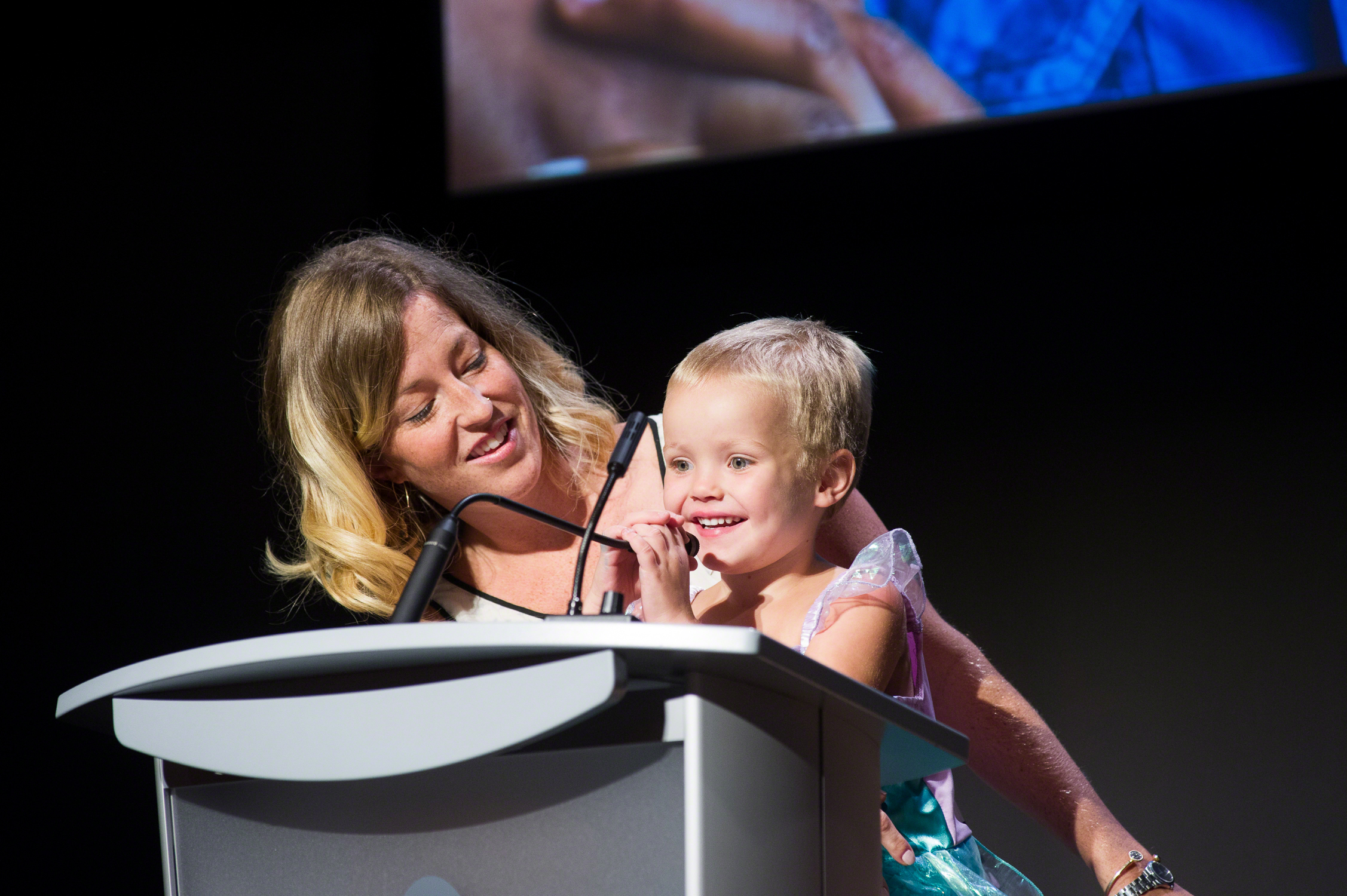 I learned that Mabry wears a princess dress daily and she even told us that Princess Aurora is her favorite princess because her dress is the prettiest. Her mom told us that her fun personality never changed during her treatment and I admired that St. Jude allowed Mabry to be herself as the staff embraced her in the princess dresses. Since Mabry's mom needed to spend more time caring for Mabry, she went from being a working parent to caring her children full-time. Her family was able to make this major decision because families never receive a bill from St. Jude for treatment, travel, housing or food. Never!
[Tweet "Families never receive a bill from @StJude for treatment, travel, housing or food! "]
Why families never receive a bill at St. Jude?
St. Jude Children's Research Hospital was founded by actor Danny Thomas back in 1962 with the goal of providing kids of all races, economic backgrounds, religions and nationalities treatment. Although the hospital is named after Danny Thomas's favorite saint, St. Jude, it is not a Catholic hospital.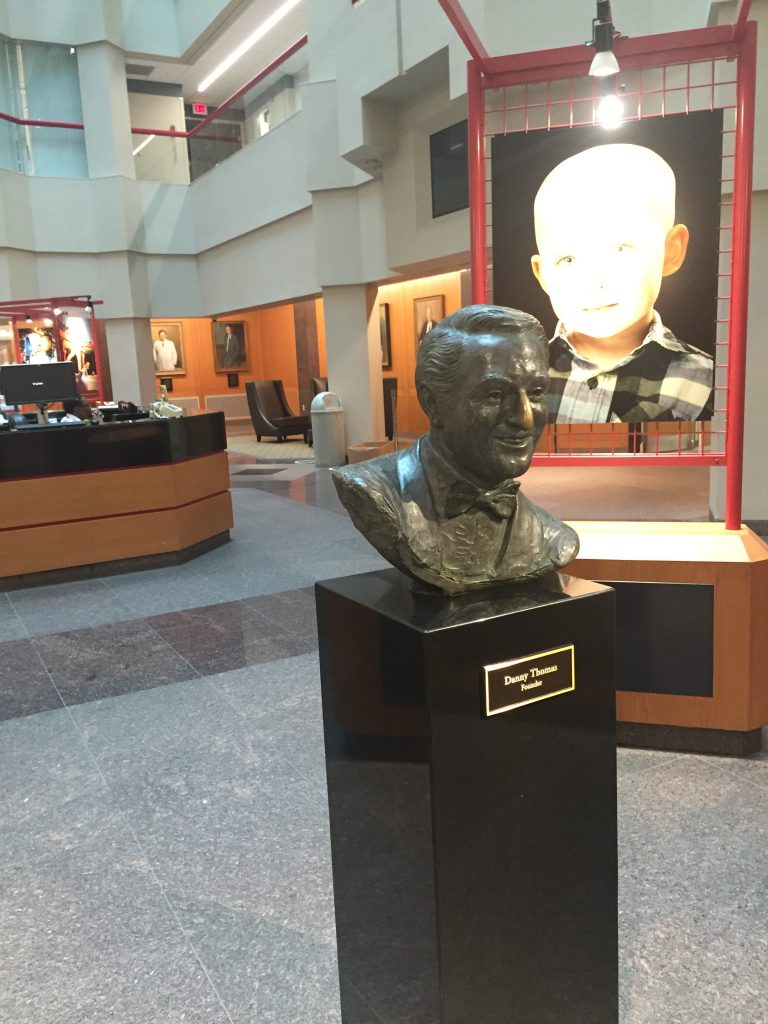 The hospital was opened before the passage of the Civil Rights Act of 1964 which outlawed racial segregation. In Memphis where the hospital is located, in 1962 it was common for black children who were ill to get turned away from some hospitals. Danny Thomas's goal was to open a hospital that welcomed everyone regardless of their skin color. This is why it was important that finances wouldn't prevent care at St. Jude.
This is why it was important that no patient received a bill as finances didn't play a role in who received care at St. Jude back then or now.
Just learning this fact about St. Jude and seeing the amazing work that is done daily inspires me not only to do my part in changing the world like Danny Thomas but to support St. Jude. The current goal at St. Jude is to drive the overall survival rate for childhood cancer to 90%.
[Tweet "Running @StJude at no costs to patients is $2.2 Million per day and covered mainly by individual contributors."]
What are the doctors like?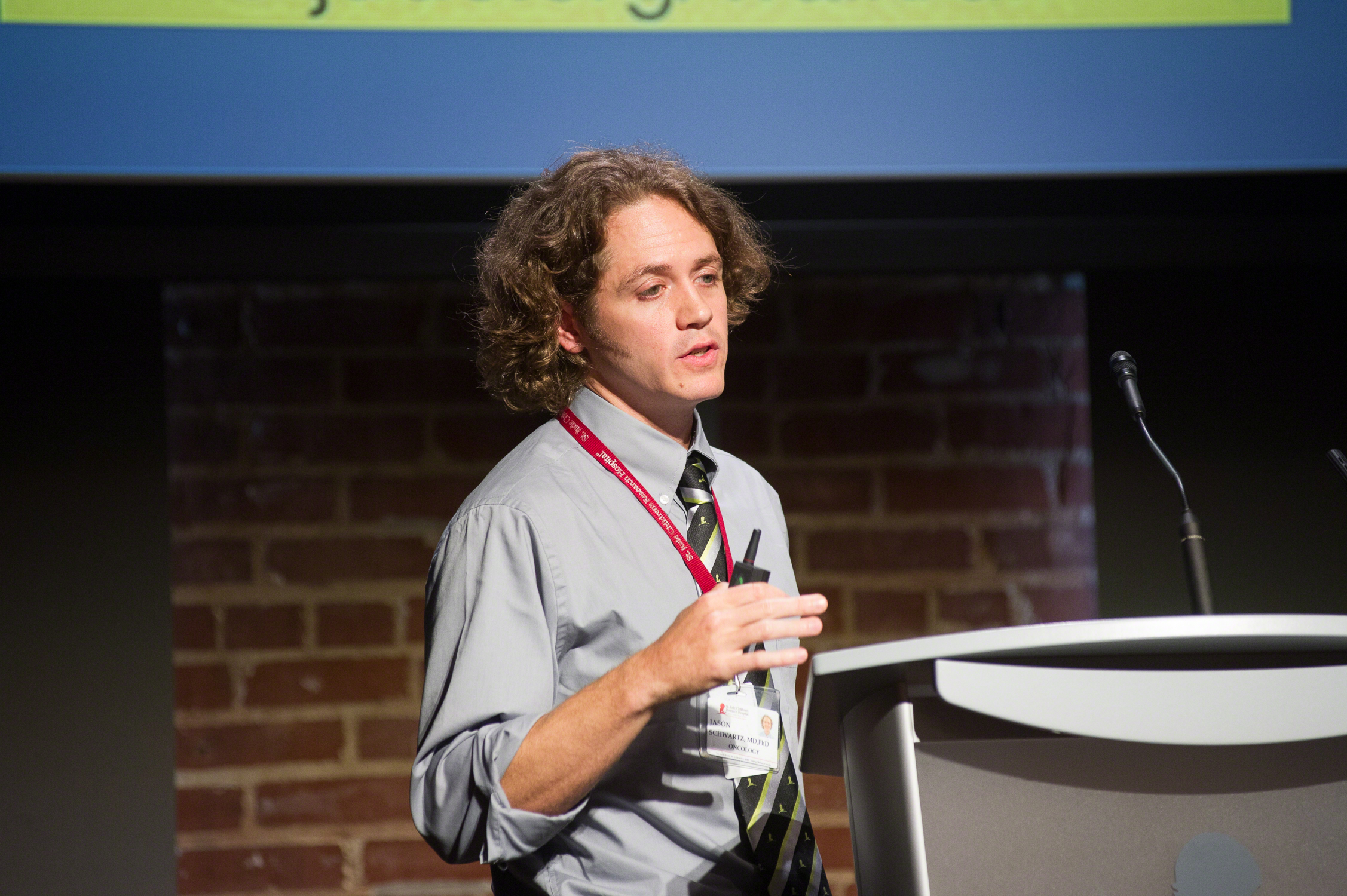 We had the pleasure of meeting with Dr. Jason Schwartz who I consider to be a hero because of his story. Dr. Schwarz is a clinical fellow in the Oncology department as well as a researcher. He first entered St. Jude as a patient and now as a cancer survivor, he cares for children who is where he once was. He took us back to the first night he arrived at St. Jude and was greeted by his medical team in the lobby and how welcomed and safe they made him feel. His nurse who was part of that team believed in him during that time and now works alongside him and they sometimes welcome children into the hospital together.
[Tweet "Dr. Jason Schwartz went from patient to doctor @StJude! "]
The doctors at St. Jude are some of the most remarkable in the world and doctors from around the world send their toughest cases to St. Jude because the hospital has the best survival rate for the most aggressive forms of childhood cancer.
What type of research are they currently doing?
Next, we met with  Dr.Regina Kolaitis who is a new mom and postdoctoral research associate at St. Jude. She explained to us that she is currently studying neuro- and muscular-degenerative diseases such as ALS (remember the ice bucket challenge) and frontotemporal global dementia.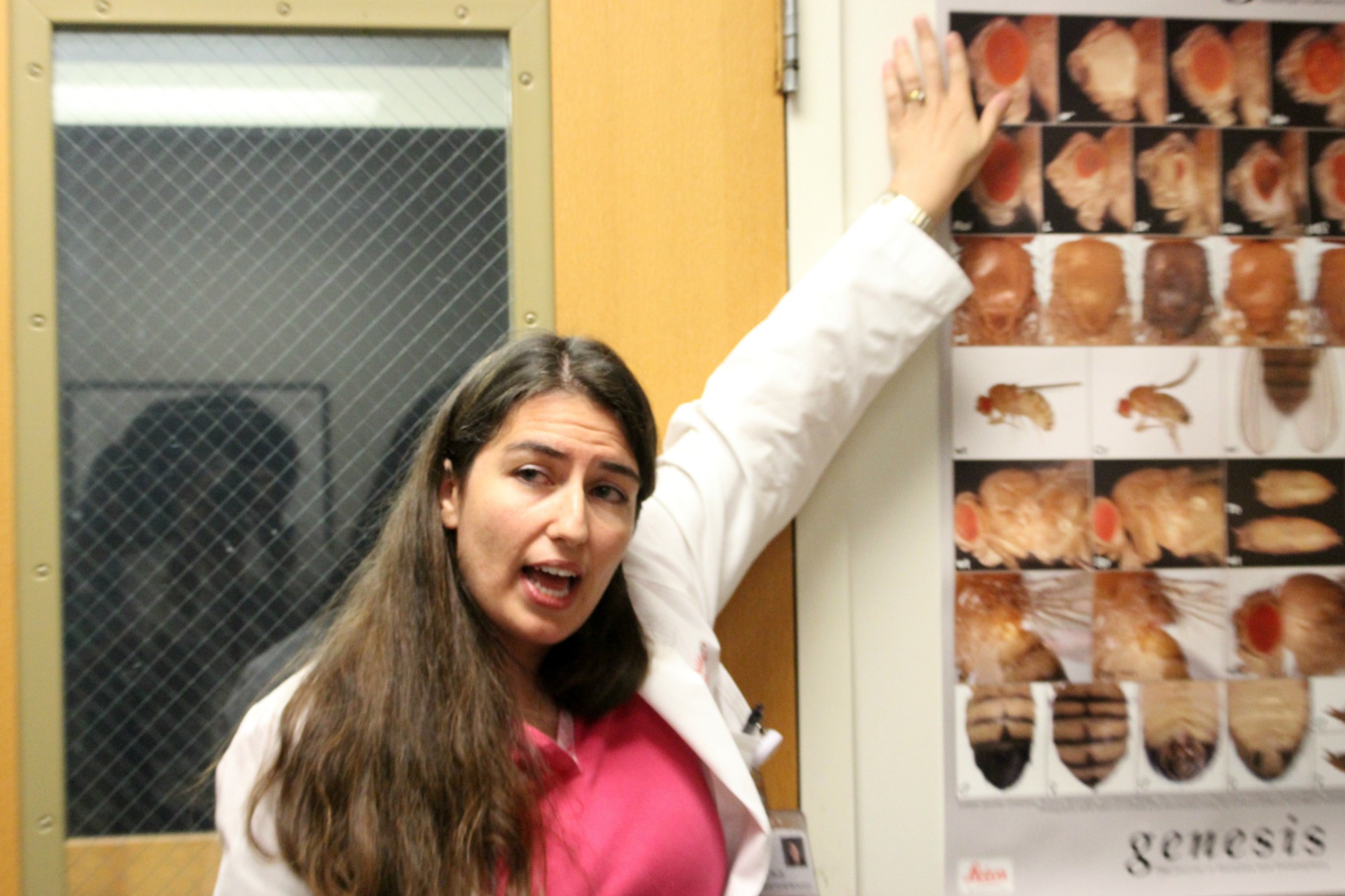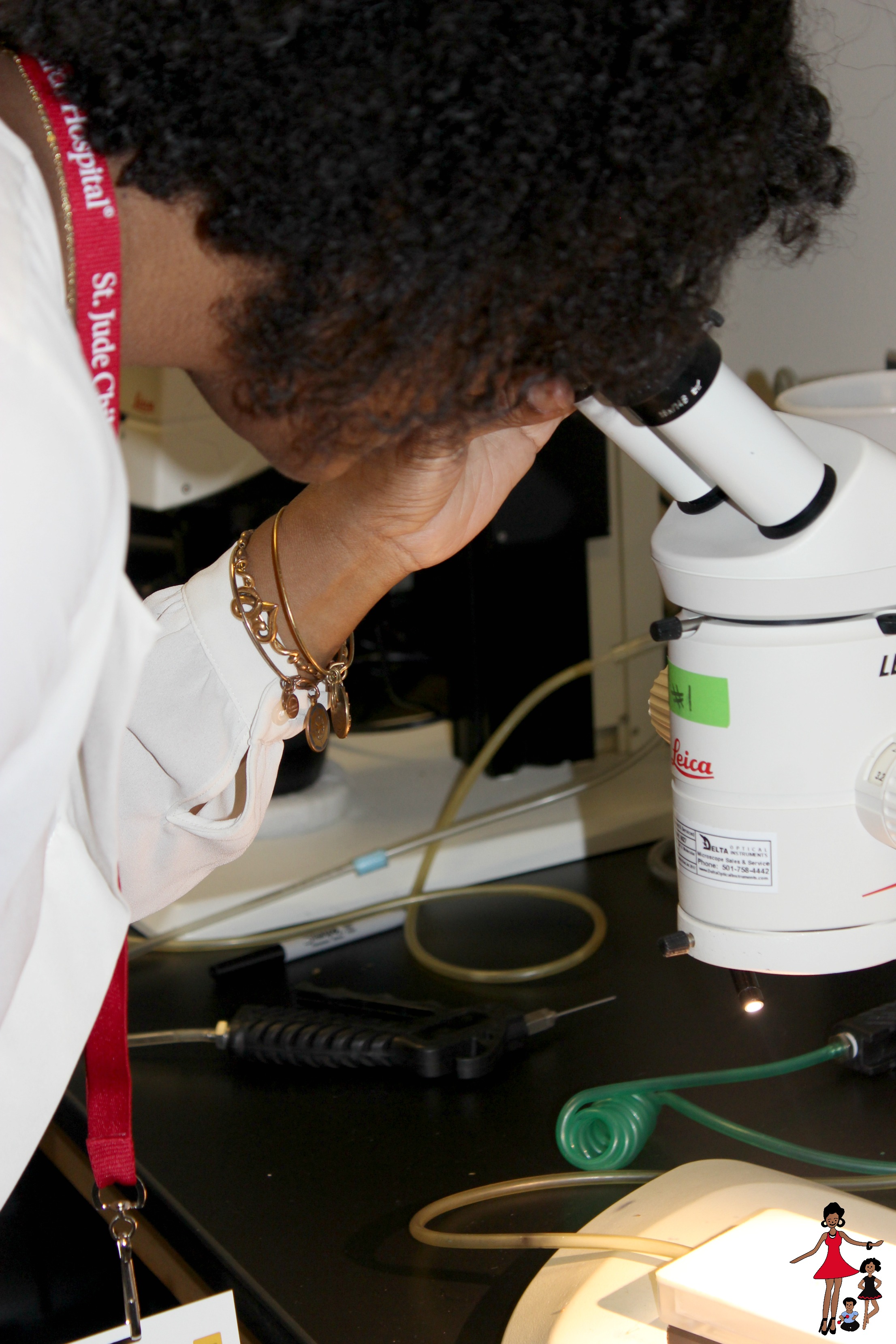 What would happen if you went to St. Jude from another part of the country or the world and your child needed treatment for an extended period?
As many of you know, I wasn't born in the United States and growing up I saw first hand how difficult it was for family and friends who needed medical treatment that our little island didn't offer. Many families would either never be able to get the care needed or they struggled to keep up with the additional costs such as travel and housing on top of medical bills. I couldn't help but wonder what happens to families like that when they bring their kids to St. Jude for treatment. Well, I asked and learn that they too never receive a bill for travel, housing or treatment.
Where do the patients and their families live?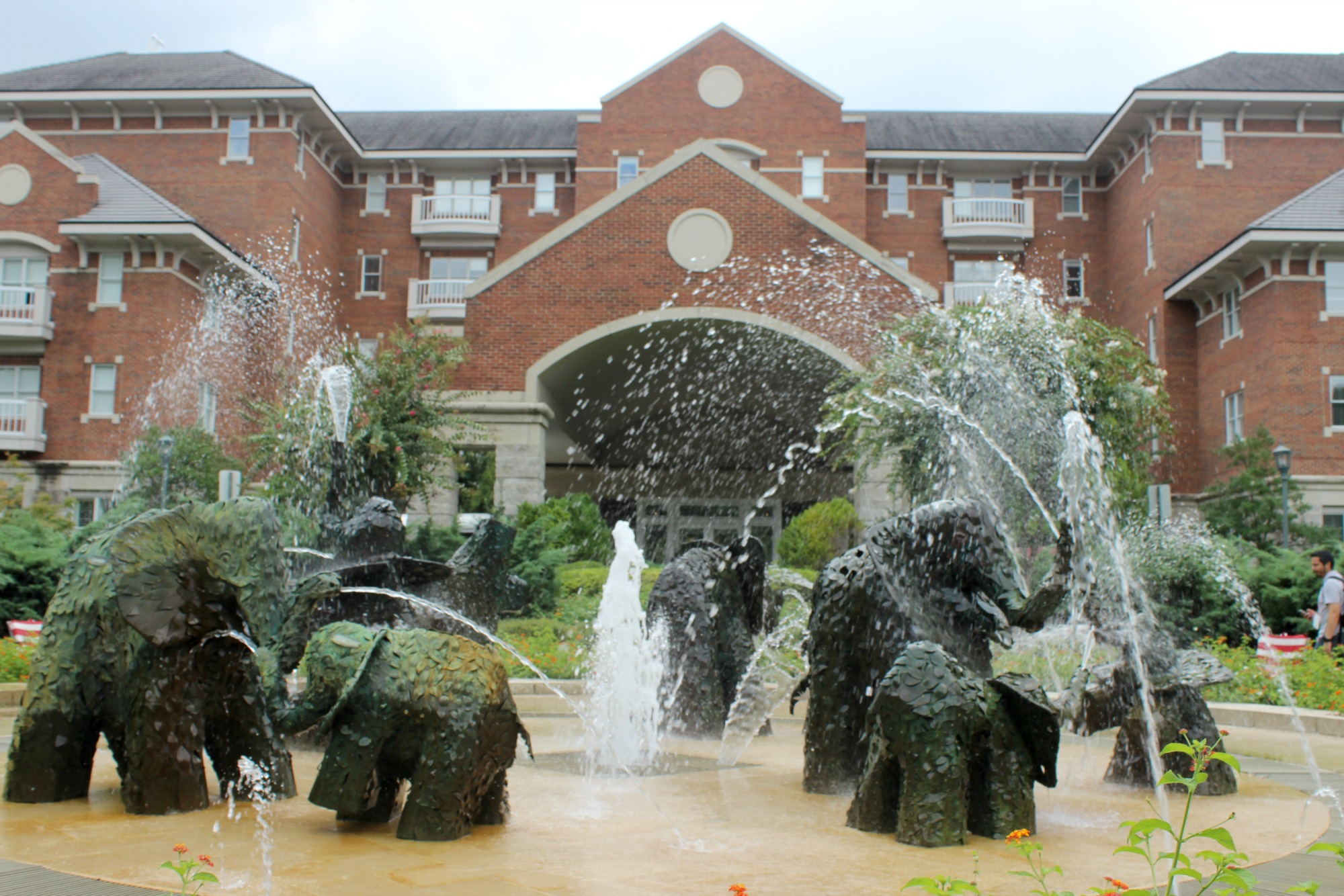 There are several options for short-term housing as well as long-term housing for patients. We visited Target House where patients who are having treatment for over 90 days live. When we drove up the first thing we all noticed was the beautiful water fountain with elephants families. Elephants are symbolic of life and good health which is fitting for the Target House.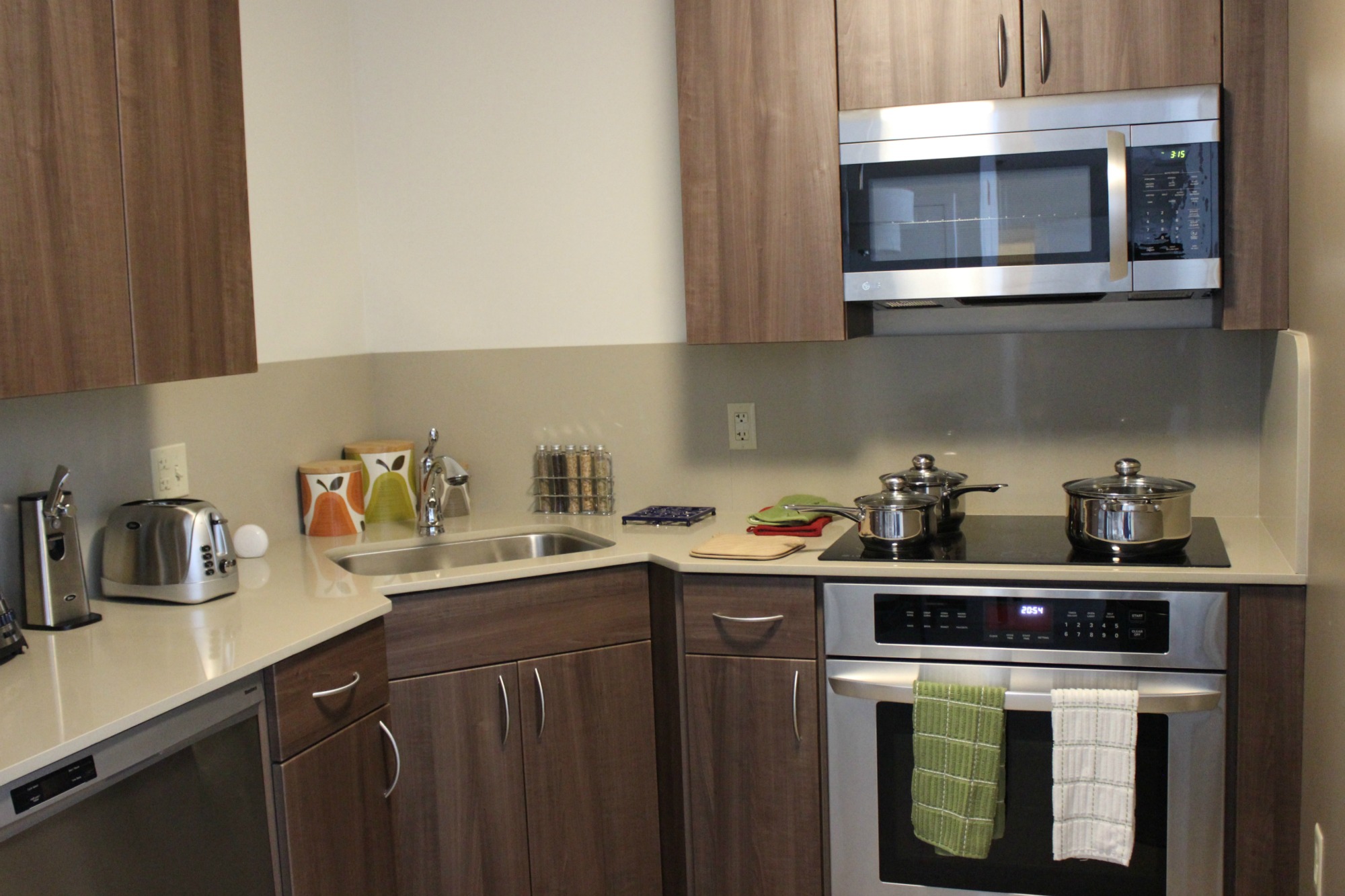 As a huge fan of Target, I was so happy to learn about their support of St. Jude. The Target House gives families some feeling of normalcy while away from their homes. Nothing like a home cooked meal right? The families receive a stipend to purchase food and there is a shuttle that takes them to and from the hospital and to the grocery store. There isn't anything that they have to worry about except focusing their child.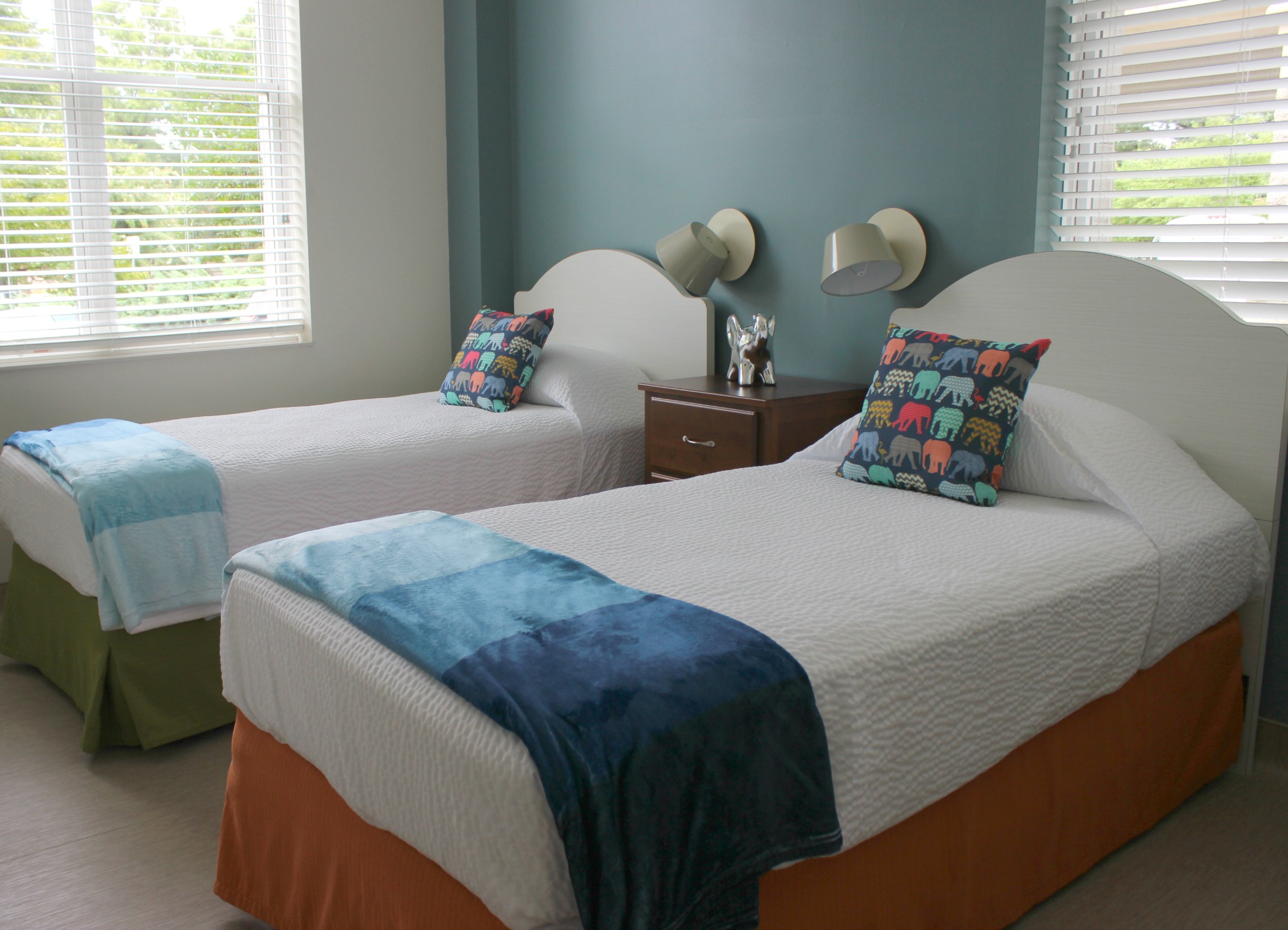 All of the units at Target House are apartment style with 2 bedrooms, kitchen, living room and bathroom. The model we toured was bright and airy and decorated in bright colors.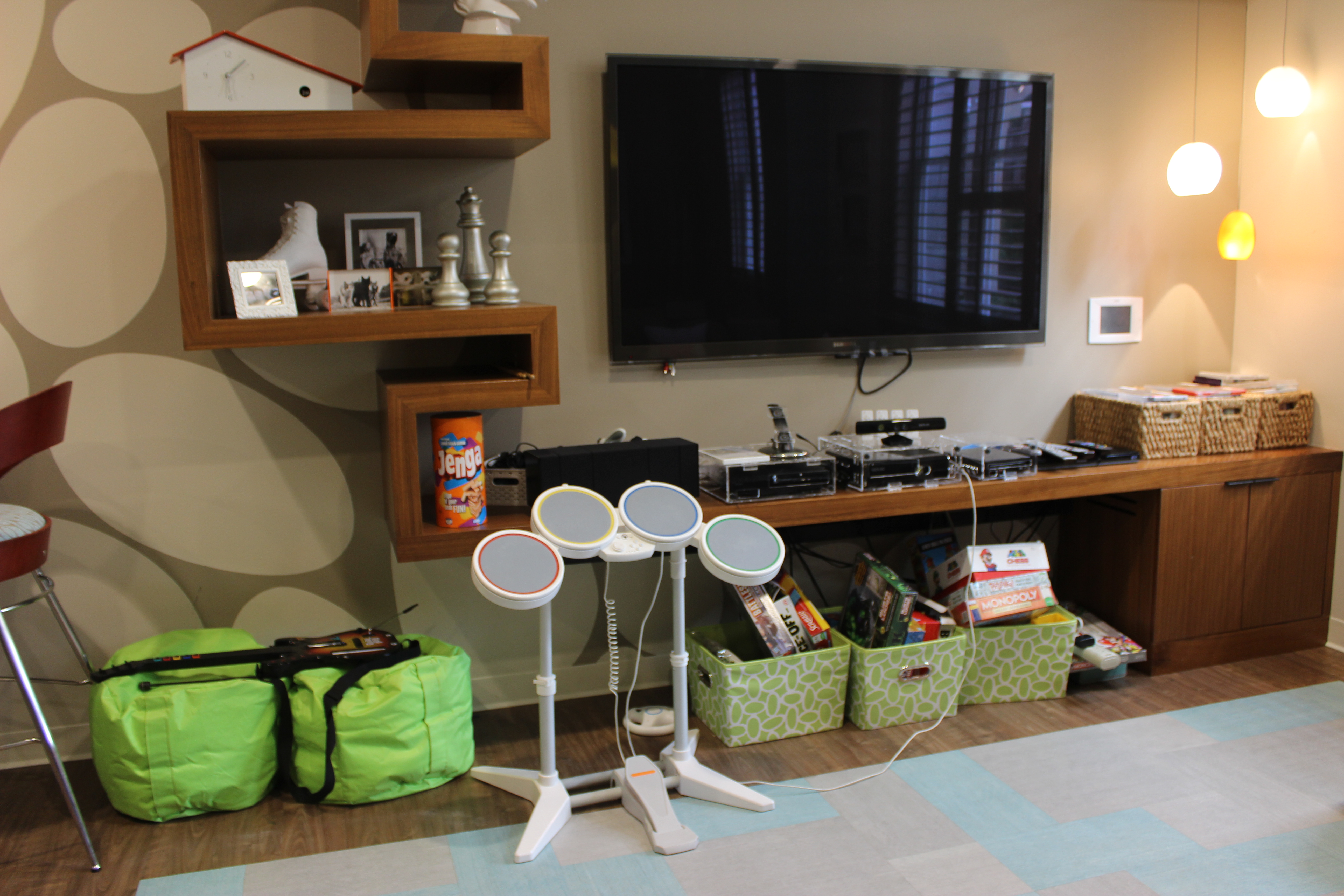 Target House is truly a community so there are common spaces for interaction. I was really impressed by the Dreamworks Room and The Shawn White room. There is also a playroom and teen room, playground, an arts and crafts room and fitness studio.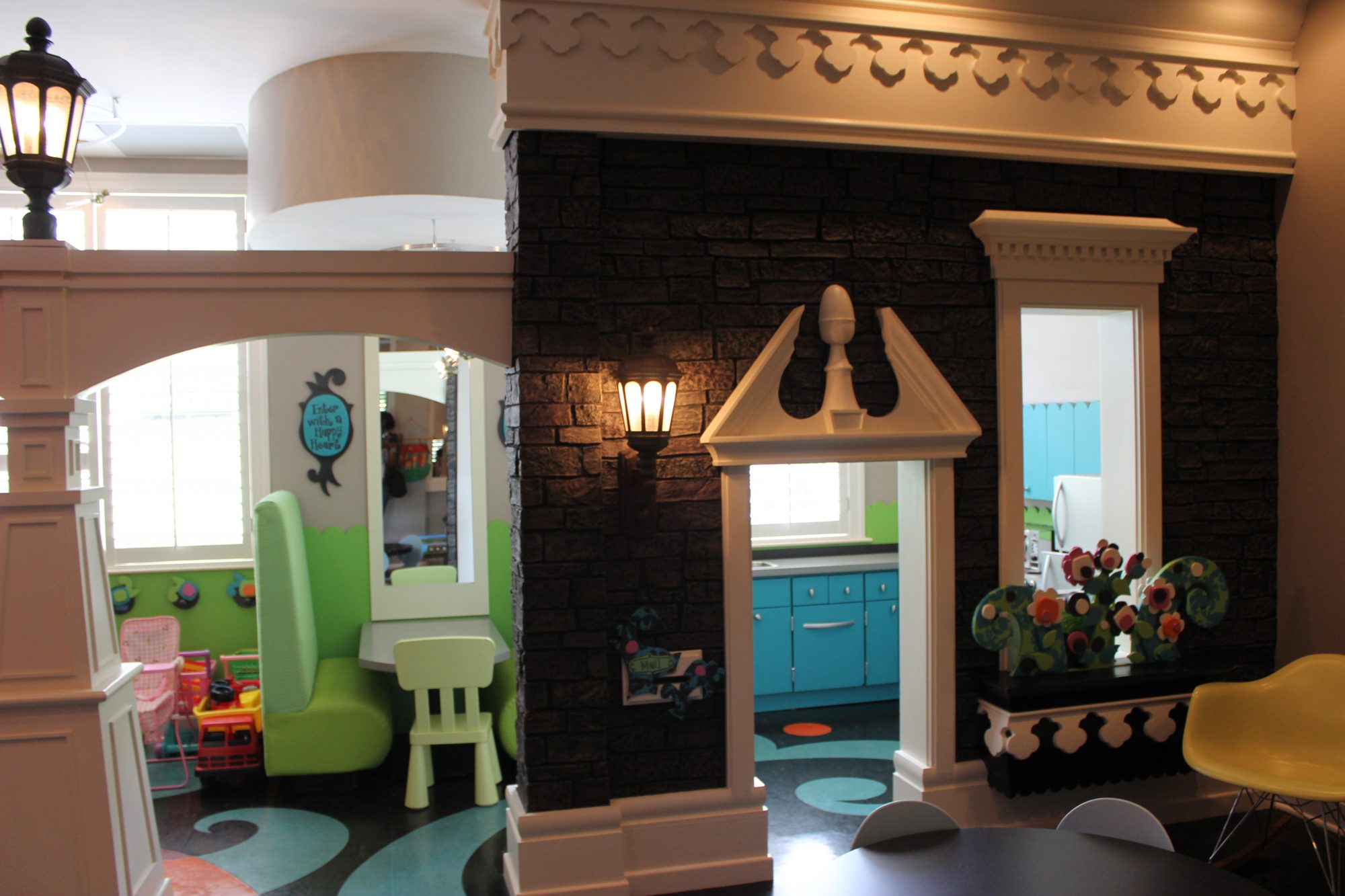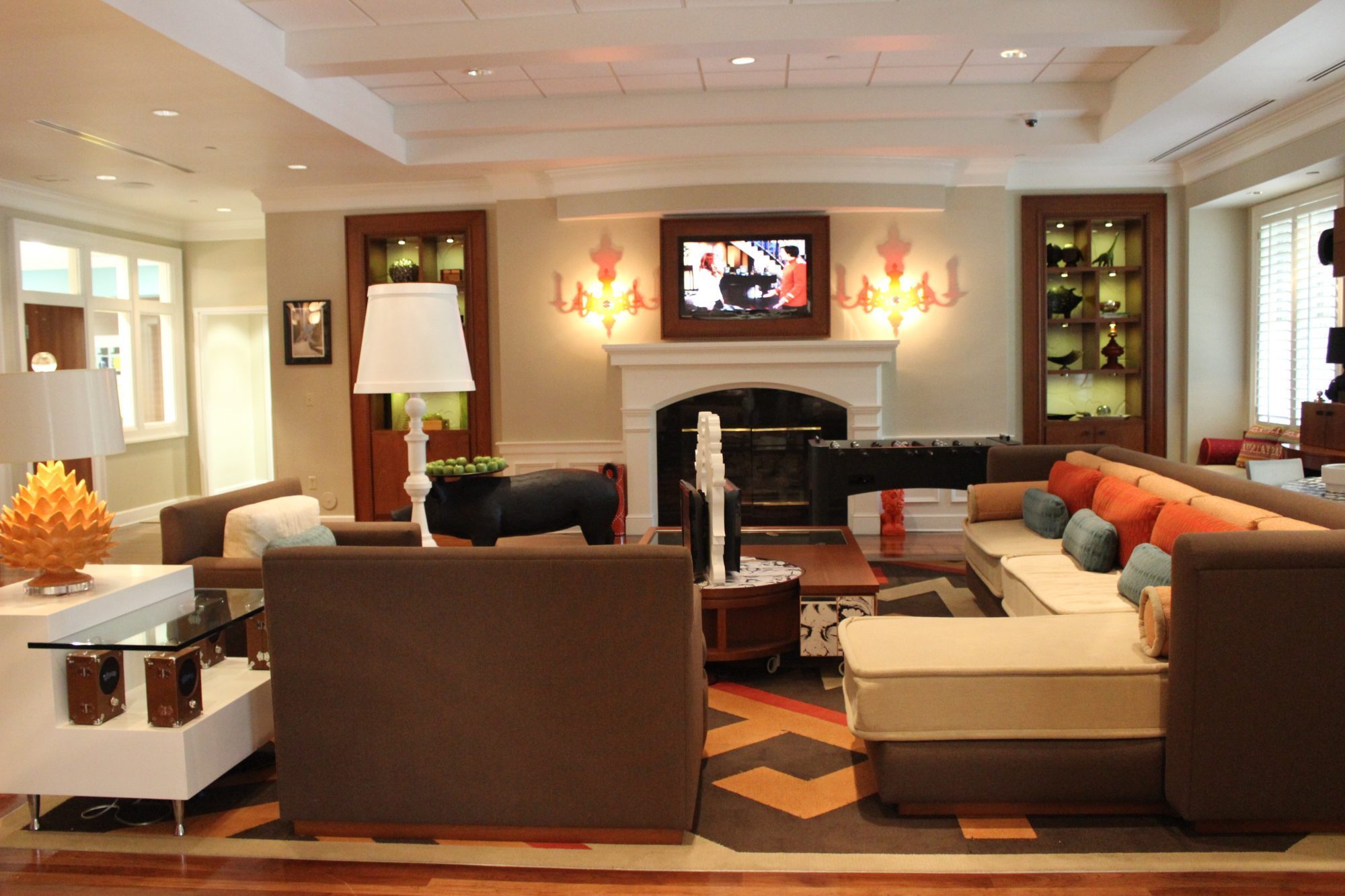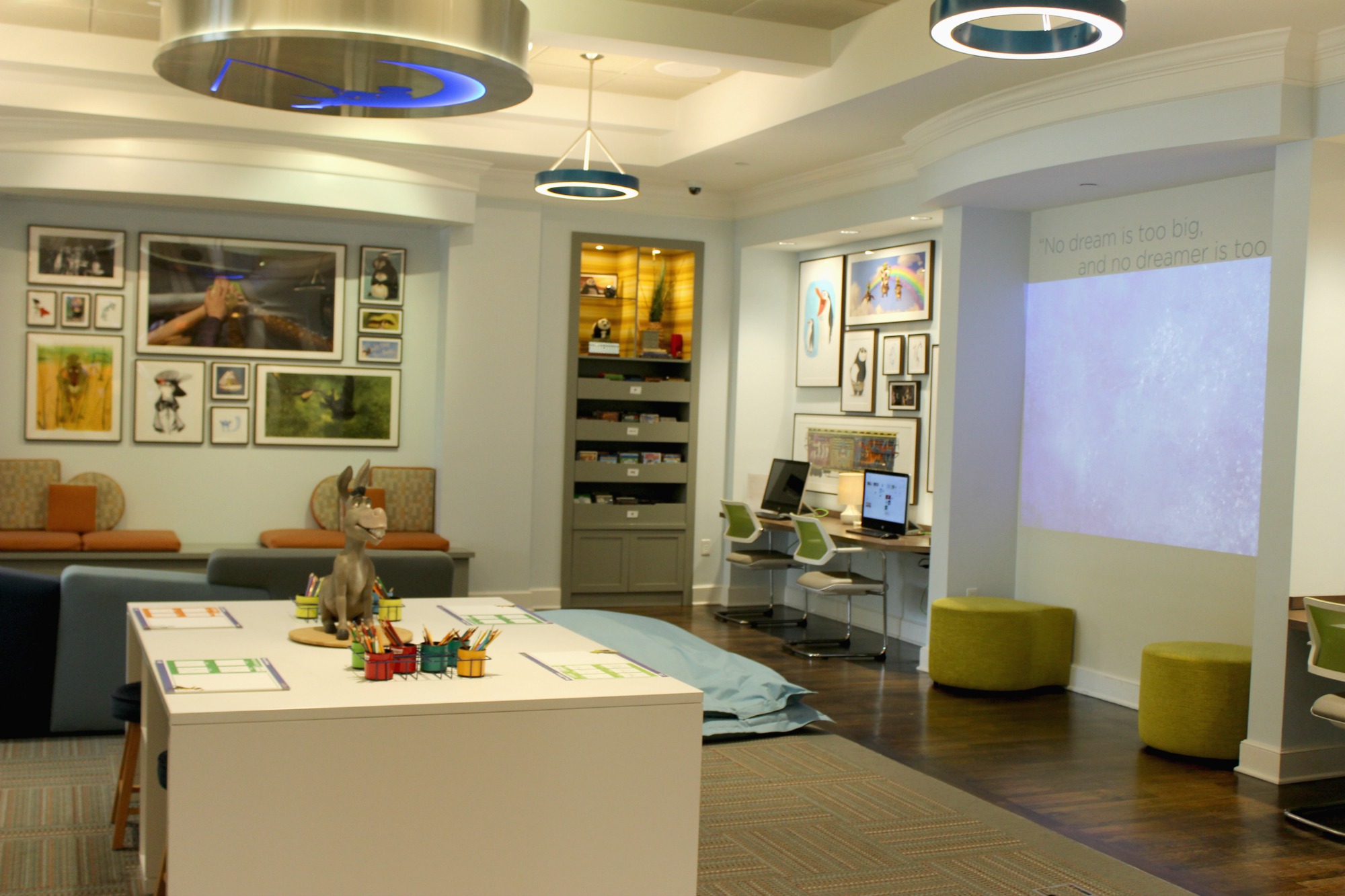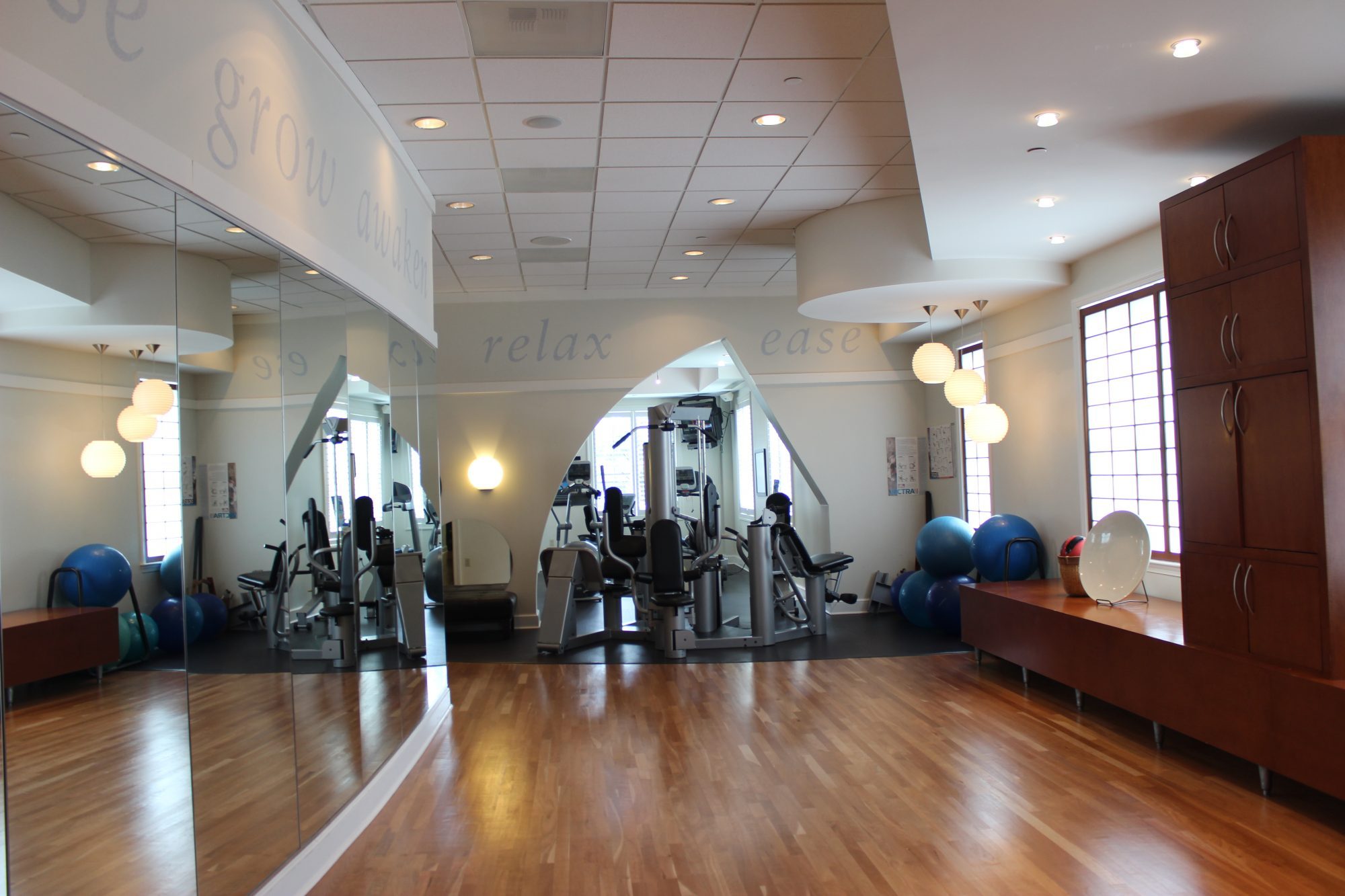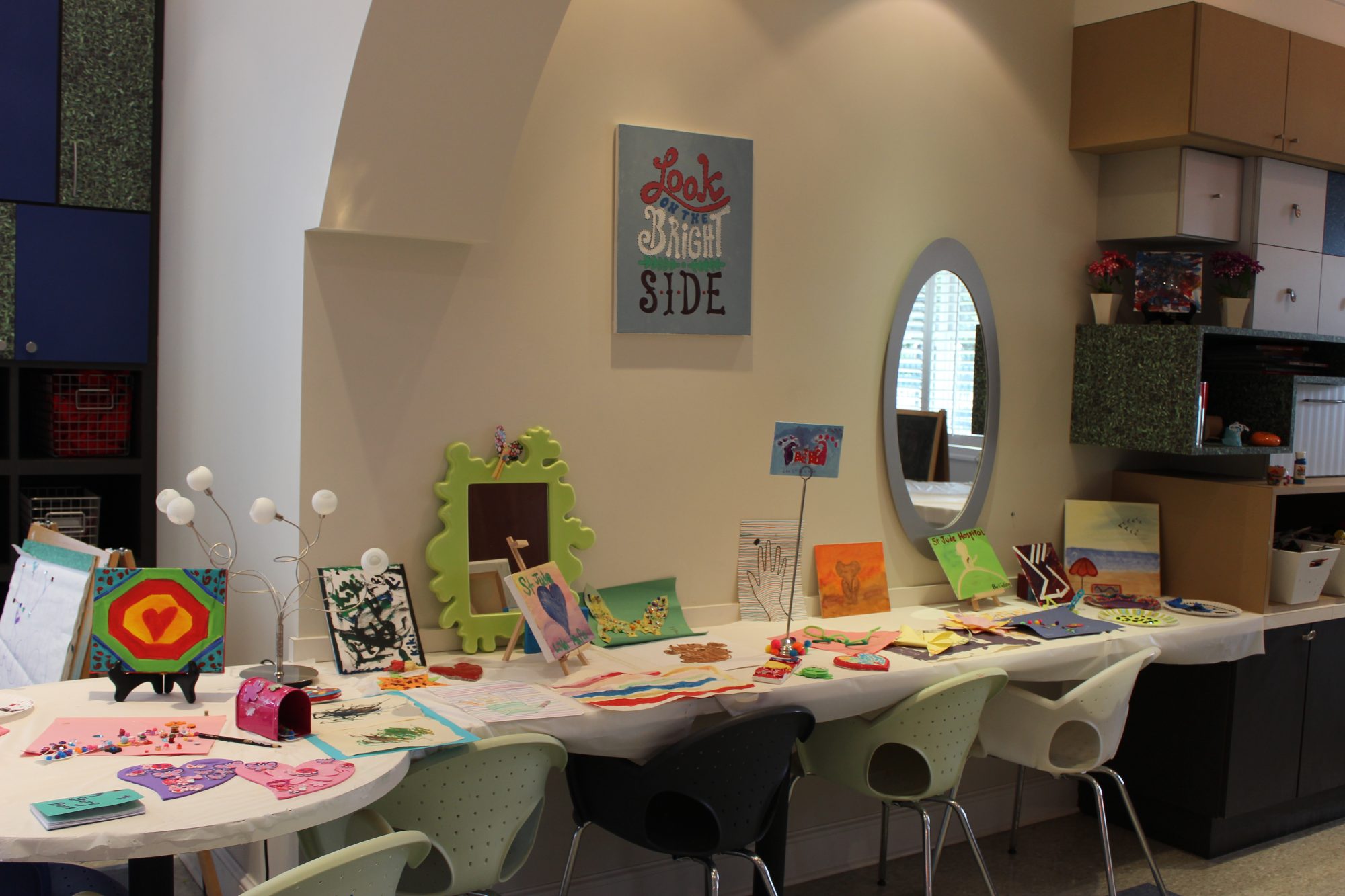 Most adults have a hard time accepting a cancer diagnosis. How do kids at St. Jude deal with this?
There is an emphasis on creating an environment for kids to thrive as they receive treatment. Most of the walls are painted in blue which is a calming color and there is bright inspiring imagery throughout the hospital. We had the chance to meet with Meghan Arleth, who is a child life specialist at St. Jude. Meghan shared a few things that the Child Life Specialists do at St. Jude to support the kids and their families. They use dolls, cards, movies, play, books etc. to explain to kids about their illnesses and their treatment. There is also music therapy and I shared one of the songs that one of the music therapisst created with a patient's heartbeat on Snapchat and many of you were as moved as I was.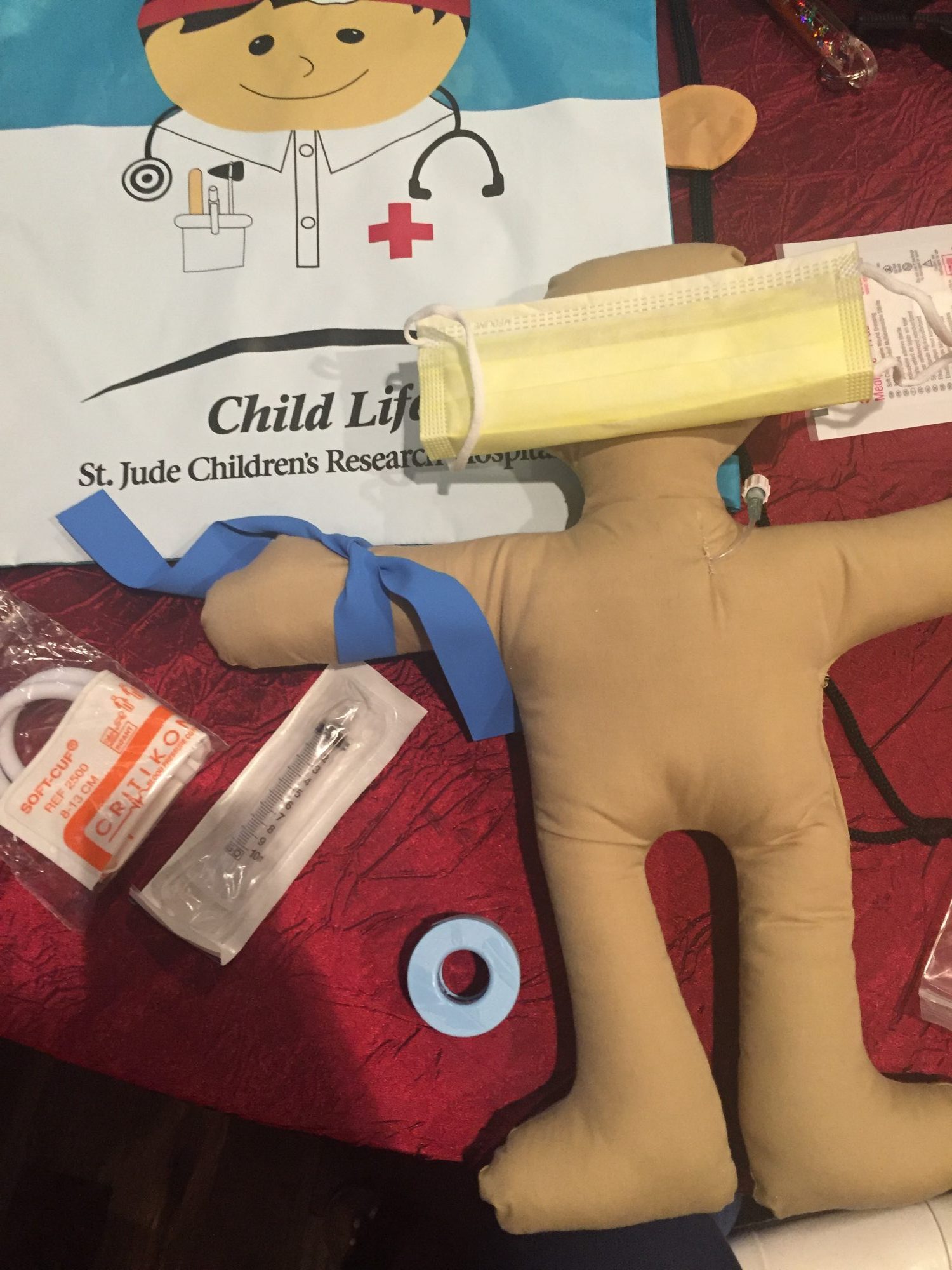 It's not just the patients that receive support but also the siblings. It's very difficult for kids to see their brother or sister sick.  There are rewards for siblings, special days to celebrate them and books to help them process their feelings and understand what their brother or sister is experiencing.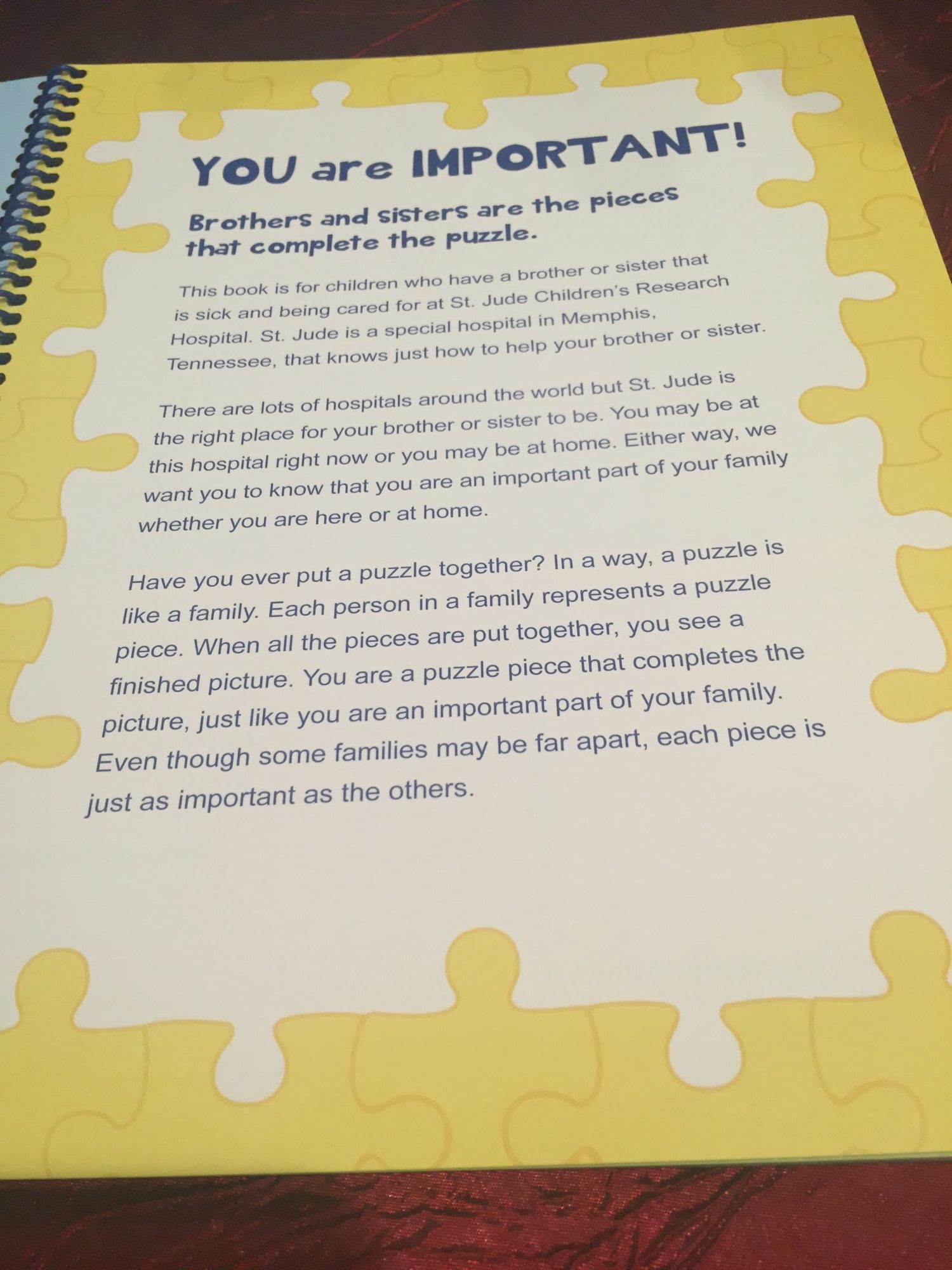 We all know that art is therapeutic and the teenagers express their feelings about cancer through painting. These are some of the paintings that I spotted along the hallways at St. Jude.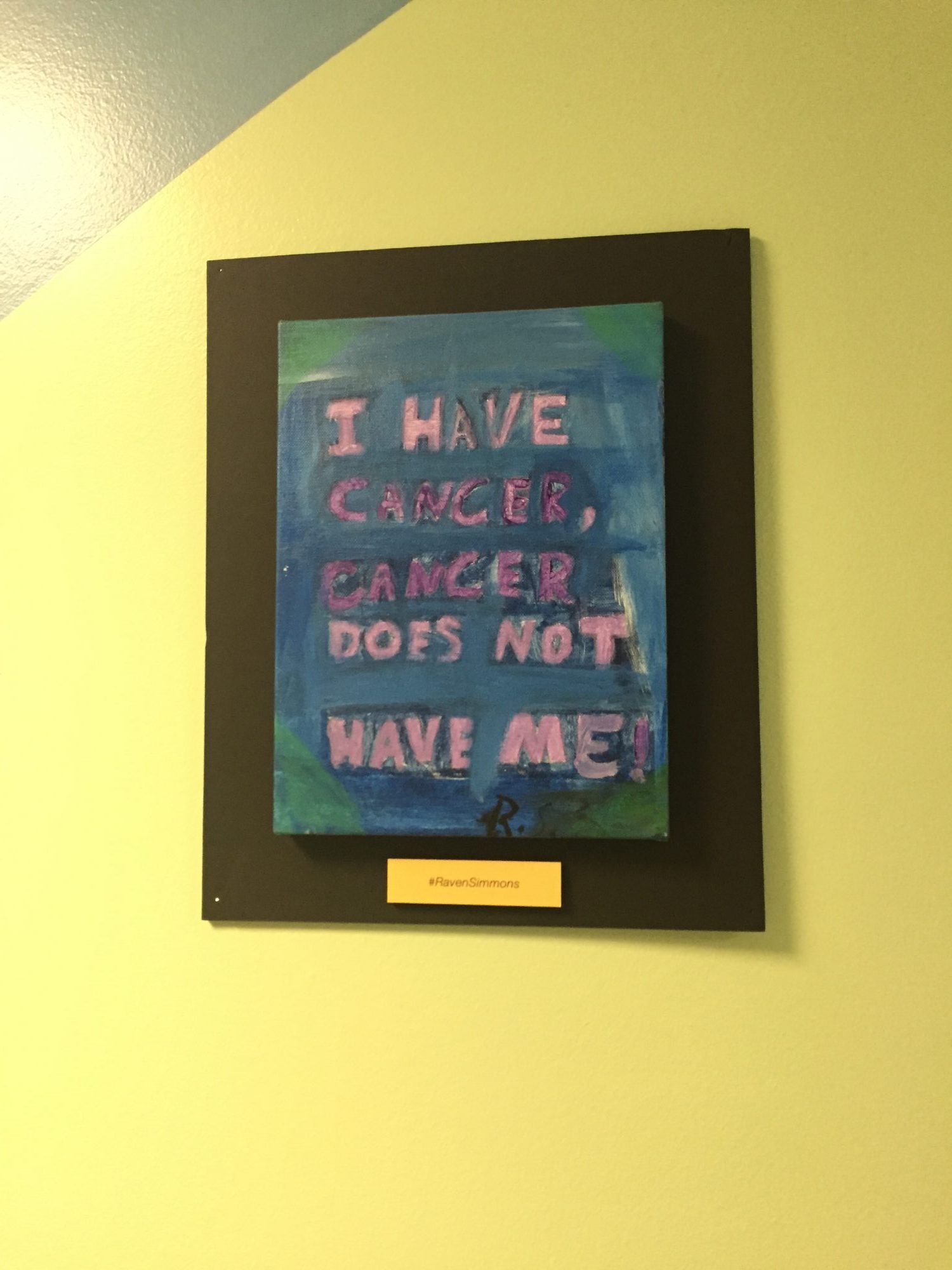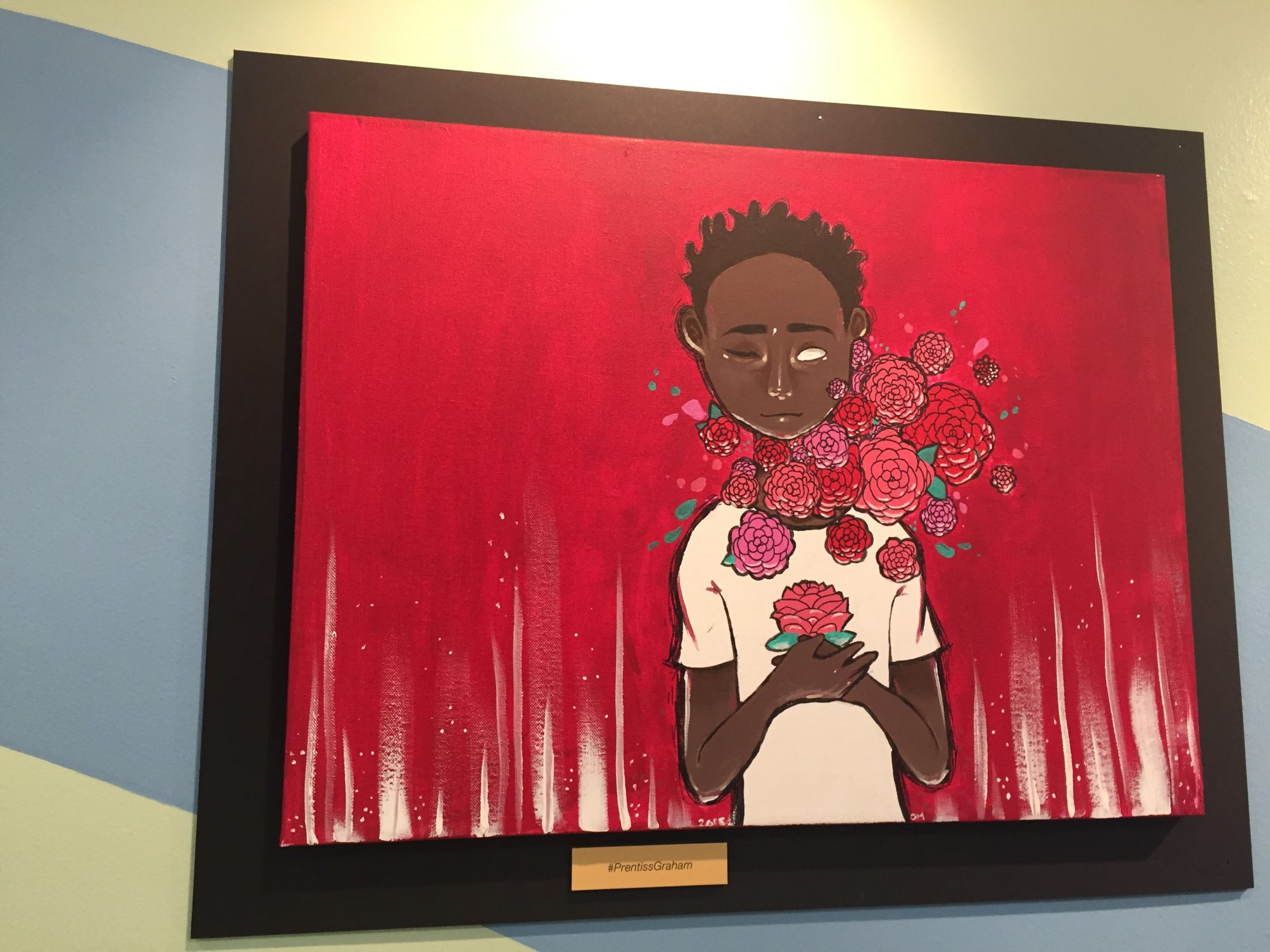 What is life like for St. Jude patients?
I'm going to start where I was most impressed and that's the fact that there is a school on campus at St. Jude. Yes, a school. Kids with extensive ongoing treatment receive education at the hospital and the educators go as far as to meet the kids where they are. For instance, a child may have a lesson while getting chemotherapy. I thought this was really thoughtful and I really didn't expect to find a school at the hospital.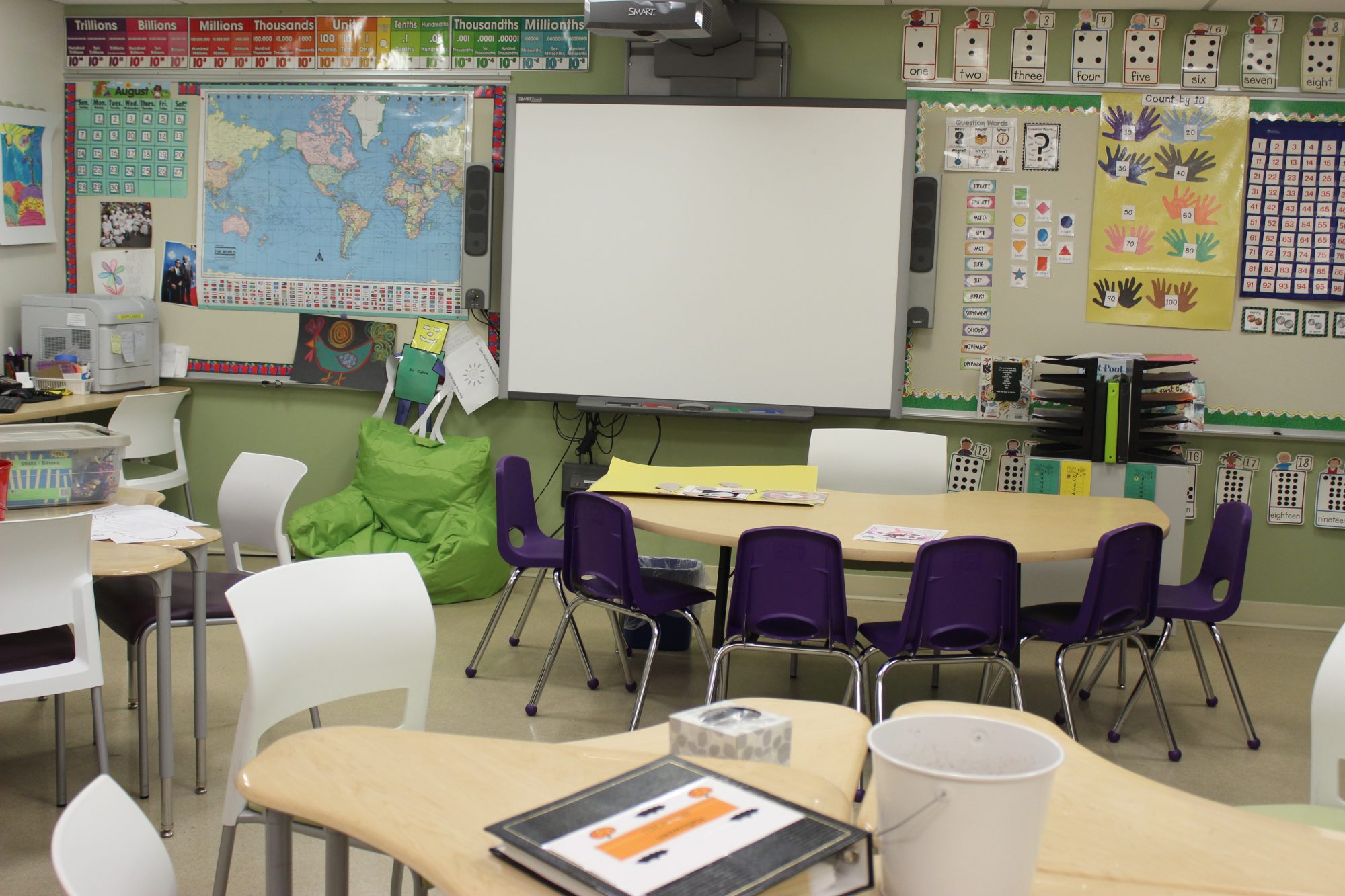 Just so the kids don't miss out on celebrating milestones, there are Kindergarten and High School graduations as well as prom for teenagers where the patients get to ride in a limo, get makeovers and get dressed up like their peers.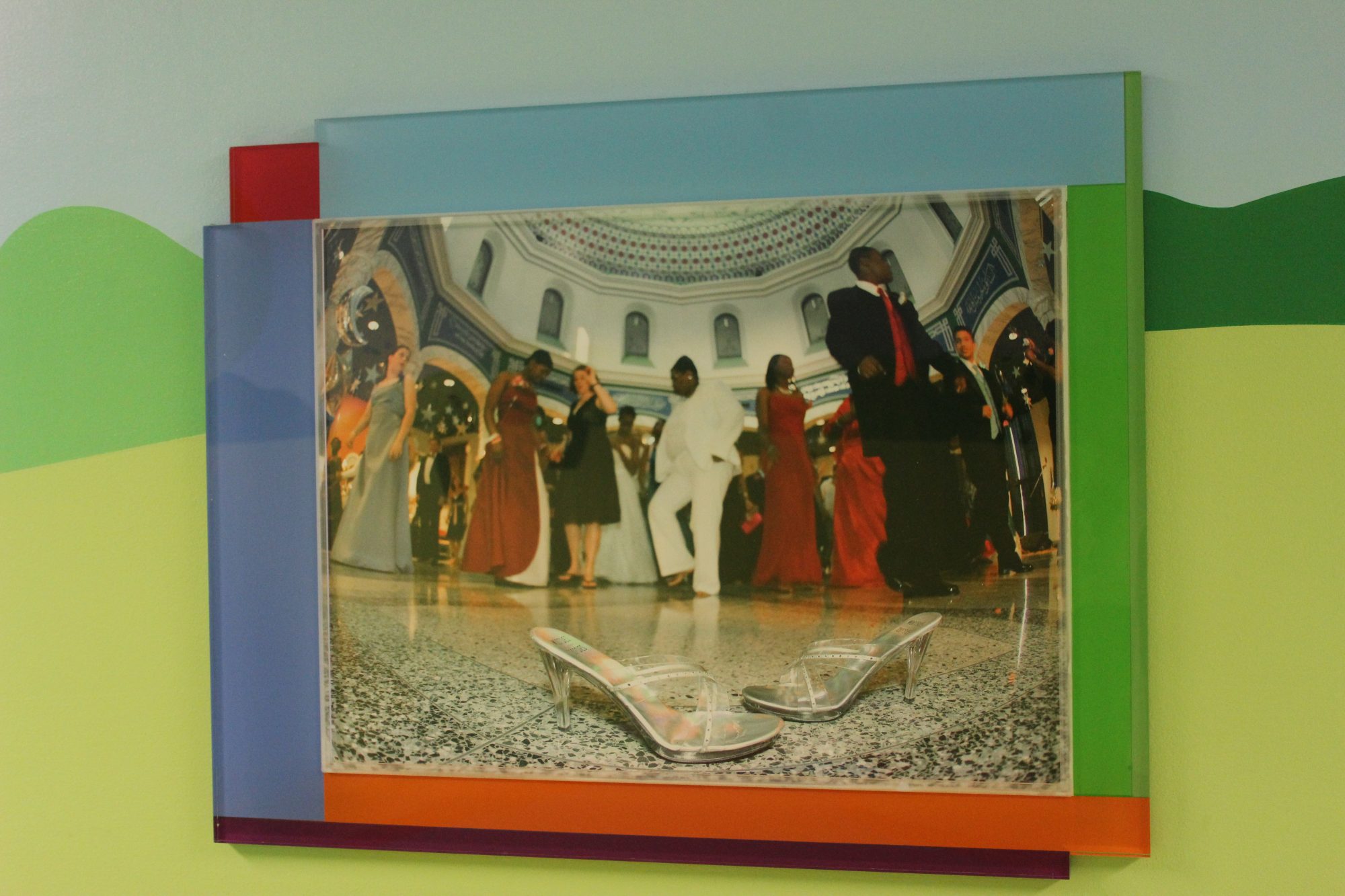 The staff at St. Jude also set up cool activities so the patients could have fun. While we were there, we had a good time doing crafts with the patients. There was one little boy in particular who stuck in my head because he came over to our table where we had all the materials laid out and he didn't look like he was having the best day but his eyes lit up right away. We made him laugh and I just loved seeing him feel good.
How could you support St. Jude?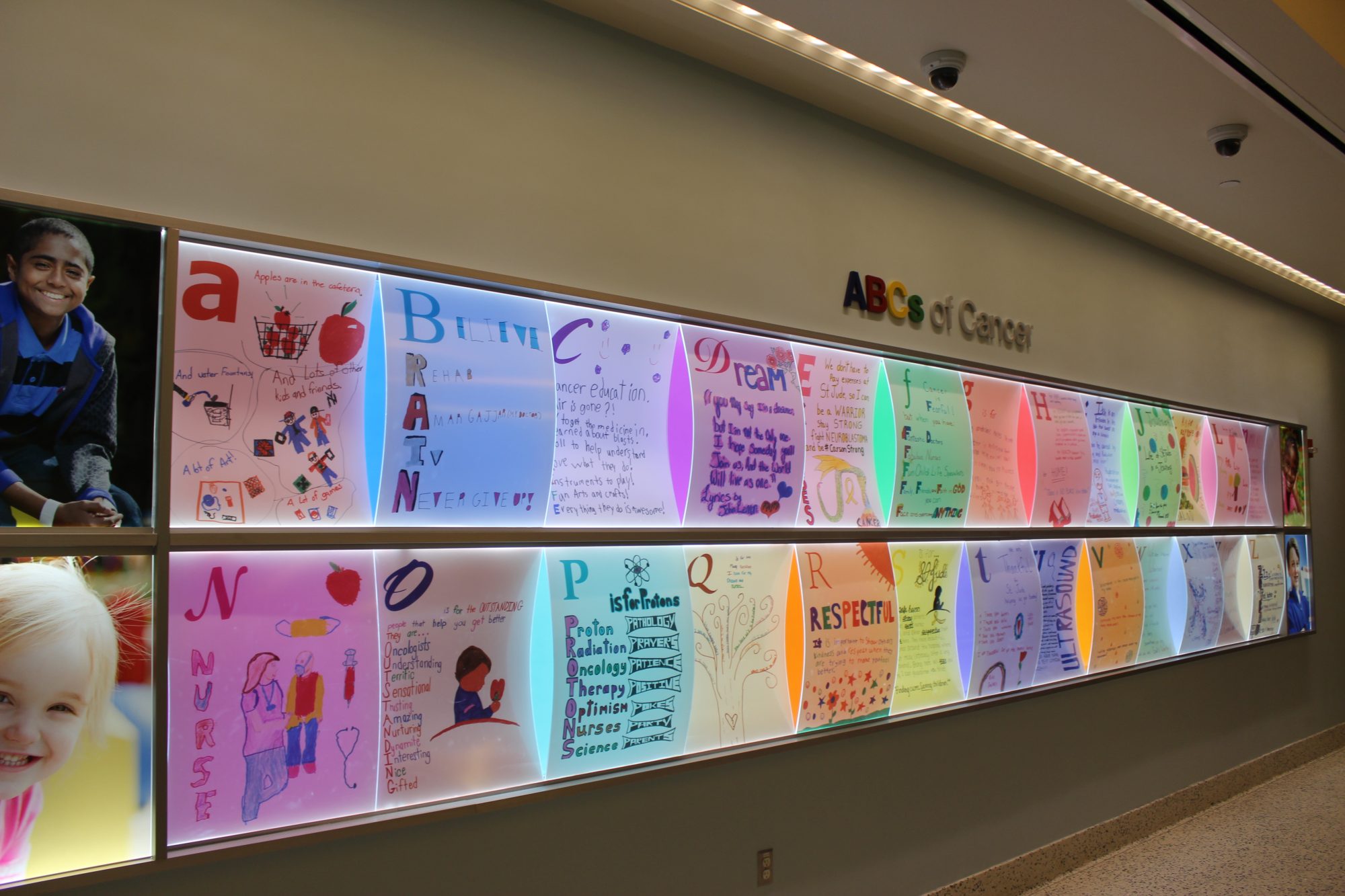 [Tweet "September is Child Cancer Awareness Month and a great time to support @StJude"]
You can join a fundraising event near you here or encourage your children to dedicate their birthday so friends/family can support St. Jude instead of gifts. Plus many other ways to support here.
If you love to shop, you can support St. Jude by supporting retailers who partner with the hospital or check out the St. Jude gift shop. I purchased this cute bracelet to add to my arm candy collection at the St. Jude gift shop, you can buy one here, all of the profits support St. Jude.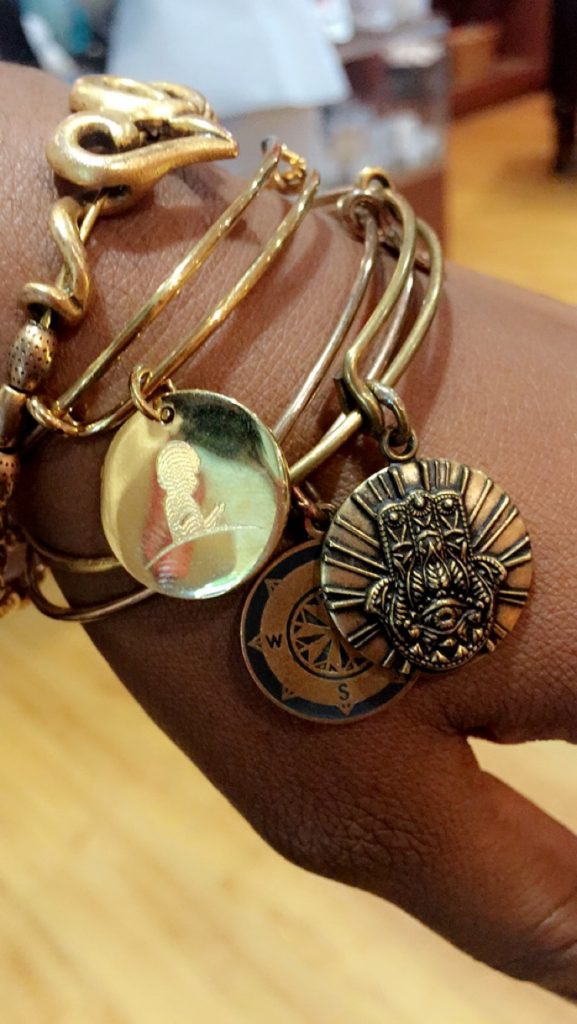 Were you aware of all these wonderful things going on at St. Jude? 
ps: I was really moved by my experience visiting St. Jude and I plan to share more with you about St. Jude and ways you can help as an official St. Jude Blogger Ambassador.