We received complimentary admission to the Liberty Science Center, however as usual all opinions expressed are my own.
What do you do when the weather hits the single digits and you've taken your kids to every children's museum in New York City? Head to New Jersey, of course.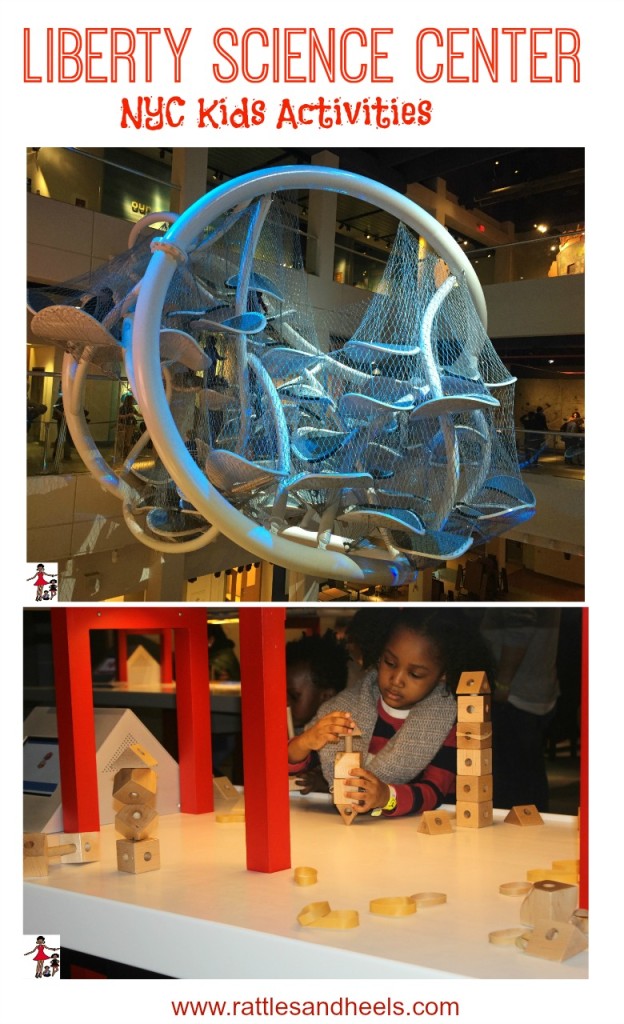 The Liberty Science Center have been on my list of places to take my kids to for a very long time. The first time I visited this center was back in 2004 when I worked as a Teaching Scholar with a STEM middle school program that was based at my college.  Here we are 11 years later and I am back with my own kids. Yikes! I guess I am a now a grown up.
Sesame Street Presents The Body was the exhibit that kids wanted to visit first. To say that they were excited is a major understatement. When we walked in, we tried to get pictures of them both in front of Cookie Monster but The Super Knight wasn't having it. He pushed his sister away and when he eventually let her closer, he had a big frown on his face for the pictures.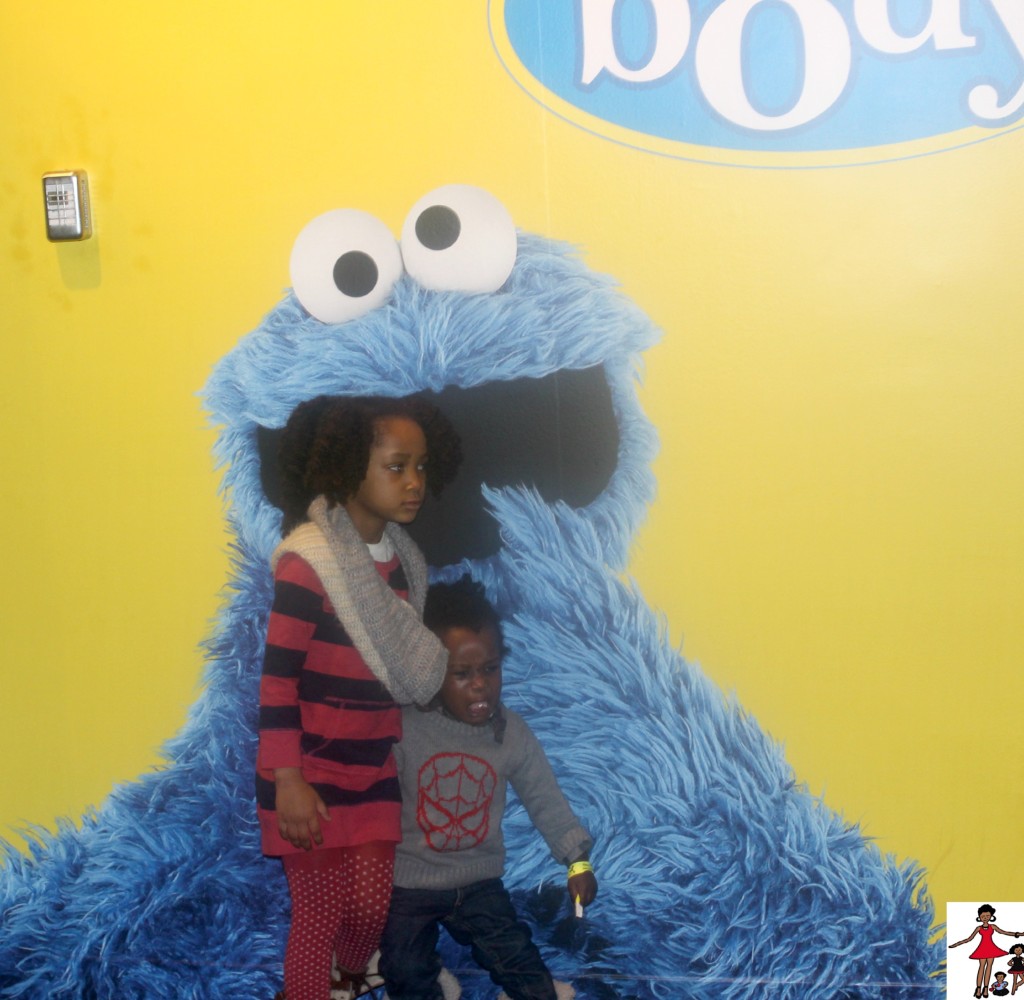 The exhibit features three education zones Your Outsides, Your Insides and Staying Healthy. This exhibit is for children 2 to 8.
The Princess Fairy just started to learn about bones at school so this was perfect timing to get reinforcement outside of the classroom. This gave her the opportunity to share what she learned at school with us.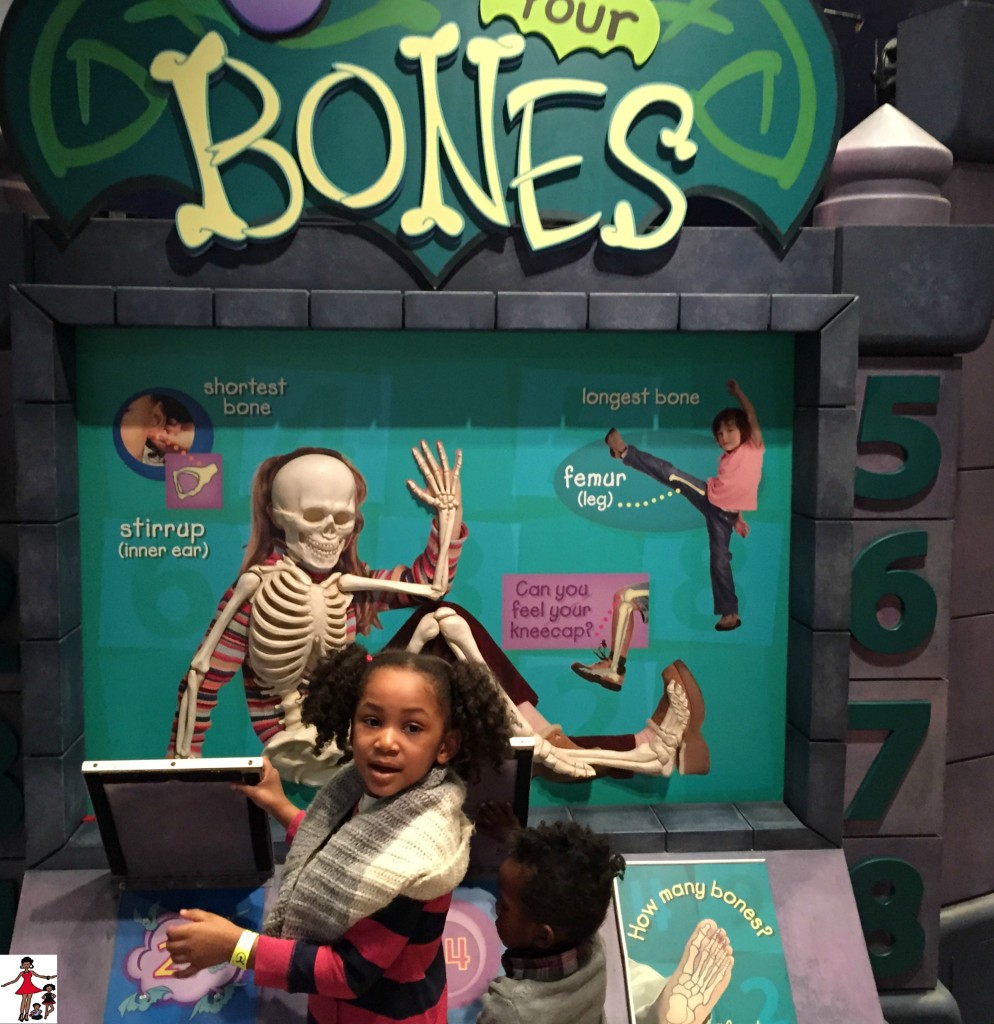 She wrote in her little museum journal, the number of bones in her ribs and in her hands which she then shared at school yesterday. Kids sometimes think that they know their bodies well so I am glad that this exhibit shared cool facts that they may not have known.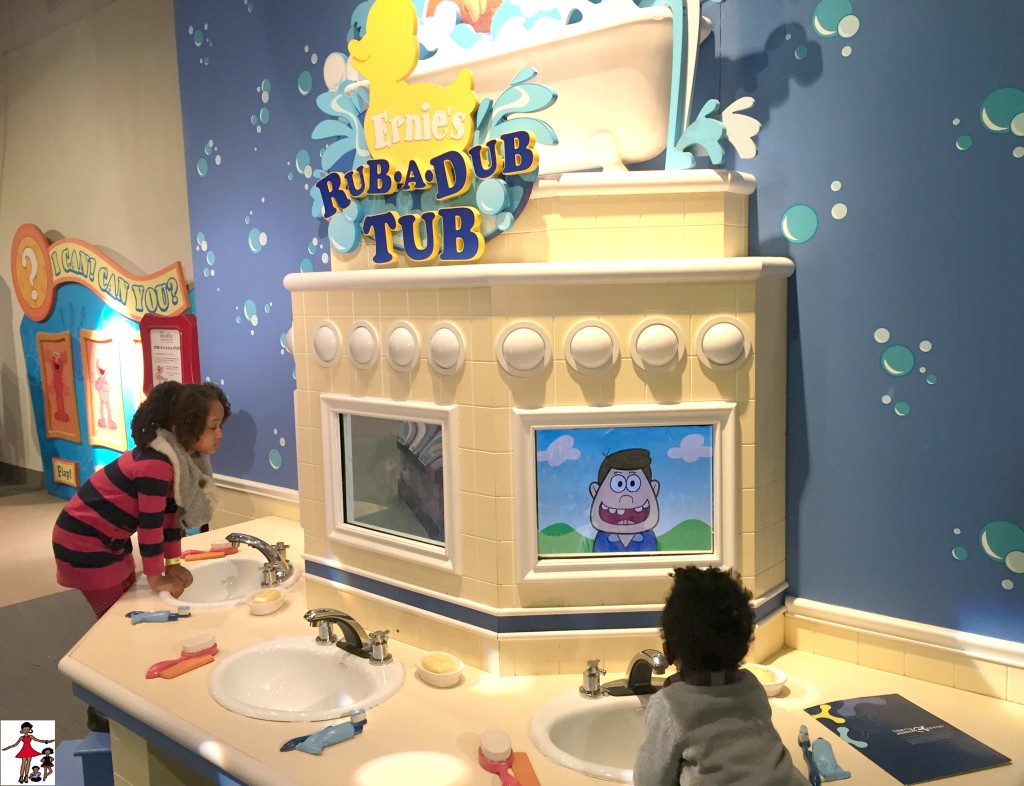 They also got lessons on how to  wash their hands properly which was timely for The Super Knight who is becoming more independent in the bathroom everyday.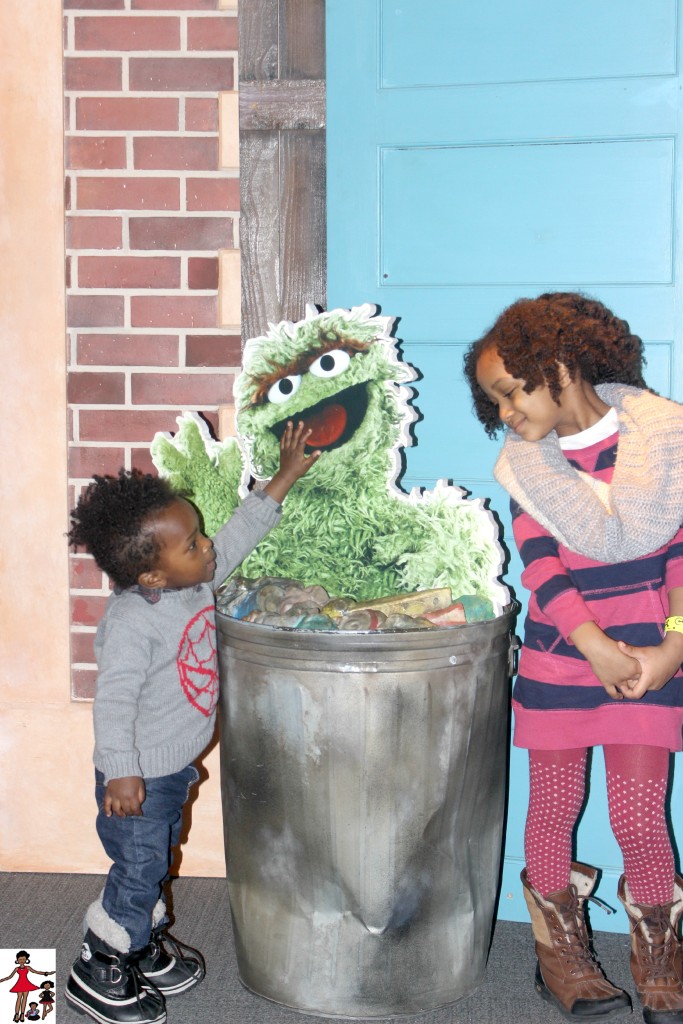 We really enjoyed walking around on Sesame Street and hanging out on famous stoop of 123 Sesame Street, look at how excited the kids were.
The kids were able to ring the doorbell and they were really convinced that someone would come to the door because they rang it over and over again.
Eating healthy and remaining active were two reoccurring themes at the Sesame Street exhibit. My kids enjoyed pretend play grocery shopping for healthy food at Baby Bears store and running, kicking and jumping.
The Princess Fairy's favorite display was the Oscar Sneeze Machine where kids were able to select different stimulus such as a flower or germs and see how the nose would be affected. Whenever they selected germs the nose would sneeze on them. This filled her with curiosity and disgust at the same time.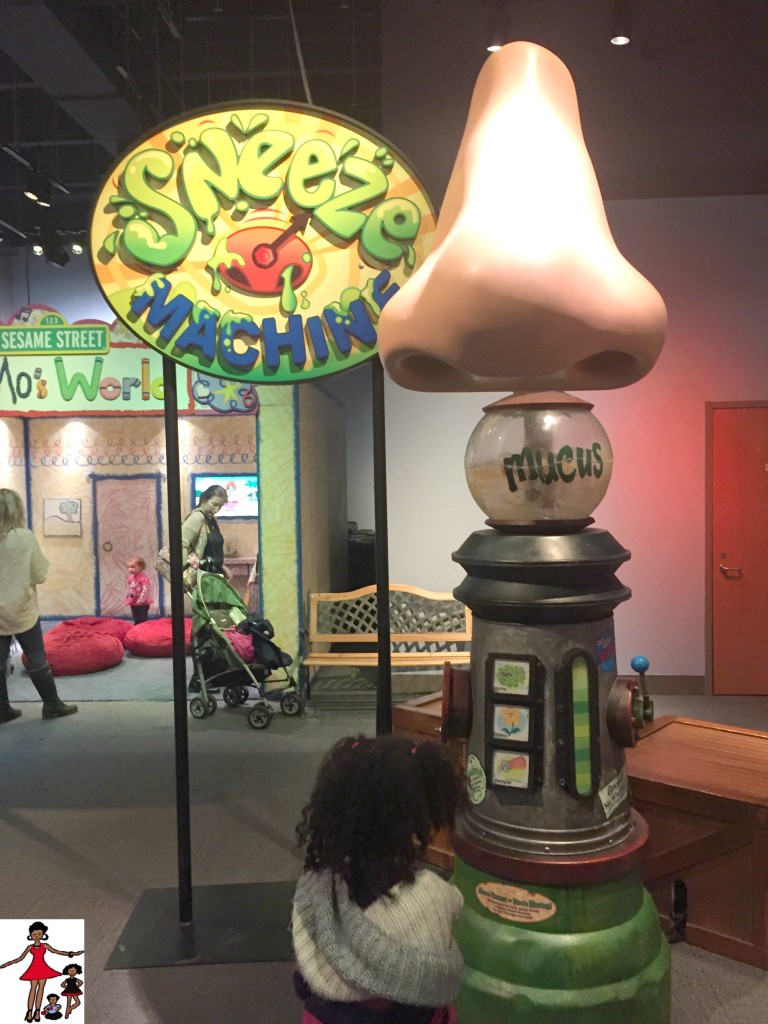 The Super Knight like most kids his age loves Elmo, so he was happy to check out Elmo's World. He seem like he was looking for Elmo so I'm going to check the dates that Elmo will be there and try to take him back to see Elmo. He did get to meet Elmo's goldfish Dorothy and learned how to dress for different weather to stay healthy.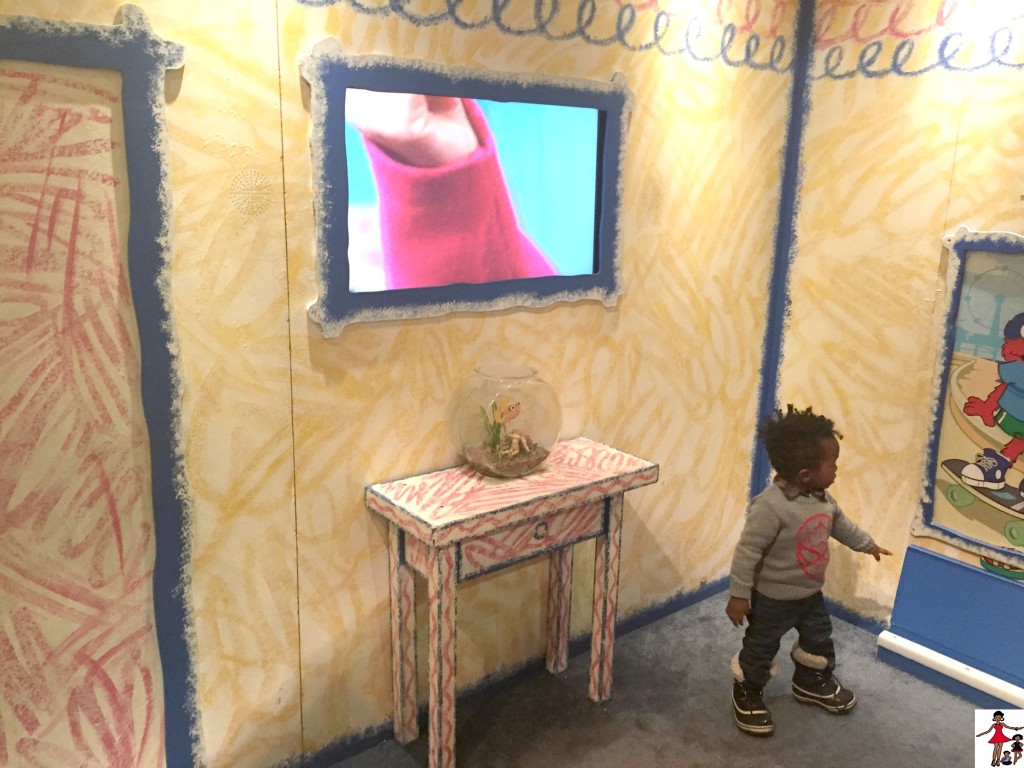 Sesame Street Presents The Body will end on May 3, 2015 so if you have young kids, you have about three months to take them.
After the Sesame Street exhibit we headed over to the Beyond The Rubiks  Cube exhibit which featured games, puzzles and challenges. These are all based on the famous Hungarian architecture professor Ernő Rubik, Rubiks cube. The kids worked on inventing their own 3d puzzle and building different structures like bridges and recognizing shapes.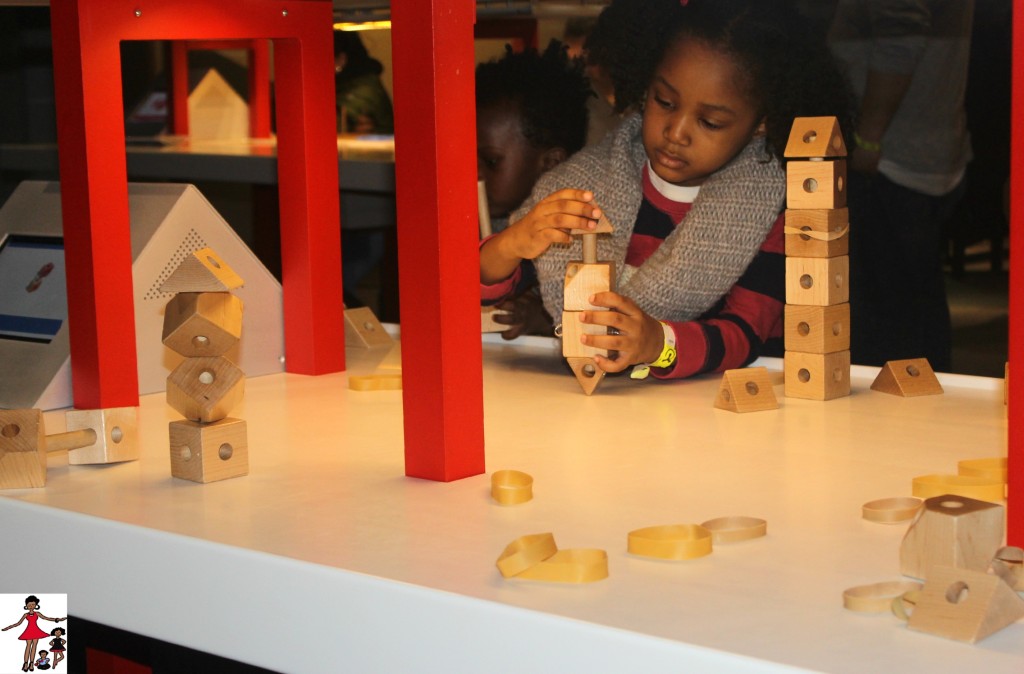 I had to jump in and help the little guy a few times.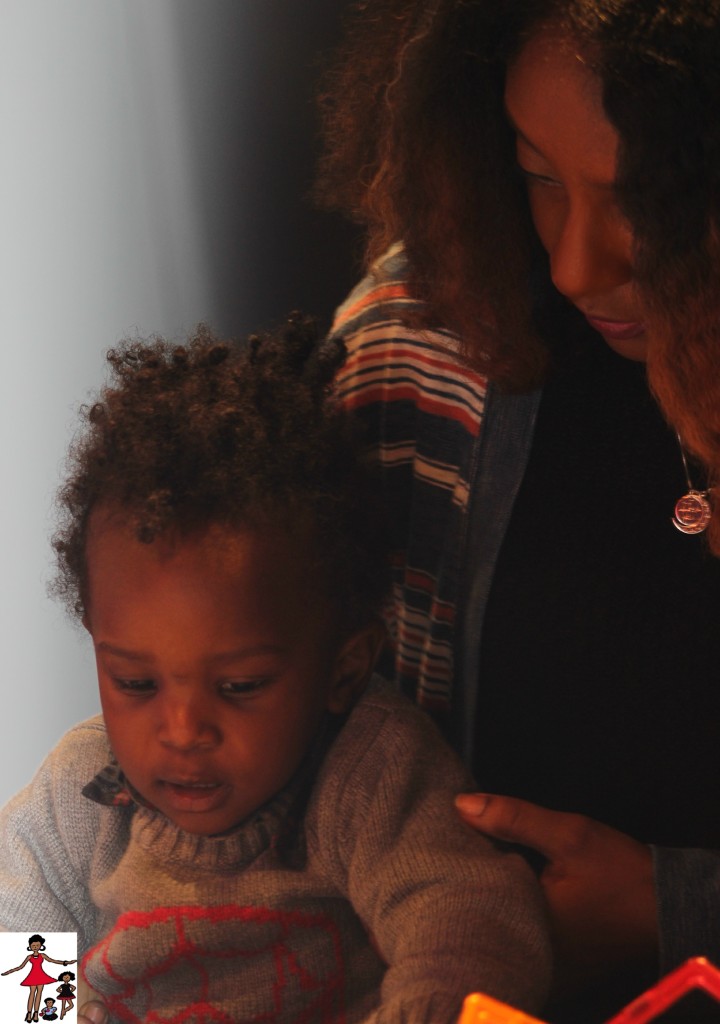 Okay, I may have really gotten into it a few times as well 😉 But y'all know I love to make stuff.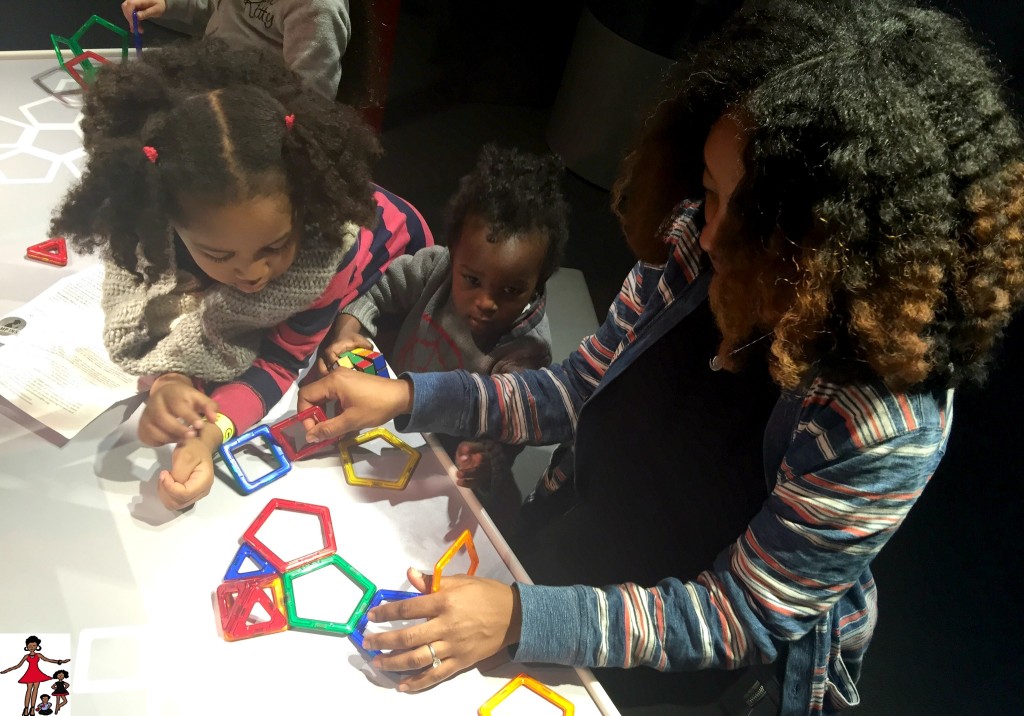 Another highlight was the Touch Tunnel, which is a permanent exhibit.
I must admit, I was scared (I know it's a shame). The tunnel is 80ft of complete darkness, it's dark y'all and I was holding on to my daughter for my dear life.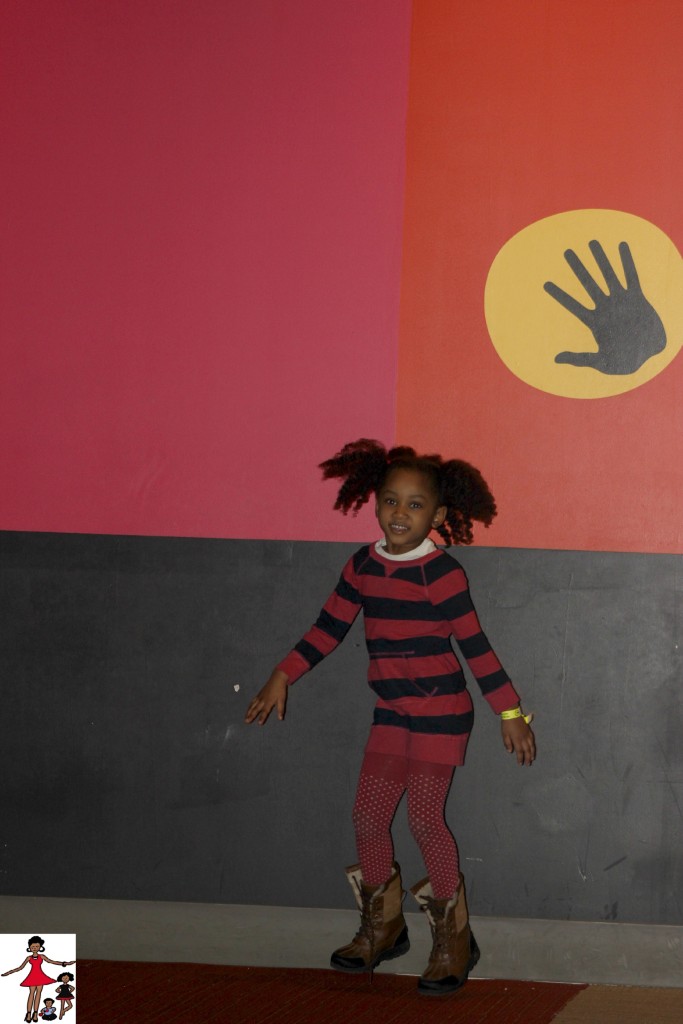 She assured me that she knew the way and good thing she did because my heart was beating fast and I was panicking. There are cameras in the touch tunnel so no need to worry about any funny business and you can have them tweet or email your pictures to you.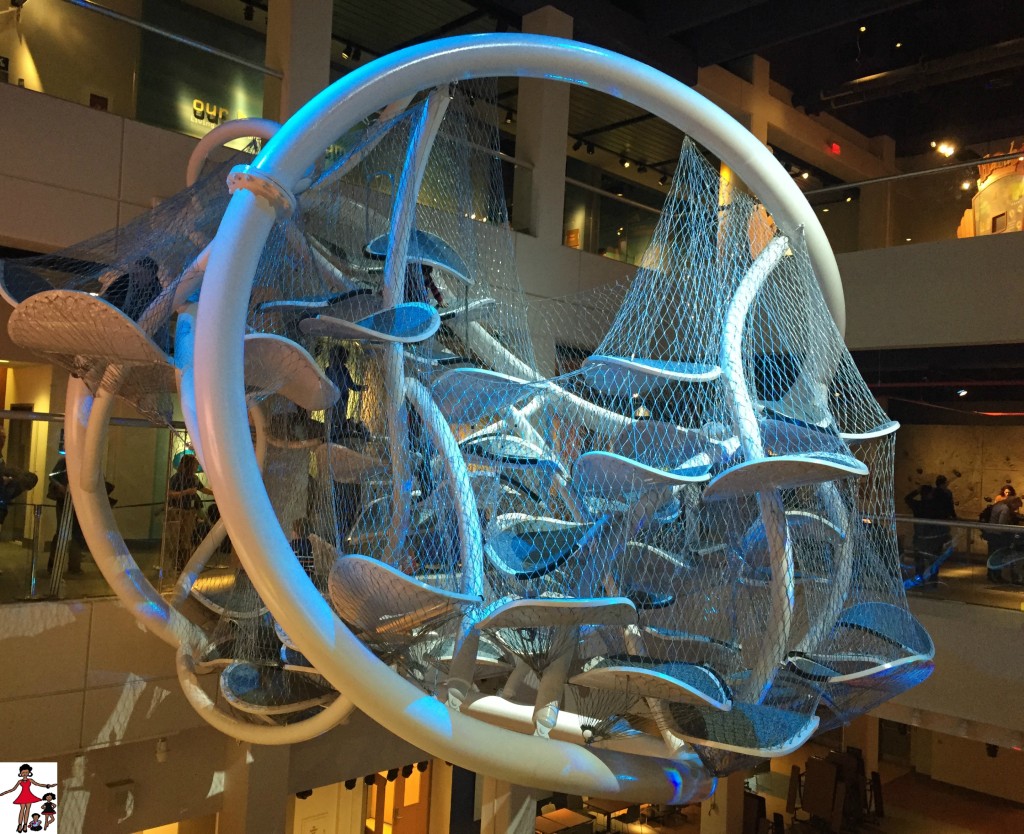 It's hard to miss the Infinity Climber at the Liberty Science Center, it is a suspended play space. Yes, you read suspended right but that didn't stop The fearless Princess Fairy, we had to beg her to climb back down. Obviously she's not afraid of heights or dark. I'm proud of her!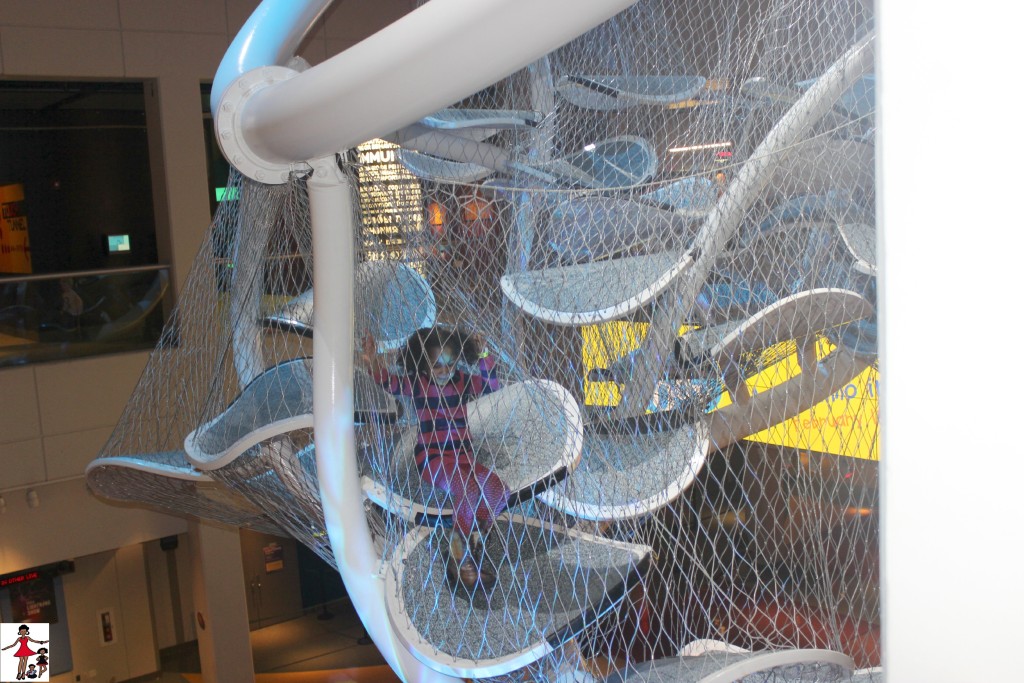 While she climbed The Super Knight crawled through the giant plastic "blood vessels," in the Infection Connection exhibit.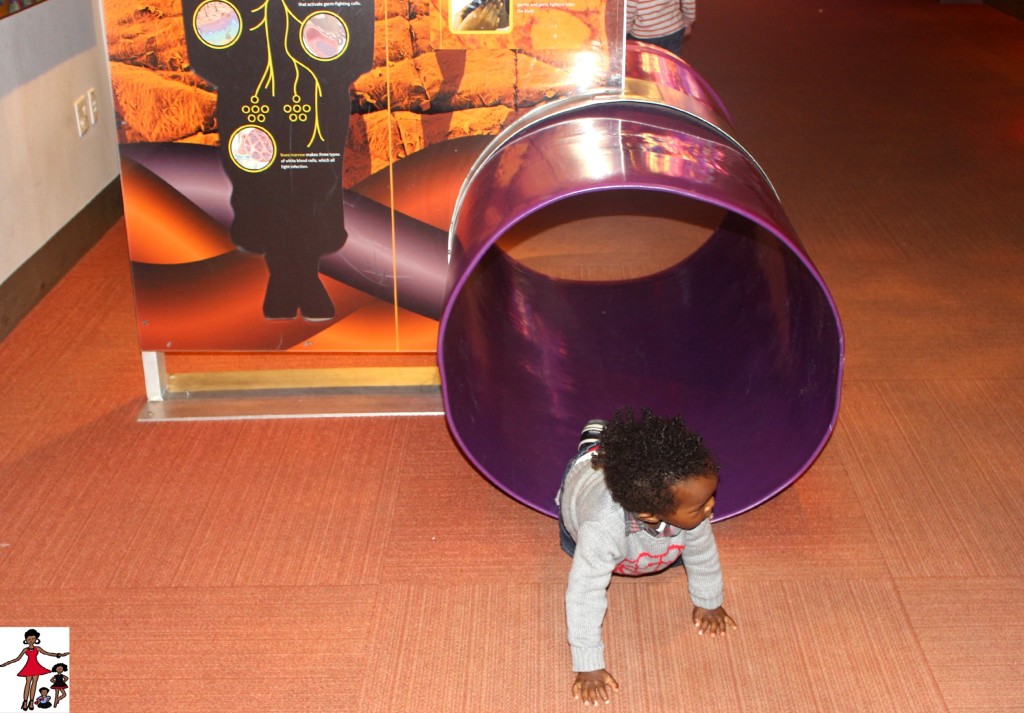 We really enjoyed visiting The Liberty Science Center and we are sure to become regular visitors. Since the center is so big we didn't get to take in all the exhibits but we are sure to return in the near future.
For us New Yorkers, anywhere outside of the five boroughs can feel like a trek but the Liberty Science Center is relatively easy to get to. It's an easy ride into New Jersey through the Holland Tunnel or the Goethals Bridge through Staten Island. We enjoyed the ride there in the Hyundai Sonata Sport that I was reviewing last week. If you don't have a car, no worries.  There are several public transportation options by train or ferry to get you there.
As usual, I can't leave without sharing what moms really want to know. The bathrooms were very clean even though we were there during a peak period, winter break. There are family bathrooms as well which is perfect for families like ours with young children.We rented a large locker which was $4 to store our layers of winter gear. You can also rent a smaller one for $2. The entire center is stroller friendly.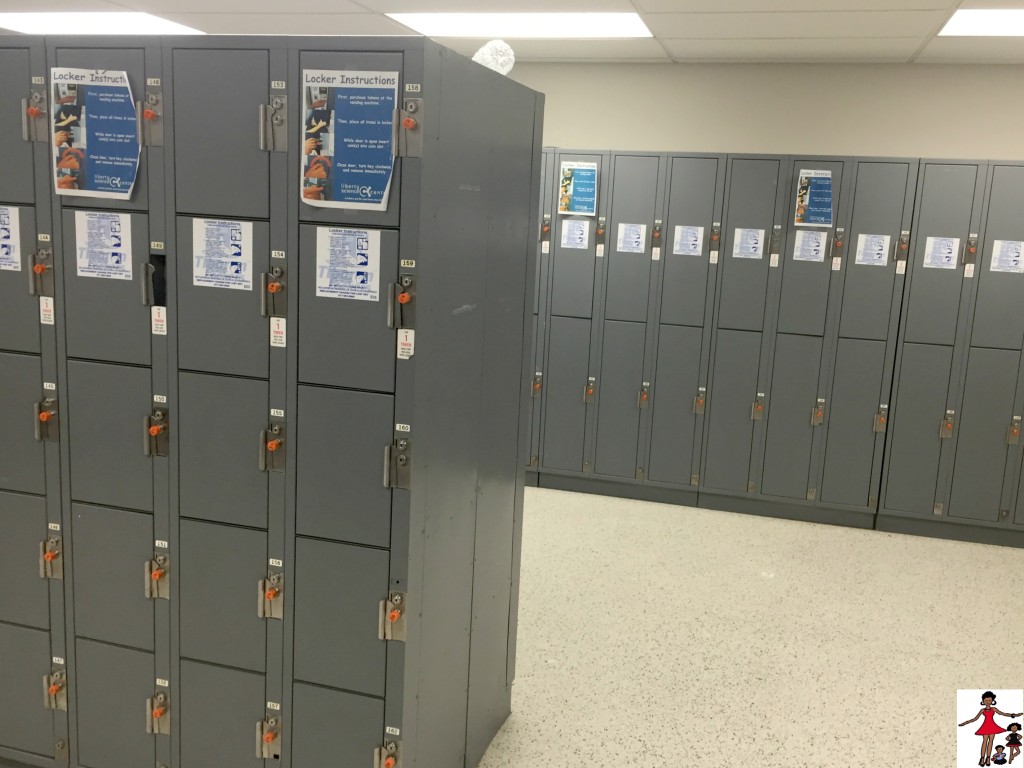 Parking is available for an additional fee, it was under $10 and we were there for about 4 hours.
For more information about Liberty Science Center, check out their web site here.