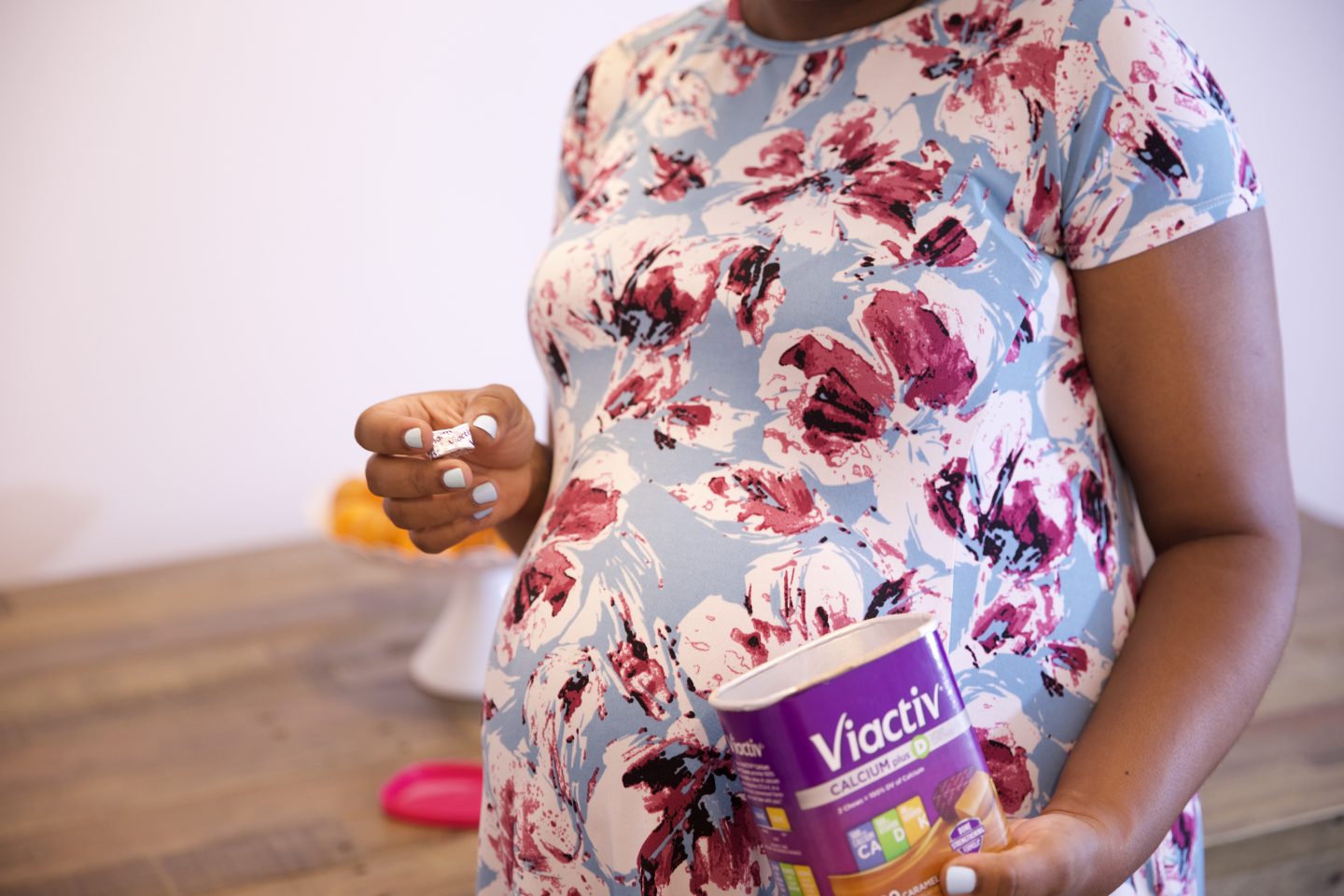 This is a sponsored post. As always, all opinions expressed are my own.
Whew! Over the past few months, I've been reminded that while pregnancy may look really cute and easy on the outside, it's no joke. As a mom-to-be (again) in my third trimester, I'm trying to stay on top of EVERYTHING. The doctor check-ups, sonogram appointments, lab work, work, taking care of my children, my children's appointments and attempting to have some type of social life. So many of you have messaged me or commented on my posts asking how I am still managing to balance it all, and I have to say it starts with making sure that my baby and I are fine and that I'm prepared mentally and physically to give birth. Since this isn't my first pregnancy and I have lots of friends who are new moms, I know that calcium deficiencies are quite popular among women in general and the importance of making sure you meet those calcium needs during pregnancy. Since finding out I'm having this baby I've been super proactive about making sure I'm getting the correct calcium intake through my diet and with supplements daily.
My days usually start around 6:20 am when I literally roll myself out of bed to make my children a hot breakfast, get them dressed for school and pack their lunches. An hour later when my husband leaves with them to take them to school, I dive right back into bed for another 30 minutes to an hour depending on what I have planned for the day or how I feel. With so much going on I depend on phone reminders to stay on top of everything, especially my self-care. For instance, I have a Take Calcium Supplements reminder set up to make sure I don't forget my calcium supplement along with my prenatal vitamin. The calcium supplement that I've been using this pregnancy is Viactiv Calcium Soft Chews which always feel like a treat because they come in either milk chocolate or caramel flavors. Honestly, I always feel as if I'm cheating on my healthy diet with these to the point where I've asked my OB/GYN if she was sure it was okay for me to take them. She assured me that they're fine and that not only do they meet the 1000 mg of daily calcium that I need but they only have ½ the sugar and ½ the calories of other gummy supplements. If you follow my Instagram stories you've probably realized by now that every day is different for me. Depending on the day, I may have a lunch event and the next day a doctor's appointment. If I'm at home, I usually work until around midday and then I usually order or go out to grab lunch. That's part of how I manage to balance it all, I let a few things slip and don't give myself too many responsibilities. Dinner is usually homemade so I give myself a break at lunchtime unless the kids are off from school. The only downside is that while I try to look for calcium-rich foods, sometimes I go with my cravings. I don't worry too much since two Viactiv Calcium Soft Chews supplements per day provides enough calcium for not just me, but also for my baby. I know that if my calcium needs aren't met the baby will continue to meet his/her calcium needs by taking calcium from my own bones, and I definitely don't want to put my bone health at risk for later in life.
I work for a few hours and then pick up my children from school with my husband if I can. Most days, he gets them at dismissal time and brings them home before heading out to work. But depending on what is required of me work wise I sometimes have them go to the after-school program at their school to get a few more hours of work done. This is another way that I balance everything, I understand that I need as much help as I can get and I take advantage of that. As soon as I can, I go to get them which are one of my favorite parts of the day. If they don't have any after-school activities we take a walk around the neighborhood after homework and dinner to enjoy the nice fall air this time of year. These walks and other fitness journeys serve as great reminders to meet my calcium needs so I can preserve my own bone mass and lower my chances of getting osteoporosis as the baby grows. The walk is also important as I've had vitamin D deficiency in the past as well, so a little sunshine goes a long way. Viactiv Calcium Soft Chews contain 500 IU of vitamin D in every chew along with Vitamin K to help your body absorb the calcium.
We end the evening by prepping for the next day and the kids take their baths and start their bedtime routines. I've been training them to become more independent and help out more before the baby comes. This makes the evenings go much faster and instead of having to do a ton of tidying up after them when they go to bed. I can just focus on myself and the baby and getting to bed at a reasonable time to get enough hours of sleep before starting all over again the next morning. Pregnancy, raising two kids and working isn't easy but I do MY best every day to balance it all. Some days are harder than the others but I can never give up on myself for the sake of my children.
How do you balance it all during pregnancy?
Try the delicious calcium supplements I'm talking about! Viactiv Calcium Soft Chews are available nationwide in supermarkets, drugstores and major retailers, including CVS, Rite Aid, Target, and Walmart. For more where to buy information about Viactiv, click here. PS: If you're pregnant or breastfeeding please speak with your healthcare provider before taking any supplements.
Make sure to LIKE Viactiv on Facebook and FOLLOW them on Instagram, too!
.
This is a product-provided, sponsored conversation on behalf of Viactiv that contains affiliate links. I received Viactiv Calcium Soft Chews for my own personal use. This post is not intended to address or diagnose any medical conditions. All opinions, text and experiences are my own. These statements have not been evaluated by the Food and Drug Administration. This product is not intended to diagnose, treat, cure or prevent any disease. If you are pregnant, nursing or planning on becoming pregnant, speak with your healthcare provider if you have any specific health questions or prior to taking any dietary supplements.