Last week, I got to check out some potential new mommy wheels, the 2016 Hyundai Tuscon. If you follow me on Instagram or Facebook you may have seen all of my photos of the beautiful Caribbean Blue Tuscon. I was invited to the Hyundai Tucson drive program here in New York City for a first drive of the car. Since, it isn't at dealerships yet, I wanted to drive it myself and let you moms know if I dig it.
I'll start by saying that Hyundai caught my attention when I reviewed the 2015 Hyundai Sonata earlier this year. I had very high expectations for the new Tucson based off of that experience. Now, before you get too excited this car isn't necessarily designed as a "mommy car" but has all of the features that a mom with just one or two children would need.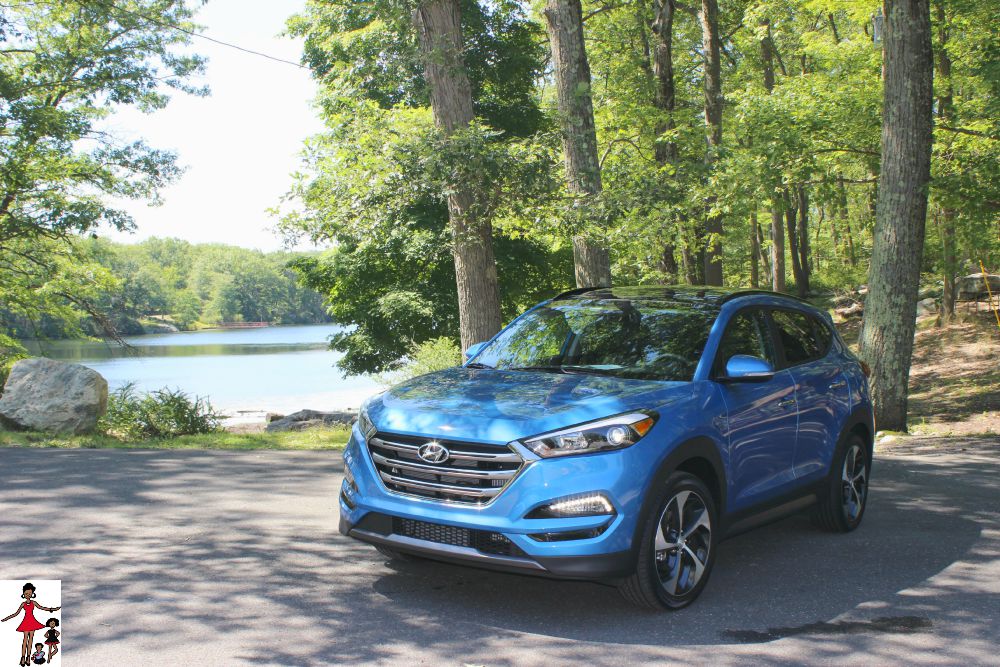 Our route for the drive program with Hyundai took us on a spin from the West Village in Manhattan up to to Lake Kanawauke, NY.  Lake Kanawauke is beautiful and it was a gorgeous day to get out on the roads.
Here are six things that I really liked based off my first impression of the 2016 Hyundai Tuscon:
1. Design
The 2016 Hyundai Tuscon is completely redesigned and I love the design. It's sleek, stylish and sophisticated. It's definitely a crossover that will catch your attention in traffic. As I mentioned before, I love this Caribbean Blue color. It's the Caribbean girl I am that can't stop saying talking about this exotic color. It's just beautiful but it doesn't just come in blue, there are a few other beautiful colors. I'm a sucker for LED lights and alloy wheels and according to my notes base models come with both. Very impressive!
2. Sunroof
Yes, this Caribbean girl not only enjoys the color blue but blue skies. The sunroof in this car opens it up and gives the illusion of a much bigger interior space. Almost the entire roof is glass and the sunroof door opens up to about half way. This is fantastic for selfies!
3. Storage Space
As a mom, if you want to impress me show me lots of storage space. The Hyundai Tuscon delivers this for moms. I loved the fact that you could adjust the depth of the trunk to fit your needs for instance if you need to carry something taller than your average box or groceries.
4. Keyless Trunk Entry
Since we're on the topic of the storage and the trunk, I love that you could open the trunk just by standing behind the 2016 Hyundai Tuscon with the key on you. So that means if you're holding the baby and a couple of bags you don't have to worry about using your hands or searching for your keys.
5. Price
Let's talk money! This car is one of the cheapest in it's class and Hyundai offers 100,000 miles warranty program. So that means lots of savings! With pricing between $22,700  and $32,195. You can even spurgle on luxury packages.
6. Ventilated Seats
I live for ventilated seats on a hot summer day so I love that the new Tucson comes with ventilated front seats.
Anyway, these were some of my favorite features based on my first impression of the 2016 Hyundai Tuscon. I am looking forward to driving it a bit longer so I can give you a full review. You can find more info about the new Tuscon here.
What do you think? Do you see yourself rolling up to carpool line in the new Tuscon?