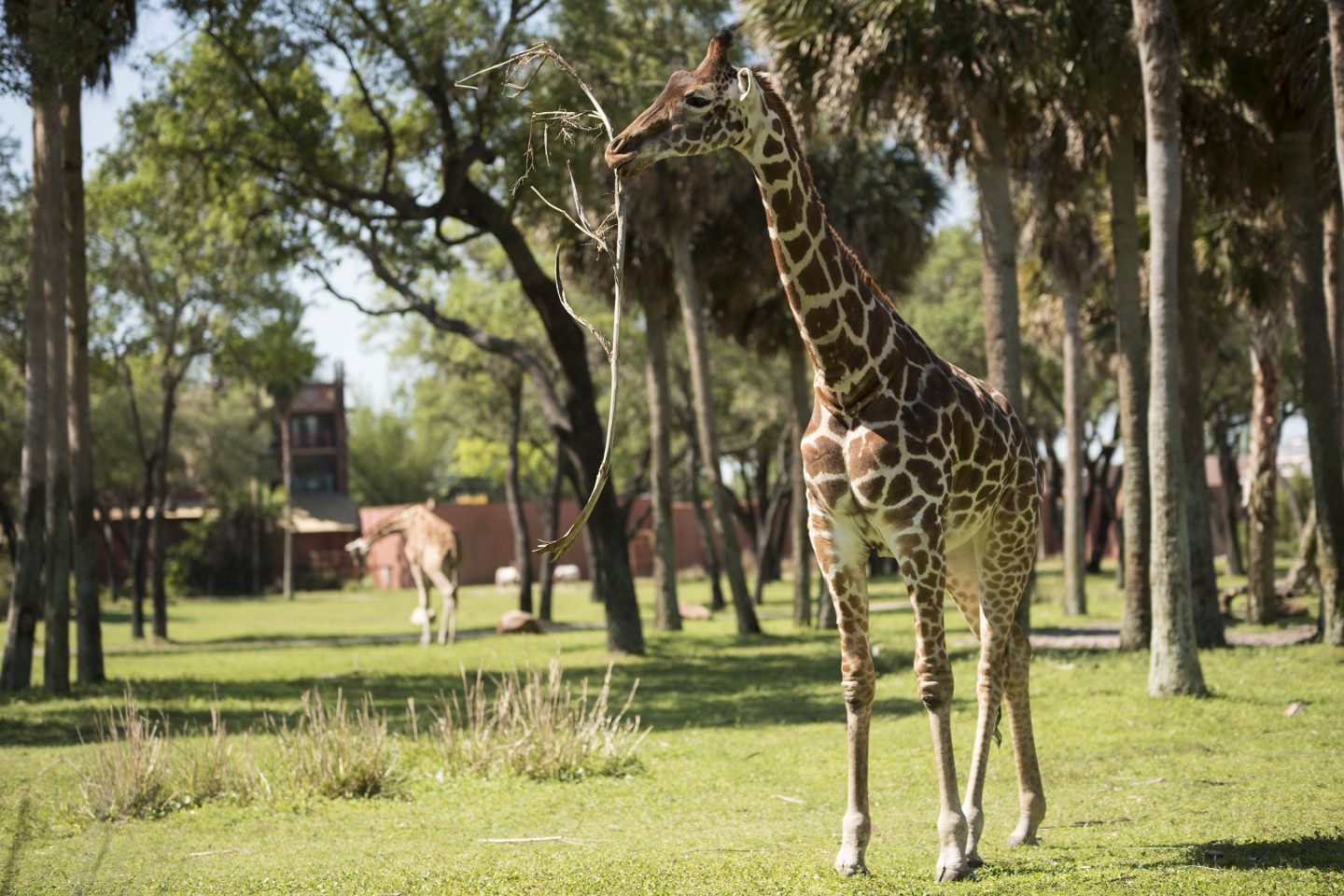 Welcome, Home! That was the greeting our family got as we walked into Disney's Animal Kingdom Lodge. We immediately felt good at our home away from home, we were scheduled to stay there for a week while on our Walt Disney World press trip back in June. As we got off Disney's Magical Express from the airport and walked into the magnificent lobby we were greeted by staff dressed in traditional African clothing and the warm smiles. Everyone said "Welcome home!" with what seemed like genuine happiness to have us and it felt like visiting relatives. The Super Knight looked at me and questioned "Home?"…."Mommy, is this our new home?"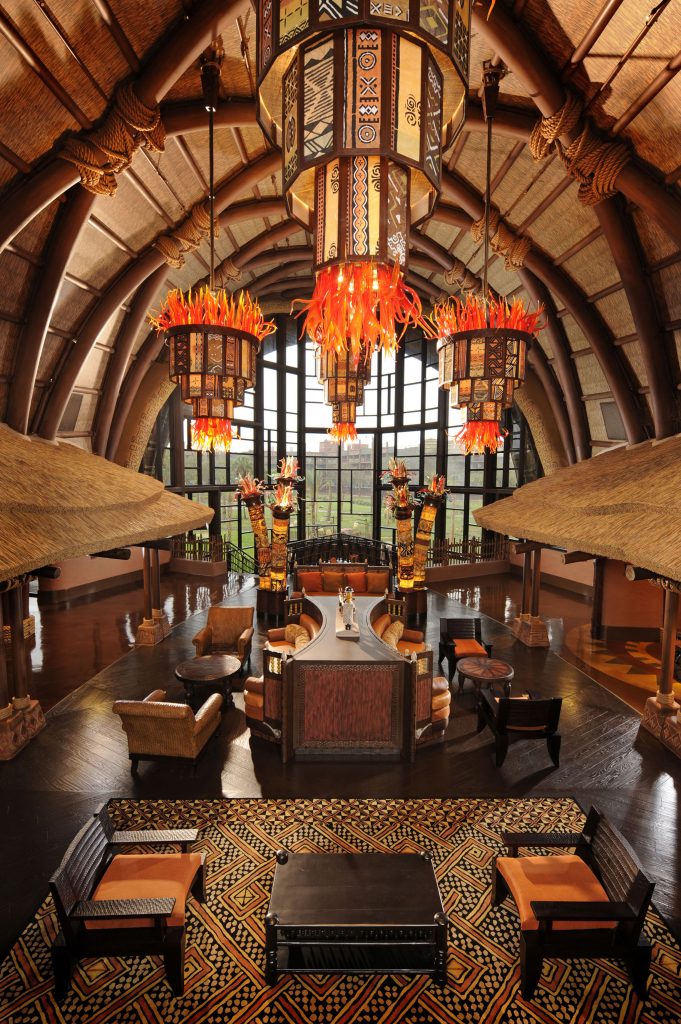 We stood in the lobby stunned by its beauty, the intricate woodwork, African art, and sculptures. In true Disney Magic, the African inspiration is brought to life in an incredible way with the largest collection of African art in the United States. Our room was ready so we were able to check in right away. The process was easy and we got our magic bands at that point. If you haven't stayed at a Disney property before, the magic bands can also be used as room key in addition to entry to the park/rides/fast pass etc.
Disney's Animal Kingdom Lodge is divided int0 two buildings, Jambo House and a Kidani Village. The distance between the two is about a 15 minute walk but you can catch a complimentry 5 minute shuttle ride between the two. We stayed at Jamb0 House and had a room on the second floor with a savannah view. As we walked to our room the kids screamed with excitement as they started to spot different animals through the floor to ceiling windows in the hallways. There were also a few balconies for animal gazing with binoculars and the kids couldn't wait to put their bags down and start to explore. When I told them there are over 200 animals and birds at the resort they tried counting.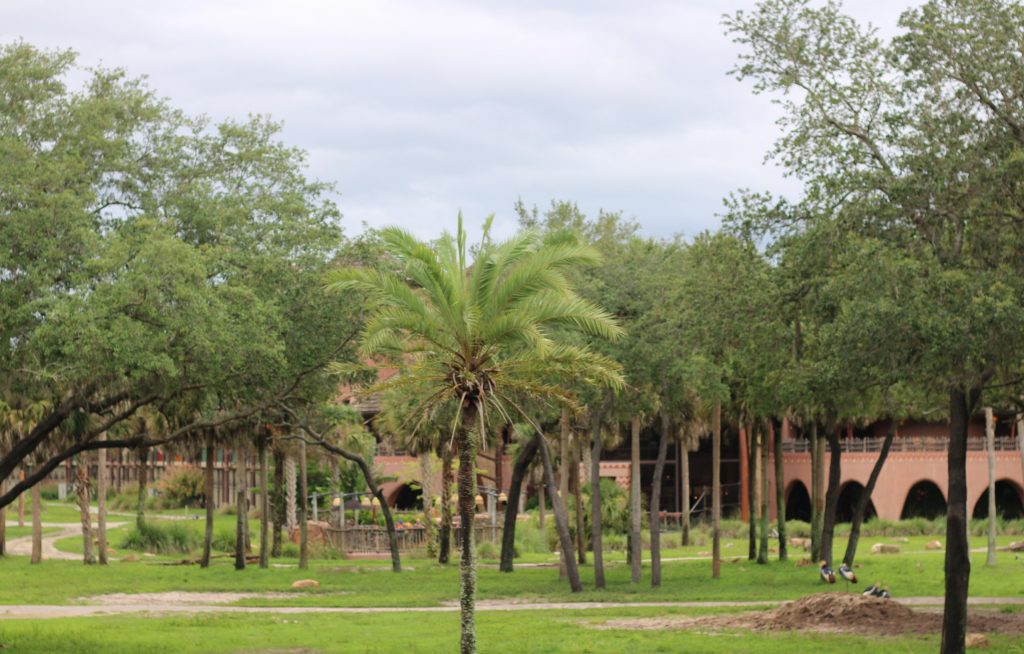 Rooms
Keeping with the theme of the hotel, our room was decorated in earth tones with beautiful African art work. We had a savannah view room with two queen beds. I think what the kids loved most was our balcony. I don't blame them because with 30 species of animals to spy on, there was always an animal in view. On the day we arrived it was raining and my son stood out there worrying about the two giraffes who were getting wet. I explained to him that the giraffes are fine and didn't want to come inside with us. Since giraffes are his favorite animals he stayed outside a great deal trying to get their attention. Thankfully, the way the hotel is designed you can't go into the savannah nor can the animals get close to your room.
Restaurants
The Animal Kingdom Lodge have several restaurants but we only got to try two during this trip for breakfast. The Mara is perfect for a quick bite to go, my husband got up early and went down to grab us food there one of the mornings before we went out to the park. We also had breakfast at Boma Flavors of Africa, a gorgeous restaurant with really good food. The Jungle Juice was so tasty that I couldn't have enough of it and while breakfast was buffet style the food was just fantastic.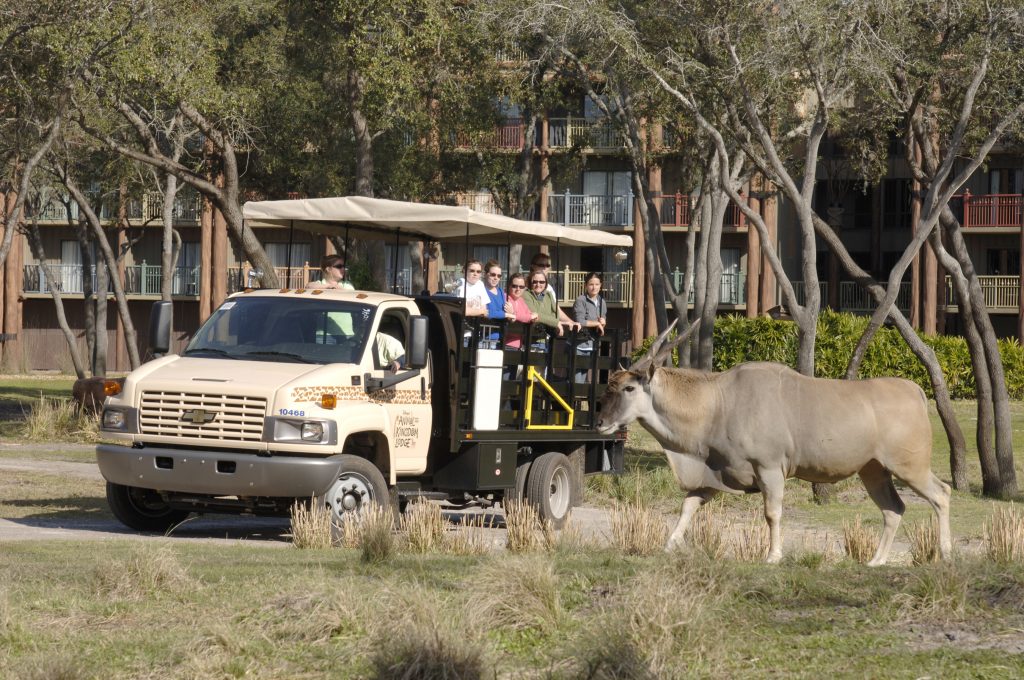 Pools
Just outside the Boma Flavors of Africa restaurant is the hotel's beautiful pool area, there is a waterslide, hot tub as well as the Hakuna Matata Playground playground for the little ones. We were a bit bummed that we didn't get to enjoy the pool but we had limited time, next time we go I would add an additional day to the trip just to take in the pool and all of the resort's amenities.
Disney Transportation
There are shuttle buses that run about every 20 minutes from Disney's Animal Kingdom Lodge to all of the Disney theme parks and Disney Springs. We found that the ride was comfortable and generally we were one of the few families on the buses except at night when the park was closing and the buses were full. The ride to Epcot and Disney Springs was about 15 minutes while the ride to the Animal Kingdom was only about 5 minutes away.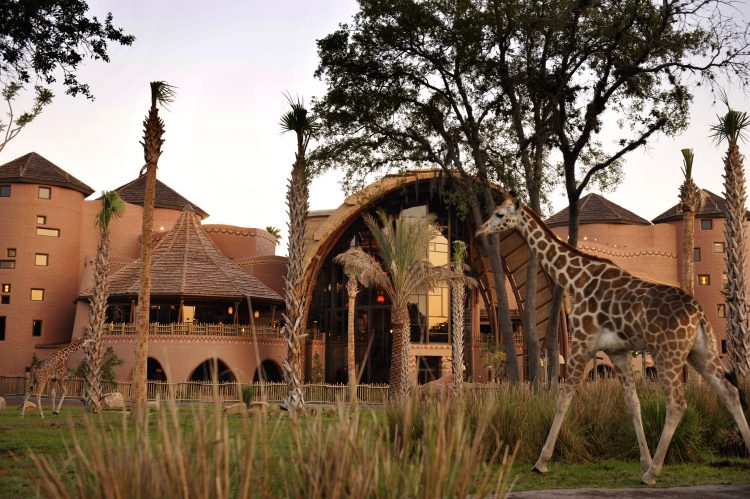 Kids Activities
There is also a kids club called Simba's Cub House at the hotel and I chatted with another mom who told me that her kids loved it there. You can leave your kids ages 3-12 in the care of professional at the kids club to enjoy a little "me time" or a date night.We planned to enjoy the campfire activities on the last night but we were so tired from our fun time at the Animal Kingdom that we didn't have the energy but I heard it's really fun, you can roast marshmallows and some nights even enjoy a movie outdoors under the stars.
Gift Shop
The gift shop at this resort which is called Zawadi Marketplace is one of the best I've been to, there is an inventory of beautiful African arts and crafts and even African style clothing that would make you feel like you're visiting a marketplace in the motherland. We were also able to purchase lovely Disney souvenirs as well as necessities like a case of water (which we get whenever we travel).
Would you stay at Disney's Animal Kingdom Lodge?