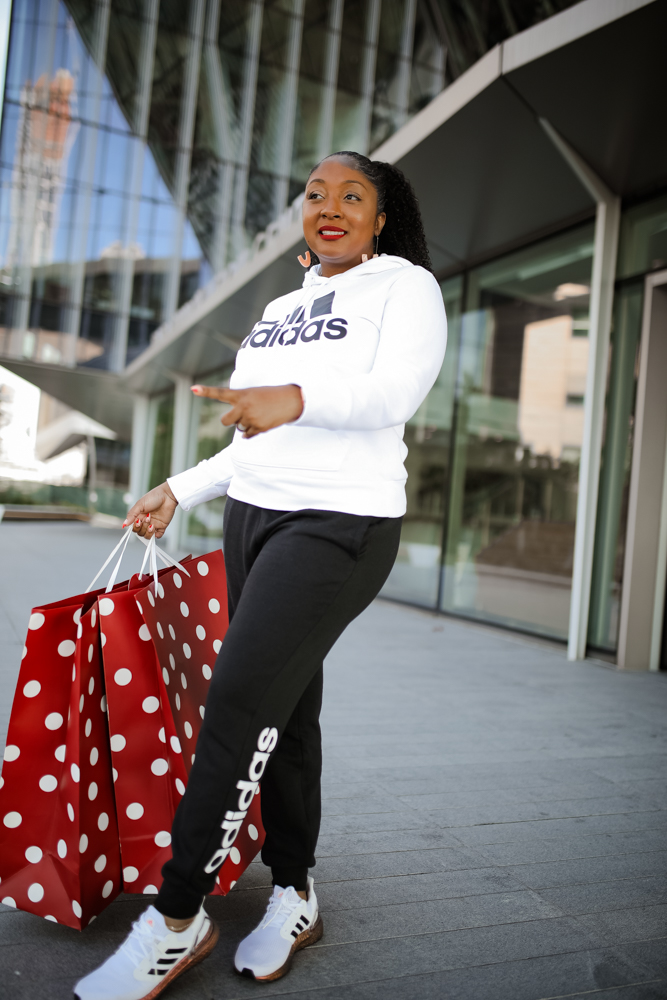 Thank you, Adidas, for sponsoring this post! As always, all opinions are my own.
Whew! 2020 has been quite a year for all of us, and I think it's safe to say we deserve the best gifts this holiday season. I don't know about you, but I love gifts that I can use daily, especially clothes and shoes. I'm looking forward to upgrading my athleisure wardrobe this holiday season to look cute doing the things I do most regularly like go to the grocery store, take walks around the neighborhood, and lounge around our home. I'm happy to partner with Adidas for this post because I've been a fan of the brand for years, and they truly have some of the coolest athleisure wear for women. So, here is my 2020 Gift Guide for Stylish Moms, Athleisure She'll Love: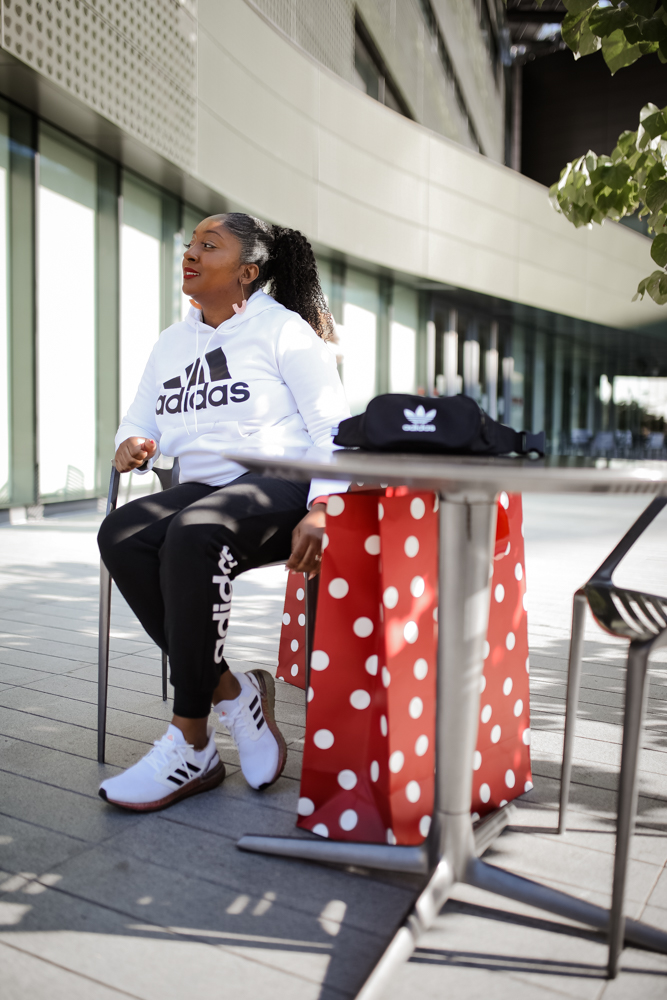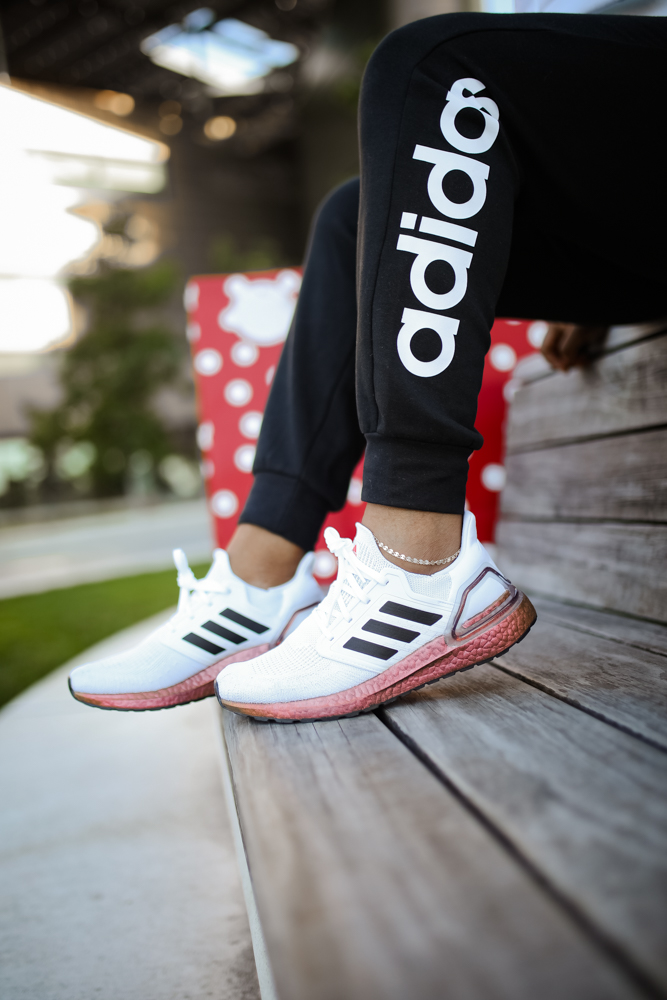 Let's start with the sneakers because sneakers always make fantastic gifts! My top pick from Adidas for this gift guide for stylish moms is the Adidas Ultraboost 20 Shoes. These running sneakers are sleek, gorgeous, lightweight, and look great beyond working out. You can style them with cute dresses, jeans, and athleisure outfits. The Adidas Ultraboost 20 Shoes is available in 19 different colorways, but I fell in love with the Cloud white/Core Black/Signal Pink because it's a neutral color that would go with most of the things in my wardrobe. 
The best thing about them, though, is how comfortable they are; they're light, feel sock-like, and are perfect, especially if you're going to be on your feet for hours.
It's no secret that I'm not too fond of cold weather, I've shared that many times before so a warm jacket is the perfect gift. I've had it for a few weeks now, and I love wearing it because of how warm and comfortable it is. It also has a lined hoodie that you tuck into the zippered collar.
The Adidas COLD.RDY Training Jacket is warm, yet it's lightweight and chic. I think most of us prefer jackets that aren't bulky, especially for exercising or walking outdoors. This is an excellent gift for a mom who enjoys running or anyone who would appreciate a stylish jacket. I got it in black, but it also comes in a trendy green color (Legend Earth). I love how inclusive Adidas is, too, the COLD.RDY collection is also available in plus sizes. Buy the jacket here!
Also, part of the COLD.RDY collection is these long warm tights. I absolutely love how comfortable these are, and even though they're insulated, they're comfortable and don't make me feel sweaty. The design is excellent; they're very flattering even though I don't have an athletic build. They're also not too stretchy that you have to worry about them getting loose while you wear them. I thought the Power Berry color that I'm wearing is perfect for the holidays, but depending on who you're shopping for, they prefer the Legacy Gold or the Black.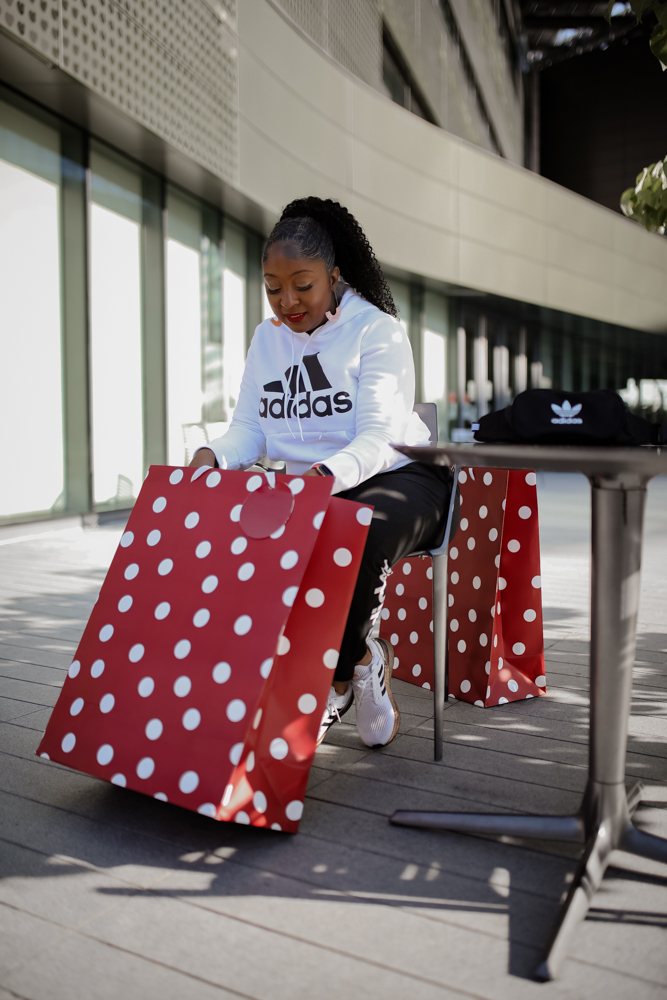 Raise your hand if you're guilty of wearing just about any warm hoodie you can get your hands on. Whether it's your kid's, husband's, BBF's, we've all done it. Now that the holidays are here, we can gift ourselves our own warm hoodies. I'm in love with the Adidas Badge of Sport Pullover Fleece hoodies because it's warm, cozy, and stylish. It's a thick yet soft and sound quality that would last for a long time. My favorite is the white with the black logo, but I love it so much I plan to gift myself the black with white logo. It's available in five colors in plus sizes.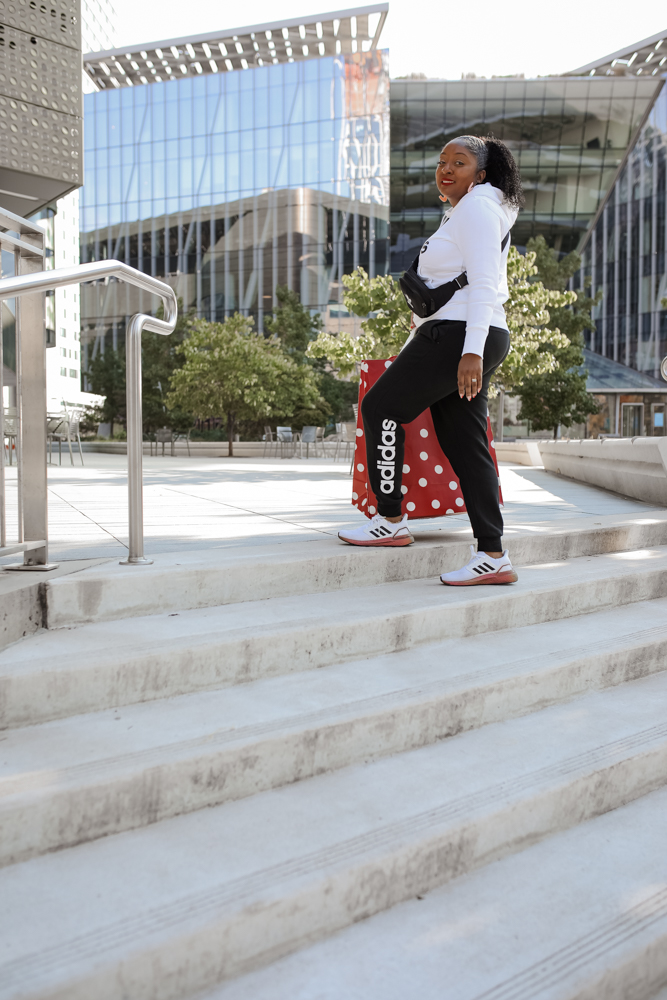 This is the perfect pair of fleece sweatpants for cold days. I love the tapered leg and how cute these pants look with the Sneakers Ultraboost 20 Sneakers and The Adidas Badge of Sport Pullover Fleece Hoodie. I wear them to go shopping, run errands with the kids, lounging and homeschooling. They're also great when you don't feel like getting dressed but want to look pulled together. I have them in black, but they're also available in Noble Purple / Power Berry.
I hope you found the perfect gift for the stylish mom in your life for the holidays! Let me know your favorite pieces from my picks in the comments below. 
Don't miss a post! Sign up for my newsletter here!
You may also like:
Faux Leather Fall Statement Pieces to Add to Your Wardrobe