I am a member of the Everywhere Society and Everywhere has provided me with compensation for this post. However, all thoughts and opinions expressed are my own."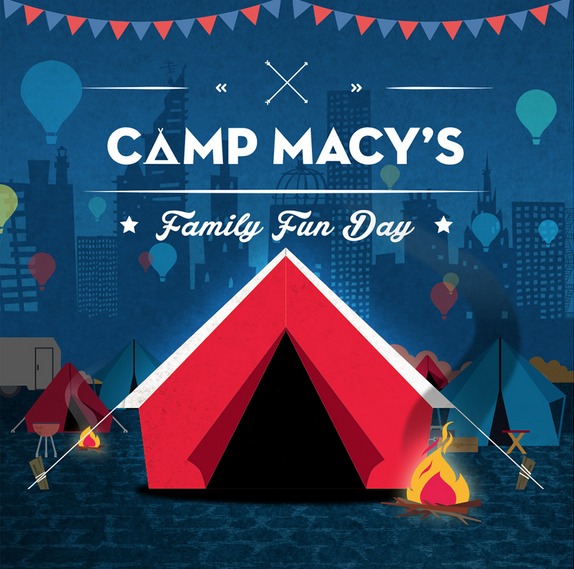 I can hardly believe that the school year is almost finished! The Princess Fairy finishes Pre-K in only two weeks. We are really excited to enjoy all the extra family time this summer. I want her to remember her summer before Kindergatern as EPIC. As I mentioned in this post, there are always TONS of things to do with my kids in New York City. I'm glad Macy's is getting on board for some serious family fun with Camp Macy's.  Camp Macy's is going to be a fun event to create some summer memories with your favorite ones. My kids are going to LOVE this event and the fact that they can go with mommy to the "Big Store" (our nickname for Macy's Harold Square store).
The Princess Fairy's been asking about camping so this should be a fun indoor experience for her since I'm not convinced that camping with two children under 5 will be fun. Kids can enjoy a camp experience indoors through readings, storytelling, BINGO and snacks – There'll also be crafts to show off your American spirit, refreshments, giveaways, and more! Make sure to take lots of photos to capture the fun and memories on camera. Evreytime you share those photos on social media with #AmericanSelfie you will be Macy's will donate $1 for each #AmericanSelfie up to $250k, to support America's veterans with Got Your 6. You will also be entered into a contest run by Macy's! A few winners will be selected for a spectacular moment in Macy's Fourth of July Fireworks show on NBC!
We will be attending Camp Macy's at Macy's Herald Square (New York, NY) on June 14th at 2pm. You can attend at:
Macy's Modesto Vintage Fair (Modesto, CA) – 6/14, 2pm
Macy's Baybrook (Friendswood, TX) – 6/14, 2pm
Find the full list of Camp Macy's locations and dates here.
I will be sharing all of the fun on Twitter, Instagram and Facebook. So make sure you're following me!
Follow me on Twitter  | Follow me on Instagram | Follow me on Facebook 
Are you going to enjoy some family fun at Camp Macy's?